Sha Tamae
READ BEFORE EDITING THIS PAGE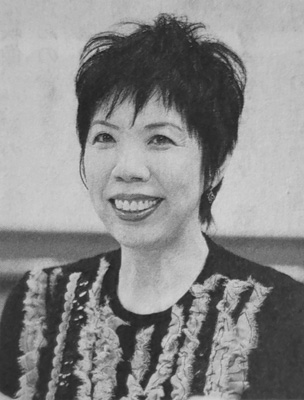 Picture Credit: Aug. 2007 KAGEKI
Standard Profile Information
Name:
Sha Tamae
Kanji:
謝 珠栄
Position:
Director / Playwright / Choreographer
Former Takarasienne:
Yes (otokoyaku -
Hayabusa Amiri
)
Height:
Birthday:
June 24th
Blood Type:
Hometown:
Suita, Osaka
Hobbies:
First Takarazuka Work:
YEAR Name of Performance
List of Performances Directed and Performances Directed & Choreographed by Sha Tamae
Performances Choreographed by Sha Tamae
TS Musical Foundation Productions
Year
Title
Director or Choreographer
1991
Go Along to Tomorrow
Director/Choreographer
1989
The Real Me
Director/Choreographer
1988
Invitation to...
Choreographer
1987
Beautiful Monochrome Rumor
Director/Choreographer
After attending and graduating from Takarazuka Music School, she joined and subsequently left the Revue, then studied abroad. After this she worked as an instructor at the Gekidan Shiki training school.
She began the TS Musical Foundation in 1986 to support her original musicals.