The Kawagiri Bridge / Le Poison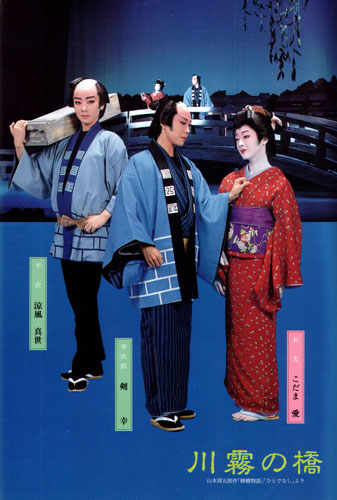 Picture Credit: Caithion, program
English Title:
The Kawagiri Bridge / Le Poison ーan aphrodasiac of loveー
Japanese Title:
川霧の橋 / ル・ポァゾン-愛の媚薬ー
Romanized Title:
Kawagiri no Hashi / Ru Poazon ーAi no Biyakuー
Troupe:
Moon
Year:
1990
Performances:
Grand Theater, 8/9 - 9/18; Tokyo Theater, 12/2 - 12/26
The Kawagiri Bridge:
Based On:
Yamamoto Shugoro's
Yanagibashi Stories
and
A Brute
Author/Director:
Shibata Yukihiro
Composer:
Terada Takio
Choreographer:
Onoe Kikunojou
Le Poison:
Author/Director:
Okada Keiji
Composer:
Yoshizaki Kenji
,
Takahashi Kuni
,
Kai Masato
Choreographer:
Kita Hiroshi
,
Hayama Kiyomi
,
Shou Sumire
,
Sha Tamae
Available on DVD:
Yes (
release date 12/20/08
)
DVD Scene/Music Cut:
Yes
The following scenes had sound replaced, and were placed in a separate chapter at the end of the video:
Part 3 scenes 9, 11-13 & Part 4 scenes 15-18
Other Cast:
Azuma Michi
,
Wakana An
,
Natsuki Mami
,
Mashiro Tomona
,
Towa Ayumi
,
Nakajou Mari
,
Mihara Shiho
,
Sono Nanami
,
Taiga Ren
,
Matsunami Mitsuru
,
Kai Chihiro
,
Minato Kirara
,
Konami Azusa
,
Satsuki Futaba
,
Hanazono Yukari
,
Nanami Hikaru
,
Akiji Shinobu
,
Kazusa Mahiro
,
Matsudaira Rubi
,
Yoshizuki Eri
,
Yuuki Kaoru
,
Natsuno Saki
,
Minazuki Shizuka
,
Yamabuki Sayo
,
Aihara Serika
,
Kusanagi Yuki
,
Wakae Yuki
,
Fujishiro Maki
,
Mizuho Tamaki
Grand Theater only:
Oohara Yuuka
WARNING!! MAY CONTAIN SPOILERS!!
In the middle of the Edo Era in Kayamachi near the Sumida River lived a childless couple, Minokichi and his wife O-chou. Minokichi was a master caprenter who worked for a large company called Sugitaya.
Minokichi had to select just one of the many competent carpenters who had trained in the master's house to be his successor someday. Three carpenters were considered to become the junior masters, Koujirou, Hanji, and Seikichi. Koujirou was the eldest. He was a fine craftsman and very determined. He was very popular with his men and took good care of them. For these reasons Koujirou was appointed junior master and Hanji and Seikichi were nominated as his assistants. Hanji accepted, but Seikichi decided to leave the company and work in Osaka until he could save enough money to buy his own carpentry business.
The day before his departure Seikichi proposed to a beautiful young maiden, O-mitsu, on the banks of the river. He begged O-mitsu to wait for him to return as a successful man. O-mitsu was moved by Seikichi's passion and she agreed to be his bride when he came back.
Her grandfather, Genroku, who worked as a grinder, knew the Sugitaya people well. Several months later Minokichi and O-chou asked Genroku to consider a marriage between his granddaughter and Koujirou. Koujirou loved O-mitsu. His shy nature made him behave bluntly with her, but he readily took on any chores she asked of him and always brought back a little gift for her when he went out.
Genroku, knowing what the wishes of O-mitsu's late mother would be, politely turned down the offer. O-mitsu's departed mother had long before broken off an engagement with Minokichi to marry -mitsu's father who was Genroku's son. Bad luck followed. The family became poor. O-mitsu's father died and her mother became ill. The wealthy Sugitaya was charmed by the little girl and he offered to adopt her. But O-mitsu's mother proudly refused his offer of help.
Koujirou propsed directly to O-mitsu but she announced that she was already engaged.
Meanwhile Hanji was in love with the daughter of a rich oil wholeseller, O-kumi, whom he often saw going into the home next to the Sugitaya's. Hanji kept his feelings secret because he fully realized that such a wealthy man would never accept a humble carpenter as his daughter's husband.
Suddenly a fierce fire broke out and raged through out most of the city. Genroku and O-mitsu were trapped in their house. Koujirou came to the rescue and led them to the Sumida River by carrying Genroku on his back. At the river bank Genroku died and then in his efforts to save O-mitsu, Koujirou was lost in the river......
---
Le Poison -an aphrodasiac of love-
A curtain rises on a scene from the Middle Ages. A beautiful damsel clad in a velvet gown sings the theme song of the show with a jester.
Beautiful Damsel:
Suzukaze Mayo
Jester:
Natori Rei
All the guests at a grand ball are dressed in mourning black. Inside a most delicate bottle is a powerful aphrodasiac. A couple trapped within the bottle are overwhelmed by passion and their feelings overflow into song and dance.
Singer (man):
Tsurugi Miyuki
Singer (woman):
Kodama Ai
Gentleman S:
Wakao Risa
,
Kuze Seika
,
Amami Yuuki
Lady S:
Murasaki Tomo
Scene 2 Tristan and Isolde
In a palatial hall the golden-haired Isolde sings a song of love. A brave knight, Tristan, enters the hall and Cupid immediately offers him a goblet of wine. He drinks the wine and Cupid's love potion as well. It's love at first sight and Tristan and Isolde sing and dance out a storm of passion and love.
Tristan:
Tsurugi Miyuki
Isolde:
Kodama Ai
Cupid:
Mayama Haru
,
Takachiho Mai
Dancing Beauty:
Asanagi Rin
,
Murasaki Tomo
,
Hane Chisato
Scene 3 Adam in the Garden
In the Garden of Eden Adam plucks a shining apple as he sings. With a single bite Adam finds himself in the last decade of the twentieth century surrounded by modern boys and their Eves.
Singer in Paradise:
Suzukaze Mayo
Adam:
Tsurugi Miyuki
Eve:
Kodama Ai
Eve (singer):
Asanagi Rin
Girls:
Murasaki Tomo
,
Hane Chisato
Lad (singer):
Suzukaze Mayo
Dancer (Woman):
Wakao Risa
Boy:
Amami Yuuki
Lover:
Kyou Misa
Girls:
Natsuki Mami
,
Ran Reika
,
Asabuki Minami
,
Asano Kayo
Scene 4 The Resurrection of Love
In the officer's mess on a U.S. military base a young Air Force officer is ostracized by his fellow pilots who believe he is to blame for the death of one of their mates. His girlfriend is the only one who understands and she manages to pull him out of the depths of depression.
Earnest:
Tsurugi Miyuki
Nancy:
Kodama Ai
Lady Officer:
Murasaki Tomo
,
Hane Chisato
Scene 5 The Romance of Love
In the famous music of Liszth, Chopin, Tchaikovsky and so on, the ladies and gentlemen dance and sing beautifully.
Dancer of the Romance:
Tsurugi Miyuki
Singer of the Romance (man):
Suzukaze Mayo
Singer of the Romance (woman):
Asanagi Rin
Dancer of the Nocturne (man):
Amami Yuuki
Dancer of the Nocturne (woman):
Asano Kayo
Three happy young couples sing the theme song of the show. Red-clad high steppers present an exciting kick line. An elegent gentleman pours out his heart in song which a charming lass translates into dance. The show closes with the entire cast in a colorful grand promenade.
Singer (man):
Tsurugi Miyuki
,
Suzukaze Mayo
Singer (woman):
Kodama Ai
Etoile:
Asanagi Rin
None yet.
| | | | |
| --- | --- | --- | --- |
| Poster | DVD | VHS | CD |
| None Yet | None Yet | None Yet | None Yet |