Flower Drum Song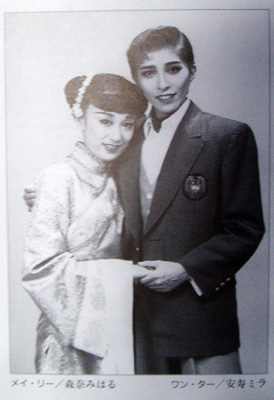 Picture Credit: official program
English Title:
Flower Drum Song
Japanese Title:
フラワー・ドラム・ソング
Romanized Title:
Furawaa Doramu Songu
Troupe:
Flower
Year:
1992
Performances:
Bow Hall, 10/25 - 11/10
Based On:
1958 musical by Rogers & Hammerstein, based on the 1957 novel by C. Y. Lee.
Author:
Oscar Hammerstein II
Composer:
Richard Rodgers
Adapter/Director:
Murakami Nobuo
Musical Director:
Takahashi Kuni
Choreographer:
Sha Tamae
Available on DVD:
No
Other Cast:
Yumeno Chikoto
,
Shiraho Mari
,
Futaba Karen
,
Chinami Yuu
,
Kazato Yuma
,
Asakura Aoi
,
Suzukake Miyuki
,
Haruno Sumire
,
Nanase Kai
,
Sakuragi Emi
,
Minami Shizuka
WARNING!! MAY CONTAIN SPOILERS!!
(From
Wikipedia
)
A shy young woman, Mei Li, arrives with her father in San Francisco from China in the early 1950s; both are illegal immigrants. She has come to enter into an arranged marriage with the owner of a Chinese nightclub, Sammy Fong, whose traditional family has insisted on the union. Sammy is a totally assimilated hipster and is already involved with his leading showgirl, Linda Low. It's clear that this naïve newcomer is the wrong girl for Sammy, and he does his best to dissuade Mei Li from marrying him. He sends her to live in the house of Master Wang, where he presents her as prospect for his friend, Master Wang's shy son, Wang Ta. Master Wang is delighted with the girl, as he is traditional and has been trying in vain to keep his children from being seduced by the American life-style. But dissolving the marriage contract will be difficult.
Meanwhile, Wang Ta is dazzled by the charms of Linda, who enjoys being a girl. Landing a date with Linda, Ta proposes marriage. Linda wants to use Wang Ta to get a real commitment from Sammy Fong, who gets wind of her plan when Linda gets another club employee to pretend to be her brother and grant his permission for Linda to marry Wang Ta. When Ta finally meets Mei Li, she quickly develops feelings for him, but he is unimpressed. When she dresses up in Western clothes, however, he warms to her. Linda shows up with her brother and claims that she will marry Ta. Master Wang forbids this, but Ta argues that he is old enough to make his own decisions, and they argue. Sammy is now in a tight spot and needs to figure out how to get Ta and Mei Li together so that he can have Linda.
Sammy arranges to have Master Wang and Ta see Low's nightclub act, where they are shocked by Linda's strip tease. They leave, distraught, and Linda argues with Sammy. Ta spends the night at the apartment of childhood friend Helen Chao, a seamstress who loves Ta, but whose love is unrequited. In the morning, Mei Li delivers Master Wang's coat for Helen to mend and is distressed to see Ta's dinner jacket on the kitchen table. Mei Li jumps to conclusions and leaves horrified. Wang leaves the lonely Helen and goes back home to admit that his father was right. But now, Mei Li wants nothing to do to him. This complicated problem must be settled by the Three Family Association. Sammy Fong announces that he and Linda have decided to get married, but the Association decrees that the wedding contract cannot be broken, and Mei Li must become Sammy's wife. Sammy tries to convince Linda that even if he is "framed" into marrying Mei Li, he will continue to love Linda.
Ta brings Mei Li a wedding gift of a pair of his mother's earrings that she wore on her wedding day, and tries unsuccessfully to hide the fact that he is deeply in love with her. The wedding procession moves down one of San Francisco's streets with the bride, heavily veiled, carried on a sedan chair. Sammy drinks from the traditional wedding goblet, then offers the goblet to his new wife. Unveiled, the bride turns to Sammy's mother and confesses that she cannot marry Sammy as she is an illegal alien. The contract is then void and that gives the opportunity to both Sammy and Ta to marry their true loves, Linda and Mei Li.
Any other interesting or important stuff.
None yet.
| | | | |
| --- | --- | --- | --- |
| Poster | DVD | VHS | CD |
| None Yet | None Yet | None Yet | None Yet |