Natasha of the Rainbow/La Jeunesse!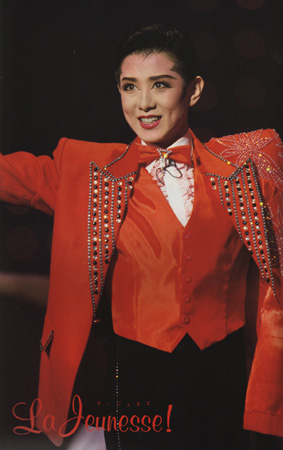 Picture Credit:
Zephy
/ 1996 Stage Album
English Title:
Natasha of the Rainbow/La Jeunesse!
Japanese Title:
虹のナターシャ / La Jeunesse!
Romanized Title:
Niji no Nataasha / La Jeunesse!
Troupe:
Snow
Year:
1996
Performances:
Grand Theater, 8/9 - 9/16; Tokyo Theater, 12/2 - 12/26
Shinjin Kouen Performances:
Grand Theater, 8/27; Tokyo Theater, 12/10
Natasha of the Rainbow:
Based On:
The manga by Hayashi Mariko & Yamato Waki
Script/Director:
Ueda Shinji
Composer:
Yoshida Yuuko
Choreographer:
Hayama Kiyomi
Shinjin Kouen Director:
Saitou Yoshimasa
La Jeunesse!:
Script/Director:
Okada Keiji
Composer:
Yoshizaki Kenji
,
Takahashi Kuni
,
Kai Masato
, Wally Hubber
Choreographer:
Kita Hiroshi
,
Hayama Kiyomi
,
Yamada Taku
,
Sha Tamae
, Nikki Harris
Available on VHS
: VHS only
Other Cast:
Tasai Shun
,
Chiya Akira
,
Iraka Maya
,
Itsumine Aki
,
Marioka Tomomi
,
Morio Kazumi
,
Arisa Miho
,
Suzusato Yuuka
,
Kouzuki Mari
,
Miho Keiko
,
Kasai Hitomi
,
Kishiro Miki
,
Mayo Sakura
,
Maki Megumi
,
Aki Mizuho
,
Hanabuki Mai
,
Ai Youko
,
Mizutani Shino
,
Takase Yuu
,
Aiki Shuri
,
Tatsuki You
,
Haru Ayuka
,
Hatsune Mayo
,
Mariho Erina
,
Tamaki Kaho
,
Namiki Akira
,
Yumena Saya
,
Kasumi Fuuka
,
Nijino Yumeka
,
Mitsumi Akiho
,
Kaou Remi
,
Matsuyuki Kanako
,
Kazami Yoshiki
,
Yurika Shiho
,
Marina Miho
,
Aomi Taku
,
Tachibana Riya
,
Misumi Kanon
,
Maisaka Yukiko
,
Hanamiya Airi
,
Saeki Seiya
,
Asaka Serena
,
Ayuna Sae
,
Shiroka Koyu
WARNING!! MAY CONTAIN SPOILERS!!
In 1932, the shadow of war threatens, but Japan is still at peace. A sponsor of the Imperial Symphony, Lord Kuretake Kimiya, is deathly ill. He calls to his bedside Sanjou Kaoru, who is both the fiancé of his daughter Umeko and an up-and-coming conductor. Lord Kuretake has a very serious request: Many years ago, he had a daughter with a Russian woman and he begs Sanjou to search for her in Shanghai. Because her mother, Anastasia, an opera singer, was a close friend of the princess, when the revolution came, she vanished with the imperial family. Since then, Kuretake has married and had a family, and he wants his daughter Natasha to be raised in his home.
Secretly, Sanjou and his manager Nagaoka travel to Shanghai and Sanjou meets a beautiful girl singing at a jazz club in a hotel. Because she's scorned for her mixed race, she has become a rough tomboy... and it turns out that girl is Natasha! She has been raised by the Kurisaki family, who own a small restaurant, and she and their son Takeshi are like brother and sister. Sanjou invites Natasha to a concert, but at the last minute she must stand in for the star. Sanjou is amazed by her incredible singing voice. Now he determines not only to bring her home, but to make sure she gets proper opera training and becomes a true prima donna. Even Takeshi tells her it would be best to go to Japan. Takeshi, it turns out, thinks of Natasha as more than a sister. Not wanting to risk never seeing Sanjou again, Natasha goes on the boat with him to Japan.
But life in Japan proves to be nothing but misery for Natasha. The Kuretake family treats her like a servant and Umeko is suspicious of her relationship with Sanjou. As she travels home from school, Natasha learns that Lord Kuretake has died. She decides to run away. Takeshi has followed her to Japan, and he and Sanjou search desperately for her on the city streets...
Chapter 1 A Sepia Photograph (Opening)
When a young man in sepia begins to sing in front of an old album, photographs of young men who are best friends from times past loom up on each page. The boys come out and so too do beautifully dressed girls. They dance to a tune sung by a pop star.
Pop star =
Takane Fubuki
Woman of prologue =
Hanafusa Mari
Singer in sepia =
Todoroki Yuu
Chapter 2 Yesterday, Once More
Young women of the 1960's sing a song for their boyfriends. A medley of contemporary hits is performed by a group of teenagers in front of a typical 1960's American hamburger shop. Led by Tommy, the young men and women dance with fervor. Three couples appear and sing about the pain of love. The young men and women return, and this time sing about the joy of life. At the climax, the sound of a helicopter is suddenly heard overhead. Everyone vanishes, and Richard appears. He stares at Cindy who is dressed in a wedding dress and surrounded by her family and friends. She walks away hand in hand with the bridegroom.
Richard =
Takane Fubuki
Cindy =
Hanafusa Mari
Tommy =
Todoroki Yuu
Jeff =
Wao Youka
James =
Aran Kei
The setting is a tropical island where palm trees grow thickly. Robert, the most popular person on the island, is joined by other men and women. They sing a bright and cheerful song. Robert meets a lively girl called Patricia, with whom he dances. Suddenly, a gust of wind blows up and a squall attacks. Everyone runs to escape iIt. When the rain stops, Robert, Patricia, and the others on the Island celebrate by singing and dancing in the sunlight.
Robert =
Takane Fubuki
Patricia =
Hoshina Yuri
Chapter 4 The Joy of Love (Young Executives)
The setting is a large salon where many young executives are gathered. A pop star appears and performs. After the young executives left, a group of young ladies arrives and they dance daintily.
Young executives I =
Takane Fubuki
Young ladies =
Hanafusa Mari
Young executives 2 =
Todoroki Yuu
Chapter 5 Dean (An After-Image of the Spring of Life)
A traffic accident takes place on a highway. James Dean, the driver of the Porsche, is killed. Jimmy lives in the hearts of the young boys who mourn his death.
Requiem singer =
Todoroki Yuu
James Dean =
Aran Kei
Pia Angeli =
Kisaki Miri
Girls dressed gaily in all the colors of the rainbow perform a rocket dance.
Chapter 7 Beautiful Couple
A dance by a refined couple dressed in chic clothes.
Fred =
Takane Fubuki
Ginger =
Hanafusa Mari
A passionate bolero performed by men. The main singer sings a dream of the future.
Man of the bolero 1 =
Takane Fubuki
Woman of the bolero =
Hanafusa Mari
Man of the bolero 2 =
Todoroki Yuu
Man of the bolero 3 =
Wao Youka
A gala parade and finale incorporating the theme tunes of the entire show.
Singer of La Jeunesse =
Takane Fubuki
Singer of the finale =
Hanafusa Mari
The play ends abruptly because the manga was still running at the time it was written - when the play gets to the point the manga had reached, it simply stops, with very little resolution.
The Grand Theater Top Star Debute for
Takane Fubuki
None yet.
| | | | |
| --- | --- | --- | --- |
| Poster | DVD | VHS | CD |
| None Yet | None Yet | None Yet | None Yet |