A History of the Takarazuka Revue
The Takarazuka Revue was founded in 1913 by
Kobayashi Ichizou
(1873-1957). Kobayashi was a industrialist and politician who was the president of
Hankyu Railways
at the time, and the city of Takarazuka was situated right at the stop of a Hankyu line. Already a popular tourist destination for its famous hot springs, Takarazuka seemed like the ideal spot to open up an attraction of some sort that would boost train ticket sales and draw in even more business for the city. The
Kabuki
theater (an all-male theater troupe, founded by a woman in 1600) was already well established, though Kobayashi considered their ideas to be very old and elitist and thought that an all-female theater group might be well received.
Western-style musicals were getting more and more popular at the time, and a cast of young, chaste women performing clean, family friendly shows was an attractive idea. During a time when public kissing was frowned upon, the fact that such scenes were implied rather than acted out, and that both actors were women, made such scenes acceptable to the general public.
Kobayashi titled his theater group the "New Citizens' Theater." Their first performance was in 1914, and the shows became successful enough that in 1924 they were able to get their own 3000-seat theater building, the
Daigekijou
(Grand Theater) in Takarazuka; Kobayashi built it in connection with the Hankyu amusement park "
Takarazuka Family Land
." (The park closed on 4/7/03, but parts of it reopened in 9/03, now called the "Garden Fields." It serves as a garden and dog park.) The Takarazuka was the first troupe to introduce the revue-style show to Japan with their 1927 performance, "Mon Paris." By 1938 they were touring Europe and North America, as well as making visits to China and other countries. In 1940 they changed their name to
Takarazuka Kagekidan
(officially translated as the "Takarazuka Revue Company") and divided into four troupes: "Flower," "Moon," "Snow" and "Star," with an additional "Special Course" that was used for older actresses (40 and up) who did not wish to retire yet. By 1998, the number of actresses had grown to the point that they added a sixth troupe, the "Cosmos" troupe.
Each troupe is governed by a male member of the Revue management.
Time-Line
1912:
Jul: Takarazuka Onsen Paradise opens.
1913
April: Takarazuka Shoukatai begins taking applicants.
Dec: Takarazuka Shoukatai changes its name to Takarazuka Shoujo Kageki Youseikai.
1914
April: Dom-Brako, Ukare Daruma, and Butterfly the first productions of the Takarazuka Shoujo Kageki, are performed along with other singing sections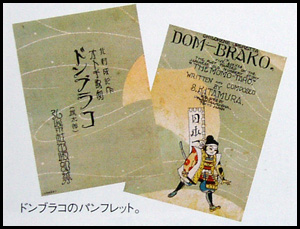 1918
May: Takarazuka Shoujo Kageki does its first performance in Tokyo.
Aug: Kageki magazine is first published.
1919
Jan: The training program develops into a school structure, and the Takarazuka Ongaku Kageki Gakkou (Takarazuka Musical Opera School) is created.
Mar: From here on, the performances move from Paradise to the Koukaidou Theater.
Nov: Takarazuka Danshi Senka (Boys Special Course) is dissolved.
1920
May: The first student sports festival is held.
1921
Sept: Flower and Moon Troupes are formed.
Jul: The first meeting of Kageki admirers is held.
1923
Jan: The Koukaidou Theater is burned in a fire.
Mar: The new Takarazuka Middle Theater opens.
Jul: Snow Troupe puts on its first performance.
1924
Jul: The first Takarazuka GrandTheater opens
Oct: An early publishing of Takarazuka Graph magazine.
1927
Sept: The huge hit revue Mon Paris is performed by Flower Troupe.
Oct: The huge hit revue Mon Paris is performed by Snow Troupe.
1930
Aug: The huge hit revue Parisette is performed by Moon Troupe. ("Sumire no Hanasaku Koro")
1933
Aug: Star Troupe puts on its first performance.
1934
Jan: The first Takarazuka Tokyo Theater opens.
The official fanclub, "Takarazuka Tomo no Kai" officially formed.
1935
The inside of the Grand Theater is gutted by a fire.
1936
Monthly releases of "Takarazuka Graph" begin.
1938
The first foreign tour: Europe (Germany, Italy, and Poland)
1939
Foreign tour in America
Due to the state of things (Japan fighting various war fronts), the new Star Troupe was disbanded.
Takarazuka Ongaku Kageki Gakkou changes its name to Takarazuka Ongaku Buyou Gakkou (Takarazuka Music Song and Dance School) and is detached from Takarazuka Shoujou Kageki.
1940
Takarazuka Shoujou Kageki changes its name to Takarazuka Kagekidan.
1944
The Takarazuka and Tokyo theaters close for the war: The Grand Theater is confiscated by the navy, and the Tokyo Theater by the army. Both are used by the occupying army after the war.
1946
Takarazuka Ongaku Buyou Gakkou changes to its final incarnation, the Takarazuka Ongaku Gakkou (Takarazuka Music School).
The Takarazuka Grand Theater Reopens.
1947
Tokyo performances begin again, but in other theaters. The Tokyo Takarazuka Theater is renamed the Ernie Pyle Theater and used to put on performances to entertain the American occupation forces.
1948
Star Troupe is reinstated.
1954
1955
The Tokyo Theater reopens under its original name.
1958
The emperor watches a performance in Tokyo.
1959
1960
Takarazuka Shin-onsen changes its name to Takarazuka Family Land.
1965
Second European Tour: 33 performances in Paris.
1967
A foreign musical, Oklahoma, is performed for the first time.
1973
First South-East Asian Tour: Burma, Malaysia, Singapore.
1974
First performance of Rose of Versailles.
1975
Performances at the Daigekijou begin their 1 1/2 month rotation periods.
Third European Tour: USSR, France.
1977
First performance of Gone With the Wind.
1978
Central American Tour: Mexico, Argentina, Brazil.
The Bow Hall Theater opens.
1982
Second South-East Asian Tour: Malaysia, Singapore, Thailand, Burma.
1985
Fifth Hawaiian performance.
1989
New York Radio City Music Hall performance.
1993
The new Takarazuka Grand Theater opens.
1994
London Coliseum Theater performance.
1996
First performances of Elisabeth.
1998
The temporary Takarazuka 1000 Days Theater begins operation.
Cosmos Troupe is created.
1999
Shanghai and Beijing Tour
2000
2001
Jan: The new Tokyo Theater opens.
2002
Takarazuka Sky Stage begins broadcasting.
2003
Takarazuka Family Land theme park closes.
2005
2013
2015
2018