Too Short a Time to Fall in Love / Neo Dandyism!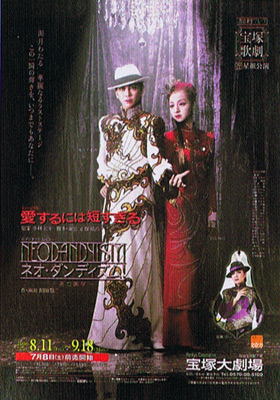 Picture Credit: Zephy
English Title:
Too Short a Time to Fall in Love / Neo Dandyism! -Men's Aesthetics-
Japanese Title:
愛するには短すぎる / ネオ・ダンディズム! -男の美学-
Romanized Title:
Ai Suru ni wa Mijikasugiru / Neo Dandizumu! -Otoko no Bigaku-
Troupe:
Star
Year:
2006
Performances:
Takarazuka 8/11 - 9/18; Tokyo, 10/6 - 11/12
Shinjin Kouen Performances:
Takarazuka, 9/5; Tokyo, 10/17
Too Short a Time to Fall in Love:
Based On:
n/a
Concept:
Kobayashi Kohei
Author/Director:
Masatsuka Haruhiko
Composer:
Takahashi Kuni
,
Tama Shouichi
,
Aoki Tomoko
,
Oota Takeshi
Choreographer:
Iga Yuuko
,
Hirasawa Satoshi
Shinjin Kouen Director:
Kodama Akiko
Neo Dandyism!:
Author/Director:
Okada Keiji
Composer:
Yoshizaki Kenji
,
Takahashi Kuni
,
Kai Masato
,
Tama Shouichi
Choreographer:
Hayama Kiyomi
,
Sha Tamae
,
Muromachi Akane
,
Miori Yumino
Available on DVD:
Yes (
DVD release date 10/20/06
) &
VHS
DVD Scene/Music Cut:
None
Others
:
Shiran Masumi
,
Momoka Sari
,
Ayame Hikaru
,
Marino Yui
,
Suzuno Katsuki
,
Hoshikaze Erena
,
Aozora Yahiro
,
Yuuho Satoru
,
Mishiro Ren
,
Ryouma Tomo
,
Umezono Sachi
,
Mashiro Fuari
,
Ginga Ami
,
Kosaki Hiyori
,
Hanasono Miyuu
,
Yashio Yuumi
,
Yuzuno Reika
,
Haruna Hitomi
,
Marimura Kaoru
,
Maiya Riri
,
Shirotae Natsu
,
Aono Yuki
,
Naoki Jun
,
Kai Hayato
,
Shiotsuki Shuu
,
Hanakaze Mirai
,
Kitori Mariya
,
Yuuka Riko
,
Ooki Makoto
,
Otoha Minori
,
Shingetsu Saku
,
Aimi Serena
,
Kotoshiro Manaka
,
Masabuki Minori
,
Miharu Ayaka
,
Hishiro Yua
,
Seki Yurito
,
Shizuki Otone
,
Honjou Kureha
,
Wakanatsu Ayame
,
Kizaki Reo
,
Shirayuri Hime
WARNING!! MAY CONTAIN SPOILERS!!
Fred Walbask is returning from a study abroad on board a passenger liner headed for New York. He is expected to succeed his stepfather who owns and runs an important steel manufacturing company.
On the first day of the voyage, Fred comes across on deck Barbara O'Brien, a member of the show team with the ship's band. As she has read the article of the engagement of the son of a famous industrial tycoon in the newspaper, she recognizes Fred and congratulates him on his happy marriage and bright future. However, Fred tells her that he is all at sea about his future. He is amazed that he has told his true feelings to Barbara whom he has just met. Then, he suspects that he has met her before. Barbara and Fred part promising to see each other again at the welcoming party to be held on the ship.
In the evening of the same day, Fred sees Barbara arguing with Frank, the manager of the band. Concerned, Fred asks her what the problem is. Frank stubbornly tries to make Barbara love him. He thinks she ought to love him in return for money he has loaned to her. She used the money to pay the doctor's bills for her sickly mother. Barbara thanks Fred for his worrying of her and tells him that the show during the voyage is the last one for her as she has decided to go home to care for her mother. Listening to her, Fred realizes that she is the little girl he had promised to marry in his childhood. When he was six years old, he moved with his parents from his native state of Missouri to New York. He lost his parents one after the other and was adopted by Walbask who was the owner of an orphanage. Barbara and Fred are thrilled by their first encounter in 20 years. They talk of their own personal pasts.
When Fred comes back to his cabin, he sees his friend Anthony waiting for him. Anthony tells him that there is something different about him these days. Fred tells him of the incident that he had come upon his old childhood friend Barbara. He thereby can see clearly what had been worrying him. He wonders if he should take the offered post of president and marry Nancy without really deciding anything by himself. Anthony analyzes Fred's troubled thoughts and gives him irresponsible advice that he may just as well let go the passion he keeps inside.
On the next day, Fred introduces Barbara to Anthony at lunch. Anthony realizes that she is the woman who kept his attention during the show of the previous evening. He is so delighted at this coincidence that he makes every effort to woo her while Fred feels troubled. Barbara's show team colleague calls her out and tells her that she is suspected of theft, as she has no alibi for the previous night. Fred rushes to Barbara and declares that he was with her during the hours of the theft.
Anthony becomes madder over Barbara and asks Fred not to stand in the way between Barbara and him, as Fred has his fiancée Nancy. As he listens to Anthony, he becomes conscious that he himself seriously loves Barbara. He wishes that he had met her well before his planned marriage to Nancy, and grieves over his misfortune. Barbara now sees Fred more than her simple childhood friend. They met again at the time when each was about to start a new life. They must now try to find the best solution within the limit of four days. The ship continues its journey along with the swaying feelings of Barbara and Fred.
---
Neo Dandyism!
Author/Director:
Okada Keiji
Composer:
Choreographer:
The curtain rises. Many men wearing Chinese costumes are posing on the pitch black Grand Staircase. They begin dancing.
Dandies
Tatsuki You
,
Suzumi Shio
Welcomed by the men, Chinese Dragon in a pure-white Chinese costume appears and sings.
Dragon
Kozuki Wataru
Red Lotus
Shirahane Yuri
Dandy S
Aran Kei
A tune reminiscent of the medieval prelude played on the harpsichord comes in hearing. A prologuist starts talking about dandyism.
Prologuist
Aran Kei
Scenes 4 and 5: Neo Dandyism B
A young man who looks like Casanova stands alone in a reception room walled with mirrors engraved with roses. He sings the theme song.
Neo Dandy
Kozuki Wataru
Girl of Rose S
Shirahane Yuri
Dandy S
Aran Kei
Scene 6: Interlude (1): What is Dandyism?
In front of the title setting of the revue, an English gentleman and four young gentlemen sing together about the dandyism.
Esquire
Ema Naoki
Right in the middle of the pampas in Argentina flooded with the setting sun; Alfonso wearing a gaucho outfit is standing by himself. Silently, he starts dancing the tango.
Alfonso
Kozuki Wataru
Victorio
Aran Kei
Scene 10: Interlude (2): You and the Night and the Music
Young guys sing while stylishly dancing You and the Night and the Music.
Young Guys
Tatsuki You
,
Suzumi Shio
Scenes 11, 12, 13, 14 and 15:
There is a huge staircase shaped like a pyramid. Gentleman of Carioca sings on its top.
Man of Carioca S
Kozuki Wataru
Woman of Carioca S
Shirahane Yuri
Man of Carioca S
Aran Kei
Scene 16: Interlude (3): A man in love is Don Quixote
Two Dandies and eight cute women comically sing and dance.
Dandy I
Tatsuki You
Dandy II
Suzumi Shio
Act 5: A Sorrowful Parting - Homage -
(the scenes are inspired by the relationship between Jean Cocteau, a French poet of the early part of the 20th century, and his friends) A young man acting as leader (Polaris) and his friends dance and sing about their sorrowful parting.
Polaris
Kozuki Wataru
Friend (woman) S
Shirahane Yuri
Friend (man) S
Aran Kei
Three Takarazuka's Super Rocket Girls including Violet-Rose and Black-Rose perform a set of elegant and vivid precision dances with other Rocket Girls in the guise of ruby-red roses.
Violet-Rose
Hizuki Hana
The beautiful melody of All by Myself can be heard. A handsome young man comes out from behind a pillar on the Grand Staircase and sings. Four other young men join him and sing together.
Singing young man
Aran Kei
Singer of Love (man) and Singer of Love (woman) sing and dance to Shinjo Shinbi (true feelings and true beauty)
Singer of Love (man)
Kozuki Wataru
Singer of Love (woman)
Shirahane Yuri
A gorgeous Grand Parade rolls out in tune with the theme music.
Gentleman of Finale S
Kozuki Wataru
Gentlewoman of Finale S
Shirahane Yuri
Gentleman of Finale A
Aran Kei
(And all the other performers)
ENAK Sumire Style Stage GRAPH
NEODANDYISM (Star 2006) - Review by Chioco
Too Short a Time to Fall in Love / Neodandyism - Review by Ekusudei
| | | | | | |
| --- | --- | --- | --- | --- | --- |
| Poster | VHS | DVD | Piano Sound CD | Theme Song CD | Live CD |
| None Yet | | | | | |