Portraits of Lovers / Narcisse Noir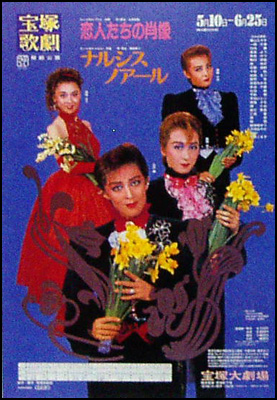 Picture Credit: Caithion
English Title:
Portraits of Lovers / Narcisse Noir
Japanese Title:
恋人たちの肖像
Romanized Title:
Koibito-tachi no Shouzou / Narushisu Noaaru
Troupe:
Star
Year:
1991
Performances:
Takarazuka Grand Theater, 5/10 - 6/25; Tokyo Takarazuka Theater, 8/4 - 8/29
Shinjin Kouen Performances:
Takarazuka Grand Theater, 6/7; Tokyo Takarazuka Theater, 8/13
Portraits of Lovers:
Based On:
Author/Director:
Oota Tetsunori
Composer:
Yoshizaki Kenji
Choreographer:
Akiko Kanda
Musical Arrangement/Conductor (Takarazuka):
Hashimoto Kazuaki
Conductor (Tokyo):
Kiyokawa Tomomi
Shinjin Kouen Director:
Narcisse Noir:
Based On:
Author/Director:
Okada Keiji
Composer:
Yoshizaki Kenji
,
Takahashi Kuni
,
Kai Masato
Choreographer:
Kita Hiroshi
,
Hayama Kiyomi
,
Shou Sumire
,
Sha Tamae
Choreography Assistant:
Ritsu Tomomi
Conductor (Takarazuka):
Odakane Bonpei
Conductor (Tokyo):
Kitazawa Tatsuo
Available on DVD:
No
Other Cast:
Marimura Nao
,
Aikou Mitsuru
,
Agi Katsura
,
Ema Naoki
,
Kinami Chie
,
Matsubara Midori
,
Amachi Hikari
,
Hanabusa Rio
,
Uzuki Kei
,
Chiaki Shin
,
Hagoromo Ran
,
Kokonoe Haruka
,
Matsukaze Ryou
,
Sagikusa Kaoru
,
Takayagi Midori
,
Miyabi Kei
,
Migusa Yuu
,
Sakaki Jun
,
Nishiki Ai
,
Emao Yuu
,
Nijou Yuzuru
,
Asao Ritsuki
,
Chitose Manabu
,
Ayaka Yuu
,
Kanou Chiho
,
Hozuki Mio
,
Mimi Anri
,
Kyougoku Ayano
,
Machi Arisa
,
Shinobu Murasaki
,
Asukai Mari
,
Tachibana Hitomi
,
Jun Atsuki
,
Kujou Akira
,
Misono Erika
,
Mibae Yuuri
,
Ayato Rena
,
Oonatsu Shizuki
,
Suzuna Saya
,
Oka Kazumi
,
Manami Shiho
,
Oohiro Ayumu
,
Asamine Hikari
,
Takao Rio
,
Hanafusa Mari
,
Asamiya Mayu
,
Akira Kazuki
,
Shiratori Yurie
,
Hara Miteki
,
Asazora Riho
,
Hibiya Megumi
,
Kahou Yurika
,
Tsuzushiro Ai
Grand Theater only:
Kaai Moto
WARNING!! MAY CONTAIN SPOILERS!!
Portraits of Lovers



A dramatically told tale of the diverse loves of young lovers at the end of the 19th century.

(English summary from the program)

The story takes place at the end of the nineteenth century in an Archduchy in central Europe. The Grand Duke and Duchess of Burtenverg have no children and Sophie the Grand Duchess travels throughout the year as if trying to stay away from her husband. The Grand Duke who enjoys absolute power as a ruler is a very jealous man.

Sophie is a Vesterbach, one of Europe`s oldest and most illustrious families, connected with many of Europe`s royal houses. But after centuries of intermarriages the Visterbachs are inclined to be daydreamers and mentally slow.

Such is Sophie`s cousin, Christopher, heir to the throne of Oranien. He enjoys the Arts and loves the legendary tales of ancient knights. Although he adores Sophie he is engaged to Sophie`s sister, Caroline.

Victor William is the likely heir to the throne of the Grand Duke of Burtenverg, his uncle. Duke Victor William has been involved in republican conspiracies.

One evening, all the influential people in the Archduchy are gathered in the home of Countess Larish. One of the guests, Friederick, Count of Tanberg, is quite an eccentric. Fritz, as he is called is a jack of all trades and is constantly on the move throughout all of Europe.

Fritz seeks the favor of the ruling class by thrusting exorbitant gifts on them. Fritz in his usual brazen way makes friends with Sophie, Victor William, and Christopher at a party. They of course do not realize the police have Fritz under surveillance.

Sophie accompanies Victor William and his fiancee, Stephanie, to the island of Maedirea. Fritz volunteers to go and teach Sophie to ride and shoot. In the holiday air on the island Sophie and Fritz fall in love. Sophia returns to her duties as Grand Duchess with a reluctant heart. She is ready to abandon her position in order to stay with Fritz.

Christopher ascends to the throne of Oranien but his mind weakens.

He breaks off his engagement to Caroline. Christopher orders extravagant luxuries, a swan shaped clipped ship, a marvelous coach, and dream like castles. Eventually he is locked up in his own castle and his closest advisors urge him to abdicate. Christopher writes a testament that he would die a death worthy of a king and disappears into the lake.

At the same time Victor William incurs the Grand Duke`s displeasure. The Grand Duke chooses another nephew, the Duke of Frantz as heir. Victor William falls in with Cossurto, a republican conspirator. The secret police discover their plan for a coup d`etat and assassinate Victor William and his fellow plotters as a shooting lodge in Mayerling. Fritz accidentally witnesses the assassination and is pursued by the secret police.

Sophie, exhausted and depressed by the misfortunes of her family, requests a divorce and shuts herself up in an old mansion in the mountains. One stormy night, Fritz steals into the mansion and begs Sophie to run away with him. Sophie agrees to flee. Outside the forces of the seret police close in on Sophie`s refuge . . .


---



Narcisse Noir



A musical revue themed on narcissism, framed with lovely music and gorgeous costumes.

Scene 1 - 5 Prologue
A beautiful overture is played as the curtain rises. Narcissists dance to the exotic rhythm of the Bolero. Narcisse Noir awakens form a long slumber and sings the theme song of the performance.

Scene 6 - 8 The Moon and the Narcissists
The moon glows with a pale light. The lake shines deep blue in the light of the moon as Paris, a beautiful youth, dances by its shores. Artemis, the Muse, an the young people by the lake are fascinated with his dance. Soon they join in.

Scene 9 The Poet
A poet sings the theme song.

Scene 10 - 13 Flowers
Splendid dances and glorious songs celebrate the beauty of flowers.

Scene 14 - 16 A Matador`s Solitude
A matador talks to and dances with his beautiful shadow. He is so delighted with himself that he becomes jealous of his own shadow. He and his shadow duel and the matador breathes his last.

Scene 17 - 20 All by Myself
A narcissist loves himself deeply and is full of arrogant self confidence until one day when reflecting on his past he realizes he has left many broken hearts behind him. He puts his reminiscences into song.

Scene 21 - 24 Finale
A kickline demonstrates the exuberance of youth. Then a sophisticated couple defines elegance in dance. Finally, the entire cast joins in a colorful grand promenade.




None yet.



| | | | |
| --- | --- | --- | --- |
| Poster | DVD | VHS | CD |
| None Yet | None Yet | None Yet | |