Excalibur / Citrus Breeze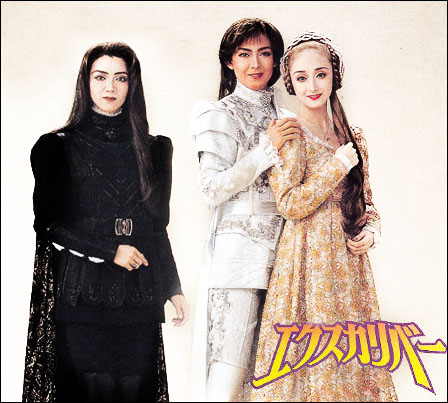 English Title:
Excalibur ~Beautiful Knights~ / Citrus Breeze
Japanese Title:
エクスカリバー ―美しき騎士たち― / シトラスの風
Romanized Title:
Ekusukaribaa -Utsukushiki Kishi-tachi- / Shitorasu no Kaze
Troupe:
Cosmos
Year:
1998-1999
Performances:
Grand Theater, 3/27 - 5/11; 1000 Days Theater, 7/11 - 8/17
Shinjin Kouen Performances:
Grand Theater, 4/14; 1000 Days Theater, 7/28
Excalibur:
Based On:
loosely based on Arthurian legend
Author / Director:
Koike Shuuichirou
Composer:
Yoshida Yuuko
,
Kai Masato
Choreographer:
Shou Sumire
,
Maeda Kiyomi
Shinjin Kouen Director:
Nakamura Kazunori
Citrus Breeze:
Author / Director:
Okada Keiji
Composer:
Yoshizaki Kenji
,
Takahashi Kuni
,
Miyahara Tooru
Choreographer:
Hayama Kiyomi
,
Yamada Taku
,
Sha Tamae
,
Ootani Morio
,
Miori Yumino
Available on DVD:
Yes (
release date 12/5/04
)
DVD Scene/Music Cut:
No
Other Cast
:
Mitsumi Akiho
,
Takahane Ukyou
,
Saeki Seiya
,
Yuumi Hiro
,
Mizuki Mai
,
Natsu Hiromi
,
Shirakawa Ruri
,
Suzu Haruki
,
Tsukishiro Misaki
,
Tatsumi Kiwa
84th Class - Group B (Tokyo):
Mebae Haruka
,
Takamiya Chinatsu
,
Kazari Jin
,
Shiina Aoi
,
Seo Mitsuki
,
Kajou Aria
,
Kiryuu Sonoka
,
Kibune Nao
,
Yumezono Mai
,
Taiga Mutsumi
,
Shirahane Yuri
,
Asabuki Yuika
,
Natsuo Komaki
WARNING!! MAY CONTAIN SPOILERS!!
Excalibur
The play opens with Andrew the Minstrel telling us the background story of Excalibur and how it had been entrusted by King Arthur to the Maiden of the Lake several centuries before this tale starts. The Maiden passed it on to the wizard Merlin, who gave it to one King Richard. Unfortunately, King Richard was killed by the Saxon Henry, who usurped his throne and took possession of Excalibur, with the help of the evil Morgan La Fey. Unbeknownst to Henry, King Richard's baby son Edward had got lost in the fight and was picked up by the knight Stein, who renamed him James. James spent a peaceful childhood in Eivan Forest brought up by Stein with a large group of Briton orphans.
James is now grown up and spends his time training to be a knight with Stein and a now ancient Merlin, and playing with the Golden Deer, the guardian spirit of the forest. Meanwhile, the Saxon Count Bloom is summoned to King Henry's court at the Crimson Palace. The Count is unwell and can't go but sends his daughter Rosaline, against her will, with her maid Nanette. They are escorted through the dangerous Eivan forest by Christopher the Black Knight, King Henry's narcissistic nephew.
While they are in the forest, Christopher goes off to hunt for the Golden Deer, forbidding Rosaline to leave camp. Rosaline dresses as a page to escape into the forest with the intention of going home. She comes upon the Golden Deer and is spotted by James. Pretending to be the page Ronald trying to escape the nasty Saxon princess, she accepts James' suggestion to join Stein's group and train as a knight. Before she can start, however, some of the forest boys come to tell James that Christopher has killed the Golden Deer and stolen its golden antlers. Nanette appears and unwittingly gives away Rosaline's disguise. Stein's son Brad is in favour of trading Rosaline for the Deer's antlers, but the chivalrous James returns Rosaline to her camp unharmed and sets out alone to retrieve the antlers.
At the Crimson Palace, King Henry is receiving Rosaline. Christopher wishes to present the Golden Deer's antlers to her but she refuses and condemns Henry and Christopher for their mistreatment of the Briton people, who are obliged to hide out in the forest. King Henry is merely amused and demonstrates his ability to draw Excalibur from its stone to prove that he is the rightful ruler. James, who had been lurking dressed as a minstrel, intervenes and Rosaline accepts the antlers, only to give them to James, who escapes with them. King Henry declares his intention to have Rosaline marry Christopher and keeps her hostage. Having taken the Golden Deer's antlers back to the forest, James realises that he has fallen in love with Rosaline and decides to go and rescue her from King Henry's court.
Back at the Crimson Palace, Christopher is vainly attempting to draw Excalibur from the stone, when Morgan La Fey proposes a deal: she will magically give him the ability to draw the sword (as she has done for Henry so far), if he will take her as his wife. They are interrupted by King Henry who is discussing with his advisors the question of how to announce Christopher as his heir, as well as his engagement to Rosaline. They plan a welcome festival for Rosaline, which will include a contest to who can draw Excalibur from the stone; Christopher, aided by Morgan's magic, will be the only one able to remove the sword and thus be recognised as Henry's lawful heir.
At the festival, James and his comrades appear in disguise and take part in the contest for the sword. James, while helping Brad up, unwittingly draws Excalibur effortlessly, to everyone's astonishment. He is recognised by King Henry and flees with Rosaline, pursued by the royal guards. Unfortunately, they are stopped by Christopher who has captured James' comrades and is demanding Rosaline and Excalibur back in exchange. James returns Excalibur for his friends and Rosaline gives herself up, despite his protests, in exchange for the Britons being allowed to escape.
In Eivan Forest, Merlin hears of James' ability to draw Excalibur and concludes that he must hold some special power. James is knighted by Stein and everyone swears fealty to him. They determine to overthrow evil King Henry.
Sometime later at the Crimson Palace, Christopher demands that Rosaline write to her father to inform him that they will be married in seven days at the Chapel in the Western Tower. When she's left alone with Nanette, James appears through the window and promises to come back to rescue her, but before he can leave he is seen by Christopher, who then decides it is safest to lock Rosaline up in the Western Tower until the wedding. In the Tower, Rosaline comes upon a nun who has been emprisoned there for twenty years. She turns out to be Queen Marianne, King Richard's widow. Rosaline expresses her certainty that they will be rescued and they pray together. Meanwhile, James knows he only has a few days and begins to mobilise an army, appealing even to Rosaline's father Count Bloom for military support.
The seven days are up, and Rosaline is brought to the altar with Christopher. Just in time, James' army breaks into the Western Tower and stops the wedding. Ensues a massive fight, in which Rosaline escapes her captors, Morgan La Fey comes face to face with Merlin, and which ends with a faceoff between James and Christopher in the throne room. James is disarmed but manages to draw Excalibur from its stone and defeats Christopher with ease.
James is reunited with Rosaline, who introduces Queen Marianne. Marianne recognises on James' finger the ring she left in his cradle and realises that he is her son Edward. James declares his intention to become king and rule the land fairly. Queen Marianne blesses his marriage to Rosaline and all's well that ends well.
---
Citrus Breeze
Citrus Singer S1 -
Shizuki Asato
Citrus Maiden -
Hanafusa Mari
Citrus Singer S2 -
Wao Youka
Citrus Singer S3 -
Kozuki Wataru
Chapter 2: Flower Fortune-Telling
Flower Fortune-Telling Girl -
Hanafusa Mari
Daisy A -
Natsukawa Yura
,
Kotobuki Tsukasa
Passion Singer -
Wao Youka
Chapter 3: A Gentle Breeze and Me
Gentle Breeze Singer S1 -
Shizuki Asato
Tropical Dancers A -
Koshi Haruki
,
Nozomi Kei
,
Yuuki Kaoru
,
Kotobuki Tsukasa
,
Asami Hikaru
,
Yumeki Noa
,
Tatsu Tsukasa
,
Kuon Maya
Gentle Breeze Singer S2 -
Wao Youka
Gentle Breeze Singer S3 -
Kozuki Wataru
Gentle Breeze Woman S1 -
Hanafusa Mari
Gentle Breeze Woman S2 -
Ryou Akino
Gentle Breeze Woman S3 -
Natsukawa Yura
Gentle Breeze Singer (Woman) -
Izumo Aya
Vittorio -
Shizuki Asato
Mathilde -
Hanafusa Mari
Sebastian -
Wao Youka
Singers -
Izumo Aya
,
Kozuki Wataru
Masked Man A -
Nozomi Kei
Masked Woman A -
Asami Hikaru
Masked Men -
Yuuki Kaoru
,
Takashou Mizuki
,
Ootaka Tsubasa
,
Tatsu Tsukasa
Masked Women -
Ryou Akino
,
Suzuna Saya
,
Anri Michiru
,
Kajika Kumi
Creation Singer -
Shizuki Asato
Bard (Young Man) -
Wao Youka
Bard (Young Woman) -
Hanafusa Mari
Bard Singers -
Izumo Aya
,
Kozuki Wataru
Hatsubutai
of the
84th class
.
Chapter 7: Energy for Tomorrow
Gospel Singer S1 -
Shizuki Asato
Gospel Singer S2 -
Wao Youka
Gospel Singer S3 -
Kozuki Wataru
Golden Duet (Man) -
Shizuki Asato
Golden Duet (Woman) -
Hanafusa Mari
Etoile -
Ryou Akino
Finale Gentleman S1 -
Shizuki Asato
Finale Gentleman S2 -
Wao Youka
Finale Gentleman S3 -
Kozuki Wataru
Finale Lady S -
Hanafusa Mari
Finale Ladies A -
Izumo Aya
,
Natsukawa Yura
None yet.