The Glow of Sunset in Asuka / Takarazuka Splendor II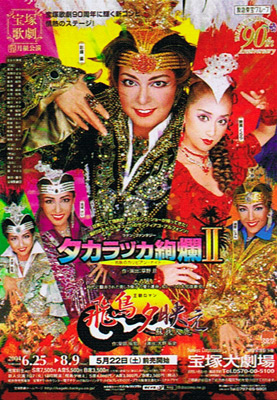 Picture Credit: Zephy
English Title:
The Glow of Sunset in Asuka: A Saga of Soga no Iruka / Takarazuka Splendor II: A Burning Caribbean Night
Japanese Title:
飛鳥夕映え―蘇我入鹿ー / タカラヅカ絢爛II―灼熱のカリビアンナイト―
Romanized Title:
Asuka Yubae -Soga no Iruka- / Takarazuka Kenran II - Shakunetsu Karibian Naito -
Troupe:
Moon
Year:
2004
Performances:
Grand Theater, 6/25 - 8/9; Tokyo Theater, 9/3 - 10/10
Shinjin Kouen Performances:
Grand Theater, 7/27; Tokyo Theater, 9/14
The Glow of Sunset in Asuka:
Based On:
Author:
Shibata Yukihiro
Director:
Oono Takuji
Composer:
Yoshida Yuuko
Choreographer:
Onoe Kikunojou
,
Nishizaki Mine
,
Onoe Seifuu
Conductor (Takarazuka)
:
Sasada Aiichirou
Conductor (Tokyo)
:
Izawa Ichirou
Shinjin Kouen Director:
Kodama Akiko
Takarazuka Splendor II:
Author/Director:
Kusano Akira
Composer:
Takahashi Kuni
,
Kuratomi Shinichi
,
Aoki Tomoko
Choreographer:
Santiago Alfonso,
Hayama Kiyomi
,
Masaki Rino
,
Wakao Risa
Conductor (Takarazuka)
:
Misaki Megumi
Conductor (Tokyo)
:
Available on DVD:
Yes (
release date 10/1/04
) &
VHS
DVD Scene/Music Cut:
Yes
In Takarazuka Splendor II: The musical number from scene 10 (Midnight Party B) (singers: Tsukifune Sarara & Hokushou Kairi) was cut.
Kao Amiri was absent from the Takarazuka run.
Other Cast:
Miyume Himari
,
Hazaki Mana
,
Asahana Rinka
,
Kagetsu Miyako
,
Saran Erika
,
Ori Yoshino
,
Kao Amiri
,
Yumesaki Nene
,
Kisaki Hinano
WARNING!! MAY CONTAIN SPOILERS!!
THE GLOW OF SUNSET IN ASUKA
A Saga of Soga no Iruka
In the late 630's in Asuka (today's Nara), Soga no Kuratsukuri (Iruka), who was born the son and heir of the powerful minister Soga no Emishi, is now grown up and regarded as one of the best and brightest to manage the imperial government. He is studying hard at the imperial school under the Buddhist priest Min who has a good knowledge of the T'ang Dynasty. This school is reserved for the sons of nobles and influential families such as Prince Karu (younger brother of Princess Takara, the future Empress Kogyoku), Ishikawamaro (the eldest son of the Soga family branch), Prince Yamasiro no Oe, the son of Prince Shotoku), Prince Furuhito (the son of Emperor Jomei) and Nakatomi no Kamatari. They are earnestly studying Chinese thought and political doctrine in the hope of carrying out governmental reforms in Yamato (today's Japan). Among all the others, Kuratsukuri and Kamatari are regarded as excellent and treated with deference. However, Kuratsukuri is the heir of the head family of the Soga clan, whereas Kamatari was born into a family of rather lowly status. The family is in charge of affairs pertaining to the Shinto religion. The two men are naturally quite different in political standing, and Kamatari is secretly jealous of Kuratsukuri.
On the way home from the school on market days, Kuratsukuri and his friends often join Utagaki, which are singing and dancing parties of young men and women on the street. One day, Meno, the daughter of Abe no Kurahashimaro whom Kuratsukuri has known since their childhood, is among those young women. Kamatari catches sight of the outstanding beauty of Meno and tries to take her away with him from the dancing circle of men and women. However, Kuratsukuri comes in and takes her with him. Caught by the glamour of Meno who is now grown up and while looking at her necklace, he tells her that a more gorgeous necklace would be more fitting for her. He then proposes to her that they go out together on horseback the next day. Meno also is much thrilled by the encounter with Kuratsukuri whom she has been fond of since childhood.
Emperor Jomei dies three years later, and his consort Princess Takara is to succeed him. Nakatomi no Kamatari sets up an elaborate scheme in order to make real his ambition. Kamatari often finds his position weak and feels humiliation because his family status is lower that that of Kuratsukuri. He studied hard in the hope of rising to a higher position. Now he is determined to reach his goal by all means and obsessed by ever growing ambition. He decides to exploit Prince Yamashiro no Oe who remains depressed ever since he was hindered from ascending the throne.
On the day of the enthronement ceremony of Empress Kogyoku, Kuratsukuri is officially appointed as minister. This position allows him to at last bring his political genius into full play. Kamatari's man then appears with the news that Prince Yamashiro no Oe has raised a revolt. The empress is being taken aback as Prince Karu tells her that the revolt was inevitable. The empress immediately sends troops to arrest Prince Yamashiro no Oe.
In the summer of 645, on the plains of Asuka, Kuratsukuri spend a peaceful time with Meno. Meno worries about the health of Kuratsukuri who is busy working day by day. He tells her of his dream that he will one day travel with her to T'ang. He thinks it is a model of the political system which Yamato should make its own. A few days later, Kuratsukuri gives a party to appreciate irises. There he advises Ishikawamaro, his cousin, to go over to T'ang under the fear of his cousin's secret relations with Princess Otarashi, Prince Karu's consort. Prince Karu, in ignorance of Kuratsukuri's conversation with Ishikawamaro, suggests that Kuratsukuri should appoint Kamatari to an important position in the government, as he is highly capable. Kuratsukuri only replies that it is hard to talk Kamatari into compliance. Some days later, Kuratsukuri notices Ishikawamaro secretly meeting with Princess Otarashi. He frightens Ishikawamaro by saying that his relations with the princess may bring about his downfall if unveiled. He decides that Ishikawamaro be a tool for a plot he is working out.
Empress Kogyoku enamored with Kuratsukuri has him come to court more often than not. She intends to rule Yamato with him by investing him with all the powers. However, her intentions can endanger her emperorship as well as Kuratsukuri's position. Kamatari who has come to know her intentions incites Prince Naka no Oe the empress's son. He does this by pretending that Kuratsukuri is trying to persuade the empress day and night to appoint Prince Furuhito who is related to the Sogas to be heir apparent. Furthermore, Kamatari goes to court to tell the empress that he knows what she thinks of Kuratsukuri and that he would make it public as he pleases if she does not listen to his request.
The gossip about the relations between Empress Kogyoku and Kuratsukuri has reached Meno's ears. Although she is not experienced, she trusts in Kuratsukuri. One day Kuratsukuri calls on her and asks her to live with him as his lawful wife at his palace on the Amakashi Hill. She cannot be more thrilled with the joy of living with him. Then, she tells of her uneasiness about the way Kamatari looks at her these days. Seeing Meno seriously worrying, Kuratsukuri has ominous feelings.
Kamatari's scheme is ingenious enough to involve even Prince Karu in it. He gives Prince Karu an inkling of his eventual ascension to the throne and succeeds in talking him into going to the Ise Shrine on behalf of the empress and for the purpose of protecting his interests.
It seems to be no more long before the day of the reception in honor of the envoys from the three countries of the Korean Peninsula. Kuratsukuri has been waiting for them impatiently. However, he has not been informed at all of the details of the reception, the proceedings of which have been trusted to Kamatari. All of a sudden, Ishikawamaro comes by and lets Kuratsukuri know that the reception will be held 3 days later at the Council Hall in the Imperial Palace. Shortly afterward, Prince Karu calls on Kuratsukuri and tells him that he will be in Ise on the day of the reception. Kuratsukuri is suspicious of the prince's intensions of traveling to Ise on the very day of the important diplomatic reception. He studies various possibilities and tries to ascertain what trap is secretly prepared for him. He cannot think of but Kamatari behind the scene. Indeed, Kamatari is working out a plot with Prince Naka no Oe and his supporters at the Council Hall.
A day before the reception, at the palace on the Amakashi Hill, Kuratsukuri offers Meno a necklace, which he thinks fits her and which he has been looking for since the day he found her again among the young people of the singing party. He proposes to her to go to T'ang together after the reception. Meno swims in bliss, whereas she cannot help feeling uneasiness.
On 12th June 645, the day of the reception, at the Itabuki Palace, the reception in honor of the envoys from Silla, Paekche and Kokuryo is on the point of starting. He heads for the palace in the premises of the Council Hall, although he has a premonition of fatal danger.
Takarazuka Splendor II
A Burning Caribbean Night
Act 1: Prologue A - 10 pm
A clock reads 10 o'clock in the evening. A full moon rises.
Pepe -
Oozora Yuuhi

Act 2: Prologue B - 10 pm
The curtain rises cheerfully with the elves.
Ponopo -
Ayaki Nao
Ferro -
Takashiro Kei
Lazarus -
Sena Jun
Act 3: Prologue C - 10 pm
A Cuban girl named Maria walks alone along the seaside.
Ponopo -
Ayaki Nao
Maria -
Emi Kurara
Ferro -
Takashiro Kei
Lazarus -
Sena Jun
Act 4: Prologue D - 10 pm
The vibrant tune surges again like a tsunami.
Ponopo -
Ayaki Nao
Lazarus -
Sena Jun
Now that they have surfaced again from the sea, the elves dance while singing that they want to go to the night town.
Ferro -
Takashiro Kei
In the fast asleep streets of Havana.
Ferro -
Takashiro Kei
Act 7: Burning Sand A & B - 11:30 pm
Ponopo walks alone on the beach. He has a hunch that he will fall in love with somebody.
Ponopo -
Ayaki Nao
Maria -
Emi Kurara
The elf Lazarus comes in and sings, "I itch for action as midnight comes. I want to dance hard and in heat".
Lazarus -
Sena Jun
Act 10 & 11 & 12 : Midnight Party B - 00 am
In the middle of the party, Ponopo and Maria meet again and spend a joyous time.
Ponopo -
Ayaki Nao
Maria -
Emi Kurara
Ferro (Man of the party S) -
Takashiro Kei
Lazarus (Man of the party S) -
Sena Jun
Act 13 & 14: Midnight Party C - Stardust Chorus-line
Pepe comes out. At his signal, young elves come out one after another and perform a chorus-line.
Pepe (Arena's singer) -
Oozora Yuuhi
Act 15: Dance under the Moon - 1 am
Ponopo, Ferro and Lazarus in suit stand lit in the moonlight.
Ponopo -
Ayaki Nao
Ferro -
Takashiro Kei
Lazarus -
Sena Jun
Maria all alone sings her passionate love for Ponopo.
Maria -
Emi Kurara
Lazarus -
Sena Jun
Act 17: Heated Night - 3 am
The moon beautifully lights up the graveyard of elves jutting out into the sea.
Lazarus -
Sena Jun
Soon, the elves must go back to the sea.
Ferro -
Takashiro Kei
All of a sudden, the Caribbean hurricane approaches.
Ponopo -
Ayaki Nao
Maria -
Emi Kurara
Act 20 & 21 & 22 : The Sun Also Rises A & B & C - 5 am
On the beach after the hurricane, There is no one on the beach. Ponopo comes out.
Ponopo -
Ayaki Nao
Maria -
Emi Kurara
Ferro -
Takashiro Kei
Lazarus -
Sena Jun
Ponopo -
Ayaki Nao
Maria -
Emi Kurara
Act 24: Epilogue (Parade)
Ponopo -
Ayaki Nao
Maria -
Emi Kurara
Ferro -
Takashiro Kei
Lazarus -
Sena Jun
(And all other performers)
The last show of
Emi Kurara
, also
Sena Jun
was unofficially transfered to Moon Troupe after this show.
Takarazuka Splendor
was also performed by Star Troupe, with
Kozuki Wataru
in the lead role.
ENAK Sumire Style Stage GRAPH
None yet.
| | | | |
| --- | --- | --- | --- |
| Poster | DVD | VHS | CD |
| None Yet | None Yet | None Yet | None Yet |