A Love Story in 1914/Takarazuka Splendor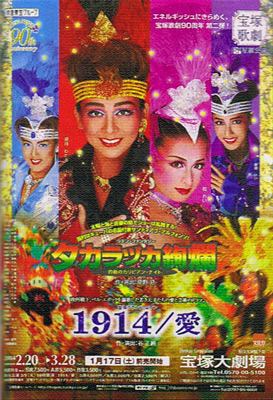 Picture Credit: Zephy
English Title:
A Love Story in 1914/Takarazuka Splendor
Japanese Title:
1914/愛 ~ タカラヅカ絢爛
Romanized Title:
1914/Ai ~ Takarazuka Kenran
Troupe:
Star
Year:
2004
Performances:
Grand Theater, 2/20 - 3/28; Tokyo Theater, 5/7 - 6/6
Shinjin Kouen Performances:
Grand Theater, 3/9; Tokyo Theater, 5/18
A Love Story in 1914
Based On:
Author/Director:
Tani Masazumi
Composer:
Yoshizaki Kenji
Choreographer:
Shou Sumire
Conductor (Takarazuka)
:
Yabe Yutaka
Conductor (Tokyo)
:
Izawa Ichirou
Takarazuka Splendor
Author/Director:
Kusano Akira
Composer:
Takahashi Kuni
,
Kuratomi Shinichi
,
Aoki Tomoko
Choreographer:
Santiago Alfonso
,
Hayama Kiyomi
,
Masaki Rino
,
Wakao Risa
Conductor (Takarazuka)
:
Misaki Megumi
Conductor (Tokyo)
:
Available on DVD:
Yes (
release date 5/10/04
) &
VHS
DVD Scene/Music Cut:
No
Other Cast:
Aozora Yahiro
,
Haoto Rino
,
Mashio Shin
,
Maiha Megumi
,
Hisaki Seara
,
Yashio Yuumi
,
Kurenai Yuzuru
,
Ichijou Azusa
,
Miya Rurika
,
Aomi Rima
,
Hasagi Tsubasa
,
Hazakura Shizuku
,
Haruna Hitomi
,
Yuzuno Reika
,
Maiya Riri
,
Marimura Kaoru
WARNING!! MAY CONTAIN SPOILERS!!
At Montmartre, Paris in 1911, the cabaret Le Mirliton is tightly packed with an audience eager to hear Aristide Bruant sing. He is the proprietor of the cabaret and enjoys great popularity. Guillaume Apollinaire, a rising poet, comes in with his love Marie Laurencin and such young painters as Amedeo Modigliani and Maurice Utrillo as well as a Russian grand prince and princess and a lady. Apollinaire introduces to Aristide the grand prince and princess as patrons of artists including him. The lady is introduced as "Countess Mystery" whose name and origin are known to no one. The totally anonymous countess finds patrons for young poverty-stricken artists. She succeeds in introducing Russian painters Marc Chagall and Soutine to the grand prince and princess today. The grand prince boastfully vows before Aristide that he patronizes Chagall and Soutine as his noblesse oblige even though he now knows they are Jewish. His arrogance gets on Aristide's nerves. Aristide declares that they are not in Russia but in France, a country of liberty. The audience stands by Aristide and the atmosphere becomes tense. The countess then starts singing out loud La Marseillaise, which is against the aristocracy. The audience joins her. The grand prince and princess feel overwhelmed by the powerfulness of La Marseillaise and they hurry away from the cabaret. Aristide is surprised at the countess' behavior that seems unbecoming for noble ladies and is curious about her true nature. However, she leaves him behind saying with a smile that life is not pleasant without mysteries.
Anatole, butler to the Fleuret, arrives as Aristide is closing the cabaret. He tells Aristide that Count Fleuret who has fallen ill is now in critical condition. Aristide living free of social status and birth is, in fact, heir to Count Fleuret. Although he opposes his father, he hurries to his father's mansion overcome with anxiety.
In La Ruche (beehive), a phalanstery cum ateliers of artists, Modigliani, Utrillo, Chagall and Soutine paint believing in their talents and at the same time worrying about critics of their works. Apollinare calls on them with Marie and Paul Guillaume, the most important art dealer in Paris. Guillaume has heard much of the avant-garde artists painting in La Ruche and has been desirous of seeing their works. Shortly afterward, Prefect of police of Paris Lepine suddenly comes in and arrests Apollinaire without evidence for the theft of Mona Lisa. Modigliani and his friends immediately invite other artists to join them to petition for Apollinaire's release by claiming that he is the victim of a wrongful arrest.
Aristide returns home and finds out that his father's illness was only a sham. He also comes to know that his father wants him to marry Olga, a daughter of wealthy Steinhof. Fleuret badly needs money in order to continue to keep his standing as count. However, Aristide's father doesn't want such a rumor that his son marries Olga for money to be heard. He remembers some time ago the family rule that brides to the Fleuret had to be good singers of love songs. He then hits upon an idea of organizing a singing contest, the winner of which as a matter of course is Olga. To Aristide's surprise, his father has invited some contestants pretending that the contest is an audition to select a singer for a new opera play. Adele wishing to win the role of the singer is there with Claudine who is her roommate and a designer. The audition starts. Shortly afterward, Adele becomes aware that the audition is a fake. She shouts that nobody has the right to play on the dreams of others and runs away. Aristide sympathizing with her runs after her.
Adele, much vexed at being nicely taken, in has another face. She pretends to be a countess and collects donations for poor artists. She does this for the first time wearing a dress entrusted to Claudine for sewing and obtains money in order to pay Claudine's hospital bills. As Adele enters Etienne's cabaret Le Lapin Agile with Claudine, Aristide in the guise of a count catches up with her. He apologizes to her and asks her about her dream. She tells him that she wants to be an opera singer. He then sings that a dream lasts as long as it is dreamed. She is very much impressed by his tender voice. However, all of a sudden, she runs away as if she wants to escape from him. Aristide feels attracted to although he does not even know her name.
ENAK Sumire Style Stage GRAPH
None yet.
| | | | |
| --- | --- | --- | --- |
| Poster | DVD | VHS | CD |
| None Yet | None Yet | None Yet | |