Hollywood Babylon / Southern Cross Revue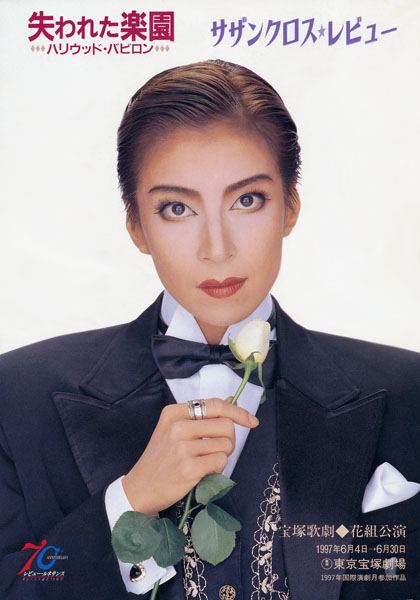 English Title:
Hollywood Babylon ~The Paradise Lost~ / Southern Cross Revue
Japanese Title:
失われた楽園 ~ ハリウッド・バビロン ~ / サザンクロス・レビュー
Romanized Title:
Ushinawareta Rakuen ~ Hariuddo Babiron ~ / Sazan Kurosu Rebyuu
Troupe:
Hanagumi
Year:
1997
Performances:
Takarazuka, 2/14 - 3/24; Tokyo, 6/4 - 6/30
Shinjin Kouen Performances:
Grand Theater, 3/4; Tokyo Theater, 6/10
Hollywood Babylon
:
Author:
Koike Shuuichirou
Director:
Koike Shuuichirou
Music Composed/Adapted By:
Yoshida Yuuko
,
Kai Masato
Choreography:
Hayama Kiyomi
,
Shou Sumire
Shinjin Kouen Director:
Ogita Kouichi
Southern Cross Revue
:
Author:
Kusano Akira
Director:
Kusano Akira
Music Composed/Adapted By:
Takahashi Kuni
,
Kuratomi Shinichi
,
Miyagawa Akira
Choreography:
Hayama Kiyomi
,
Shou Sumire
,
Nakura Kayoko
,
Ueshima Yukio
,
Iga Yuuko
Available on DVD
: VHS only
† Due to injury,
Hatsukaze Midori
was absent from the Takarazuka run.
Understudy roles were as follows:
-David Moore (
Hatsukaze Midori
) →
Mayuka Reo
-Ben (
Mayuka Reo
) →
Asami Hikaru
-Roy (
Asami Hikaru
) →
Mutsuki Mao
-Journalist (male) (
Mutsuki Mao
) →
Asahina Kei
‡ Due to poor health,
Mitaka Nozomi
was absent from the whole Tokyo run.
Other Cast
:
Kikuho Rina
,
Anri Michiru
,
Nazuki Mika
,
Hayase Ayu
,
Mitaka Nozomi
‡ ,
Yumeji Honoka
,
Mimori Sayaka
,
Hosaki Rinna
,
Nanami Sara
,
Mikaze Maira
,
Hayami Riki
,
Ayakaze Ran
,
Mihiro Seisa
,
Kino Kotose
83rd Class - Group A (Tokyo):
Amase Izuru
,
Koizumi Kirara
,
Asana Irumi
,
Suzuha Ranno
,
Hanaki Yuina
,
Yuuho Satoru
,
Shirakawa Ruri
,
Natsu Hiromi
,
Chisaki Maria
,
Takami Ryou
,
Fuuga Minato
,
Anjou Shiki
,
Tatsumi Kiwa
WARNING!! MAY CONTAIN SPOILERS!!
Hollywood Babylon
It is the golden age of Hollywood, in the latter half of the 1930s. One day, the writer Eliott Walker makes a visit to Global Studios, a major cinema company. He is the author of "Triumphal Song of Youth", the best-seller which swept over the jazz age to become the representative novel of the 1920s. He received millions of dollars in royalties for this novel which was based on the story of his wife, but he squandered it all. As a result his wife had a nervous breakdown and was admitted to hospital, leading Eliott to indulge in drinking. Now, Eliott is forgotten.
It is Arthur Cochran who invited Eliott to Global Studios. Arthur is known for his boldness and reliable foresight. He is called the "miracle young man" because he rebuilt Global Studios after it faced the crisis of bankruptcy. He is the most influential man in contemporary Hollywood. In the studio, "Hollywood Paradise", a work being made to commemorate the twenty-fifth birthday of Global Studios, is being shot. When the dance scene reaches its peak with a rising musical star Mario, the star of the show Pola appears. Pola accidentally bumps into a chorus girl Lia, and falls down. Pola gets angry with Lia and the studio is thrown into commotion. Pola also argues with the director and then she calls Arthur. He changes the director on the pretext of incompetent shooting. Lia protests Arthur's actions and gives up her role.
Eliott too is surprised at what Arthur did, and is told by the columnist Margaret that Arthur is the tycoon of Hollywood. Arthur signs a five hundred dollar-a-week contract with Eliott, witnessed by Samuel, the President and Harry, the Studio Manager. Cinematization of Eliott's novel "Triumphal Song of Youth" is Arthur's heart's desire. But Eliott cannnot bring himself to rewrite the novel because it reminds him of his bad experience. As a result, the dramatization of it is entrusted to a team of writers. Eliott is invited to the writer room by the dramatization manager, Helen. He is introduced to many talented young writers, including Lesley. Lesley is working hard to establish a labor union with the aim of liberalizing his company's severe labor conditions.
Arthur visits a pub with a special show imitating Hollywood stars. Authur's eye fastens upon a beautiful woman with blonde hair imitating the Global Studios actress Nina. Nina was Arthur's fiancee before dying tragically in an accident four years ago. He realizes she is Lia, the girl who ran out of the studio that very morning. Arthur decides to shoot the film with Lia as the heroine.
On the other hand, the Studio Manager Harry is anxious about the President's choice of Arthur, and instead picks out a capable producer called Max from another studio. Max plots Arthur's downfall. To these ends he approaches Lesley, who is currently exhausted from his incredible amount of work.
Lia is admired greatly at a camera test. Max is vexed and tries to unearth a scandal which will entrap her.
During a Scenario Writer Association party, Lesley, who has secured Eliott's cooperation, declares the establishment of a labor union. The party is thrown into commotion. Harry attempts to dismiss Lesley, but his comrade Max devises a more subtle way of getting rid of Lesley.
Arthur is unaware of all this, having left the party earlier with Lia as he was bored. He takes her to the house he had prepared for his wife-to-be Nina. Arthur confesses to Lia that he is falling in love with her. Lia wonders if it is really her that he loves, but she is also attracted to him.
On the other hand, Eliott and his companions stay on at the party, drinking in despair. When nobody remains except he, Lesley and Helen, they are attacked by a ruffian and injured badly at Max's instigation.
At the film launch, Ruth, whose task it was to search for a scandal involving Lia, discloses that Lia disappeared on her wedding day and has since lived under a false name. Harry orders that the film not be released. Arthur assures Eliott that he will recover from the situation. Lia apologizes to Arthur and they swear their love for one another.
Arthur is determined to rise again, and borrows a studio in order to shoot "Triumphal Song of Youth" himself. He is assisted in this by Eliott. Max visits Lesley and informs him that Arthur has instead given the writer's job to Eliott, which is of course a lie. Lesley begins to hate Arthur, as was Max's intention.
Arthur puts all his effort into shooting the film, and on its completion the President allows it to commence a road show season. Max is extremely jealous and has Lesley think that Arthur was wirepuller behind the ruffian incident.
It seems that Arthur has won out against adversity, as the road show debut is a brilliant success. But with no warning, he is shot dead backstage by Lesley. Lia is unaware of this, as she is making a stage appearance. Arthur dies calmly, hearing Lia's voice talking to him of everlasting love.
---
Southern Cross Revue
In the southern hemisphere, under the Southern Cross which shines with mystery and romance, a dramatic revue rolls out in all the rich colors of a carnival. The rhythm pulsates, bodies sweat. The Flower Troupe power explodes. Takarazuka Revue extraordinaire supersedes its tradition in this wonderful achievement.
Scenes 1-4 Southern Cross Revue - Prologue
With a shout of "samba", light floods the stage. A richly colored float is surrounded by the villagers of Carioca, who are colorfully dressed. A mad carnival takes place. The crowd departs suddenly, and there is momentary silence. Couples appear and perform a dance of suspicious love, followed by passionate dance numbers. After the passing of a float with a religious atmosphere, a carnival begins with great passion like a tidal wave. The carnival meets its climax with carnival stars.
Man of Carioca 1 ~
Maya Miki
Woman of Carioca 1 ~
Sen Hosachi
Scenes 5-7 Fabella - A Slum
Three couples from the carnival dance ardently to a passionate Latin rhythm. The men from Rio bid farewell to the Fabella women as they return to their homes in the slum, which is lit by the twinkling night sky. A carnival parade passes by.
Man of Rio ~
Aika Mire
Anna Morada ~
Nagisa Aki
Scenes 8-9 Amazon - Venus Trap
An Amazon jungle lit by a shining blue moon. A Venus fly trap sings in the moonlight. This beautiful flower performs a mating dance. It entraps and devours insects.
Venus Trap ~
Maya Miki
The heart of the Amazon. An idyllic land with a clear flowing waterfall. Many Latin revue numbers are performed.
Pajaro ~
Sen Hosachi
EI Dorado Singer 1 ~
Aika Mire
EI Dorado Singer 2 ~
Kouju Tatsuki
EI Dorado Singer 3 ~
Takumi Hibiki
With a shout of joy, people sing and dance throughout in El Dorado.
EI Dorado King ~
Maya Miki
Bonita 1 ~
Shino Yuka
Bonita 2 ~
Nagisa Aki
A prince of El Dorado sings and dances gracefully. A girl from the south island approaches him. The night in El Dorado is exciting, with its carnival. Performers come out to the audience. A parade takes place in a frenzy of excitement.
Fiesta Man 1 ~
Maya Miki
Fiesta Woman 1 ~
Sen Hosachi
Fiesta Men 2 ~
Aika Mire
,
Kaikyou Hiroki
,
Takumi Hibiki
Fiesta Women 2 ~
Mitsuki Ayu
,
Shino Yuka
,
Nagisa Aki
Scenes 15-16 El Dorado - Butterfly
After the carnival, calm returns to El Dorado. A butterfly settles on the waterfall. A singer appears and sings a love song. The waterfall opens and a cloud of butterflies emerge and form a chorus line.
Mariposa (singer) ~
Kouju Tatsuki
Scenes 17-19 Patagonia - Tango
The region of Patagonia, near the South Pole. Under a blood red sunset, the young Nonnino dances with his beloved Juanita, a member of a rival family. Love blossoms momentarily, but their families intervene. In the background of this joyful dance there is a sad quarrel and death. As a result of Nonnino's and Juanita's deaths, the families make their peace. In the city the wind blows, and the two bodies are buried. Crucifixes are placed in the ground. Through the snow, the Southern Cross shines.
Nonnino ~
Maya Miki
Juanita ~
Sen Hosachi
Bernard ~
Aika Mire
Rif ~
Kouju Tatsuki
Crapki ~
Kaikyou Hiroki
Cino ~
Takumi Hibiki
Scenes 20-22 Carnival Illusion
A world of ice. The carnival finishes. In a paper snowfall, carnival fairies in white dresses rise from the dead from a hill on which several crucifixes stand. Nonnino and Juanita are among them in the white world. The rhythm surges like a flood. The fairy carnival meets a climax and it becomes a star world. Nonnino flies to the Southern Cross. A singer appears.
Nonnino ~
Maya Miki
Juanita ~
Sen Hosachi
Frama ~
Aika Mire
,
Kouju Tatsuki
,
Kaikyou Hiroki
,
Takumi Hibiki
Scenes 23-24 Southern Cross Revue - Finale
A long richly colored parade gives the revue a glorious finale. Carnival stars appear and all members return to sing and dance with joy.
Parade Singer (man) ~
Maya Miki
Parade Singer (woman) ~
Sen Hosachi
None yet.
| | | | |
| --- | --- | --- | --- |
| Poster | DVD | VHS | CD |
| None Yet | None Yet | None Yet | None Yet |