Floating Bridge of Dreams / Apasionado!!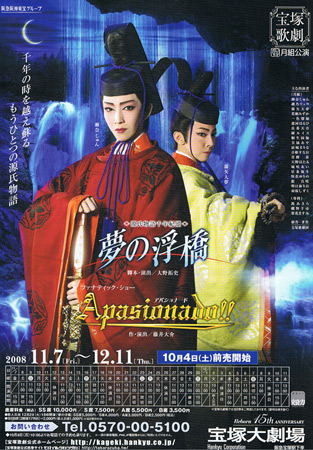 Picture Credit: Zephy
English Title:
Floating Bridge of Dreams / Apasionado!!
Japanese Title:
夢の浮橋 / Apasionado!!
Romanized Title:
Yume no Ukihashi / Apasionado!!
Troupe:
Moon
Year:
2008-2009
Performances:
Takarazuka Grand Theater, 11/7 - 12/11; Tokyo Takarazuka Theater, 1/3 - 2/8
Shinjin Kouen Performances:
Grand Theater, 12/2; Tokyo, 1/22
Floating Bridge of Dreams:
Based On:
The Tale of Genji
Author/Director:
Oono Takuji
Composer:
Takahashi Kuni
,
Oota Takeshi
,
Takahashi Megumi
Choreographer:
Mine Saori
,
Yamamura Waka
Conductor:
Ooyagi Yasushi
Shinjin Kouen Director:
Oono Takuji
Apasionado!!:
Author/Director:
Fujii Daisuke
Composer:
Aoki Tomoko
,
Teshima Kyouko
Choreographer:
Hayama Kiyomi
,
Miori Yumino
,
Wakao Risa
,
ANJU
,
KAZUMI-BOY
Conductor:
Misaki Megumi
Available on DVD:
Yes (
release date 02/05/09
)
DVD Scene/Music Cut:
Yes
The following numbers from Apasionado!! had sound replaced or vocals removed:
Scene 20 "Espana Cani" (singer: Ryouga Haruhi) - sound replaced
Scene 23B "Amigo de Verdad" (singer: Kiriya Hiromu) - vocals cut
Role
Cast
Shinko Cast
Niou no Miya (Minister of Military Afairs. The third prince of the current emperor by Empress Akashi, the daughter of Genji)
Sena Jun
Asumi Rio
Kaoru (Commander of the Right Division of the Imperial Bodyguards. Legally, the youngest son of Genji and Onna sanno miya)
Kiriya Hiromu
Kouzuki Ruu
Ukifune (Daughter of Prince Hatchi (Genji's half-brother) and Kogimi's elder sister)
Hazakura Shizuku
Ranno Hana
Hikaru Genji (Father of Yugiri, Princess Akashi and Kaoru. Grandfather of Niou and Onna Ichi no Miya)
Ban Akira
Ayao June
Yuugiri (Minister of the Right. Eldest son of Genji by his first wife Aoi. Two sons: Emon no Kami and Saishou no Chuujou)
Isono Chihiro
Mishou Kazuki
Akashi no Chuuguu (Genji's daughter married to the the present emperor)
Rika Masumi
Hazaki Mana
Nakanobu (First Secretary of the Ministry of Finance. Kaoru's chamberlain. Mitchisada's father-in-law)
Koshino Ryuu
Kao Amiri
Onna Ichi no Miya (Niou's sister, daughter of the reigning emperor and Akashi no Chuuguu)
Hanase Mizuka
Kagetsu Miyako
Priest from Sange / Yokawa no Sozou (Prelate of Yokawa)
Isshiki Ruka
Tsuzumi Eika
Ni no Miya (second prince)
Ryouga Haruhi
Uzuki Hayate
Shi no Miya (fourth prince)
Takaki Amane
Sawaki Rizu
Ueno no Shinnou (Prince of Ueno)
Ken Ruisu
Isuzu Hikari
Tokikata (Deputy governor of Izumo province. Niou's retainer)
Kiryuu Sonoka
Hibiki Reona
Dainagon no Kimi (gentlewoman who serves Onna Ichi no Miya)
Mihou Aya
Saran Erika
Chuujou no Omoto (gentlewoman who serves Onna Ichi no Miya)
Suzushiro Marina
Remi Kurea
Ben no Omoto (gentlewoman)
Otoki Sunao
Kotone Kazuha
Emon no Kami (Yugiri's eldest son. Director General of the Guards of Imperial Gates)
Aoki Izumi
Shimon Yuriya
Onna San no Miya (Genji's wife, Kaoru's mother, sister of the reigning emperor)
Amano Hotaru
Hazakura Shizuku
Kosaishou no Kimi (Courtesan employed by the First Princess)
Shirosaki Ai
Saki Akane
Saishou no Chuujo (son of Yuugiri, younger brother of Emon no Kami. Counselor and Lieutenant General of the Imperial Guards)
Seijou Kaito
Houzuki An
Senji no Kimi (Akashi no Chuuguu's nurse)
Touka Yurino
Kahou Shiori
Nakatsukasa no Kimi (gentlewoman who serves Genji)
Hihou Kokoro
Urara Moe
Ukyou no Daibu
Asagiri Shino
Kaidou Nozomu
Michisada (Niou's retainer, Nakanobu's son-in-law)
Ryuu Masaki
Chinami Karan
Ukon (gentlewoman)
Miyume Himari
Shirayuki Sachika
Jijuu (gentlewoman)
Moeka Yuria
Kana Mikari
Ono no Imoutoama (Yokawa no Sozou's sister, a nun)
Hazaki Mana
Hino Anji
Jidoumaru (Kosaishou no Kimi's brother)
Kouzuki Ruu
Takachi Ao
Roku no Kimi (Yuugiri's sixth daughter, Niou's wife)
Kagetsu Miyako
Ayahoshi Rion
Go no Miya (fifth prince)
Asumi Rio
Akizuki Saya
Kashiwagi (Tou no Chuujou's eldest son, Kaoru's real father)
Mishou Kazuki
Mizuha Kanato
Niou no Miya (as a child)
Saki Akane
Marin Kanna
Koubai no Naka no Kimi (Ni no Miya's secret love)
Ranno Hana
Hanahi Mira
Kogimi (Ukifune's younger half brother)
Chinami Karan
Kijou Mitsuru
Kaoru (as a child)
Maino Yuka
Sana Yuzuha
Onna Ichi no Miya (as a child)
Hanahi Mira
Aikaze Yume
Other Cast:
Atsuki Renka
,
Enoki Touya
,
Ayazuki Seri
,
Ayao June
,
Kao Amiri
,
Saran Erika
,
Tsuzumi Eika
,
Sawaki Rizu
,
Isuzu Hikari
,
Hino Anji
,
Hibiki Reona
,
Uzuki Hayate
,
Remi Kurea
,
Kotone Kazuha
,
Ayahoshi Rion
,
Kahou Shiori
,
Kaidou Nozomu
,
Mizuha Kanato
,
Takachi Ao
,
Shimon Yuriya
,
Shirayuki Sachika
,
Urara Moe
,
Arise Sou
,
Takamura Yuuki
,
Kana Mikari
,
Akizuki Saya
,
Takasumi Hayato
,
Maai Suzuka
,
Fuuri Mizuka
,
Houzuki An
,
Aina Yuuri
,
Kijou Mitsuru
,
Hoshiki Tsubasa
,
Marin Kanna
,
Sana Yuzuha
,
Hoshina Yutaka
,
Shouga Tsubaki
,
Tsuzuki Mia
,
Misora Karen
,
Rinka Moe
,
Aikaze Yume
,
Amato Riira
,
Hayami Sei
,
Kousaki Ran
,
Tamaki Ryou
,
Kirami Ruise
,
Yumeha Miyu
,
Shinoka Ria
,
Mizumi Rei
WARNING!! MAY CONTAIN SPOILERS!!
Floating Bridge of Dreams
The "shining" Genji was dead. He had indeed been gifted with rare good looks and talents and lived in glory. Many years have passed since then, and in the imperial court of these days, Niou, the third prince of the current emperor (by Empress Akashi) and Kaoru, Genji's youngest son (but in reality the son of Kashiwagi who had deceived Genji along with Onna sanno miya, Genji's wife) are a good deal talked of as both of them have more than a common share of good looks and pedigree.
In the evening at an imperial banquet, Niou and his guests are pompously dancing. Niou stops dancing as soon as he notices Kaoru's absence but tells those around him by way of excuse that a dancing courtesan had overwhelmed him. Niou sneaks into the room of the courtesan named Kosaishonokimi in order to make his friends believe him. However, it is a trap set for him by his elder sister (the First Princess) who has employed the courtesan. She is so worried about his womanizing that she wishes that he be taught a lesson. He woos women and leaves them to the care of his elder sister. As a result, her entourage of ladies-in-waiting consists entirely of the women her brother had courted and discarded. Niou barely escapes from the room taking advantage of the carelessness of the ladies-in-waiting. He comes to know that Kaoru keeps a belle in Uji, a small city near Kyoto. Niou is concerned for Kaoru who keeps continues to grieve over the loss of his beloved Onokimi. Niou goes to Uji and finds Kaoru's love, Onokimi's half-sister, who is a perfect double of the late Onokimi. After Kaoru leaves for Kyoto, Niou secretly slips into the mansion in the guise of Kaoru. However, Ukifune sees that he is not Kaoru.
In the imperial court, a political conflict between Genji's heir Yugiri and the Second Prince is becoming apparent. The Second Prince is Niou's elder brother and a candidate for the crown prince. However, the relationship between the Second Prince and a daughter of the Kobais, a rival clan of the Minamotos (to which Genji belonged) is unveiled. The Second Prince is reduced to a minister of ceremonies, an honorary position given to those ruled out of candidacy for the crown prince. In the midst of the struggle for power, Niou is selected as a candidate for the crown prince totally regardless of his wishes.
Ukifune plays the zither, the late Onokimi's favorite instrument. She wonders whether she is to be forever a substitute for Onokimi. Niou tells her that she is not obliged to play the zither against her wishes, wiping away her tears. They feel strongly attracted to each other. Niou cannot stop loving her, although he is fully aware of the fact that she is the most beloved person of Kaoru with whom he was brought up together just like two brothers.
---
Apasionado!!
Scene 1: On the Eve: Tranquilo
Queen Reina of Ice, Hielo the Ice and other Ices wake up in the world covered with ice.
Reina -
Shirosaki Ai
Scenes 2, 3 and 4: The First Night: Pasión
Gradus, wearing a huge coat and at the scarlet grand staircase, serenely sings expressing his inner passion.
Gradus -
Sena Jun
Calor Man S -
Kiriya Hiromu
Calor Woman S -
Shirosaki Ai
Scenes 5 and 6: The Second Night: Veneno
Apasionado all alone sings a ballad as if he were trying to cool himself down.
Apasionado -
Sena Jun
Count Vampiro -
Kiriya Hiromu
Scenes 7, 8, 9 and 10: The Third Night: Quente Olhar
Valentino sensually dances with women in three motion pictures.
Valentino -
Sena Jun
Natasha -
Shirosaki Ai
Scenes 11, 12, 13, 14 and 15: The Fourth Night: Tropicos Noches
Tropical flowers vie with each other in beauty and a carnival begins.
Abeja -
Sena Jun
Orquidea -
Kiriya Hiromu
Scenes 16 and 17: The Fifth Night: Caliente
As a fiery rhythm rolls out, Leons led by the therianthropic (half-beast-half-human) Ray come and attack the carnival goers.
Ray -
Sena Jun
Leon -
Ryouga Haruhi
Scenes 18 and 19: The Sixth Night: Quente Amor
Hembra's tears change into a flood of water and flow into the sea. Many Lágrimas (tears) dance calmly at the beginning and gradually add strength to the dance.
Apasionado -
Sena Jun
Lágrima Man S -
Kiriya Hiromu
Lágrima Woman S -
Shirosaki Ai
Scenes 20, 21 and 22: The Seventh Night: Apasionado
Hermoso dances with female Hermosas.
Hermoso -
Sena Jun
Hermosa S -
Shirosaki Ai
Apasionado dances with male Guapos.
Apasionado -
Sena Jun
Guapo S -
Kiriya Hiromu
All the performers parade to the theme song.
Apasionado -
Sena Jun
Amor Man S -
Kiriya Hiromu
Amor Woman S -
Shirosaki Ai
Amor Man A -
Ryouga Haruhi
(And all other performers)
Ekusudei's
"Yume no Ukihashi"
&
"Apasionado!!"
| | | | |
| --- | --- | --- | --- |
| Poster | DVD | VHS | CD |
| None Yet | None Yet | None Yet | None Yet |