Who is Bad? / Passion Blue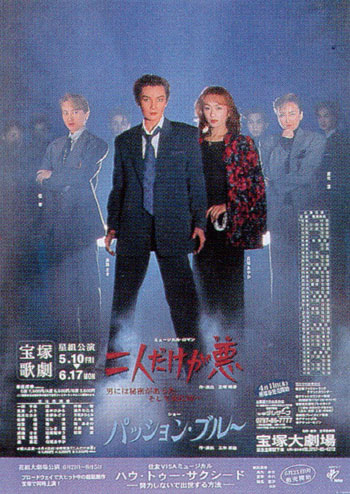 Picture Credit: Caithion
English Title:
Who is Bad? / Passion Blue
Japanese Title:
二人だけが悪 / パッション・ブルー
Romanized Title:
Futari Dake ga Waru / Passion Blue
Troupe:
Star
Year:
1996
Performances:
Grand Theater 5/10 - 6/17; Tokyo Theater 8/3 - 29
Shinjin Kouen Performances:
Grand Theater, 6/4; Tokyo Theater, 8/13
Who is Bad?:
Based On:
n/a
Author/Director:
Masatsuka Haruhiko
Composer:
Takahashi Kuni
Choreographer:
Sha Tamae
,
Hirasawa Satoshi
Shinjin Kouen Director:
Ogita Kouichi
Conductor (Takarazuka):
Nomura Youji
Conductor (Tokyo):
Izawa Ichirou
Passion Blue:
Author/Director:
Miki Akio
Composer:
Takahashi Kuni
,
Yoshida Yuuko
,
Nishimura Kouji
,
Kuratomi Shinichi
Choreographer:
Hayama Kiyomi
,
Nakura Kayoko
,
Ai Erina
Conductor (Takarazuka):
Nomura Youji
Conductor (Tokyo):
Izawa Ichirou
Available on DVD
: VHS Only
Takarazuka Cast:
Matsubara Midori
,
Mari Yuzumi
,
Tomo Maika
,
Sagikusa Kaoru
,
Takayagi Midori
,
Miyabi Kei
,
Shouno Saki
,
Chitose Manabu
,
Ayaka Yuu
,
Machi Arisa
,
Shinobu Murasaki
,
Asukai Mari
,
Tachibana Hitomi
,
Marisa Hitomi
,
Misono Erika
,
Oonatsu Shizuki
,
Riri Seira
,
Ryou Akino
,
Oka Kazumi
,
Asamine Hikari
,
Asamiya Mayu
,
Shiratori Yurie
,
Hara Miteki
,
Tsuzushiro Ai
,
Hibiya Megumi
,
Mayuzuki Kou
,
Hodaka Yuu
,
Kaihou Tamaki
,
Hanasaki Rika
,
Akisono Mio
,
Kazaki Maya
,
Ayase Saki
,
Mizuhara Madoka
,
Azusa Marin
,
Miki Chigusa
,
Ayasaki Narumi
,
Aimi Rise
,
Miya Erika
,
Kuji Akari
,
Mizuse Ao
,
Maihana Kyou
,
Kazu Yuuto
,
Masumi Urara
,
Yuuki Mayu
,
Fubuki Ayu
,
Kajika Kumi
,
Yukiji Kaho
,
Yoshino Kyouka
,
Yume Daiki
,
Hisato Rie
,
Hatsuki Kanade
,
Tsubaki Hiroka
,
Ayame Hikaru
,
Yumesaki Minori
Tokyo Cast Changes:
Additions:
Suzumi Shio
,
Marino Yui
,
Hidaka Kira
,
Suzuno Katsuki
,
Mine Keito
,
Mizushiro Rena
,
Hoshikaze Erena
,
Tsukioka Nanao
, and
Aozora Yahiro
.
Kyougoku Ayano
,
Machi Arisa
, and
Oka Kazumi
had retired.
WARNING!! MAY CONTAIN SPOILERS!!
Jay Renhart used to be a skillful agent who worked in the forefront of the CIA. However, he resigned from the CIA because he had confronted Hume, a director of the CIA in Europe who left Bruce to his fate. Bruce was a colleague and Renhart's only friend. Then Renhart is hired by the American embassy in Argentina as an official handling all their trouble matters. Soon after Renhart's arrival at the capital, Buenos Aires, he meets a wonderful woman at a tanguera. At that time, Argentina has been under a reign of terror with an extremely strong police influence. There is a noticeable distinction between the rich and the poor. People have seen the guerillas often attack the rich and experienced therestless days. While Renhart investigates a jewelry robbery case which has been reported to the embassy, he finds the LAser Sight on sale as stolen goods. The Laser Sight is the latest aiming system which NATO adopts on probation. Guerillas break into the waehouse of a trader and take it. However, they do not know how to use it, so they take it to a receiver.
Renhart pursues the guerillas and arrives at a church. A nun appears. She is the woman whom Renhart met at the tanguera. Her name is Alicia. She dances to earn money for taking care of orphans at the church. Renhart learns that she is an activist for the country's revolution. She works with Father Romero, who was once a fighter of the democratic movement.
When Renhart watches Carlos and the other guerillas, a man comes to look for them as well. He is Alex Azimoff from the KGB, and was once Renhart's rival in Europe. Alex himself gave up the hope of communism, having doubts about his government. Although he can't go against his government's orders, he agitates guerilla activities to disturb the government. Alex informs Renhart that the trader who had the Laser Sight in his warehouse is actually a weapons dealer as well. Soon the investigation for the warehouse attack is discontinued. Renhart obtains the Laser Sight and visits the trader, however, he pretends to be ignorant. When Renhart visits Alicia to inform her that Carlos and his friends are in danger, Renhart learns that her father is a politician and Bruce and another man came to see her father about some deal of weapons. Bruce was used by his bosses to sell weapons through illegal channels. Then Bruce was caught in a trap and killed. When Alicia and Renhart leave a cafe, suddenly bullets are fired at them. His former boss accuses Renhart of selling weapons illegally and Renhart is chased by police. Renhart and Ambassador Stewart plan a big play in order to reveal the truth. With Alicia's help, Carlos and his gang play parts in the plan.
At a warehouse in a port where Renhart is driven into a corner by Hume and killers, Carlos and his gang show up with rifles. Hume is terrified and offers weapons to them. Hume claims that he is a weapons dealer who handles NATO weapons illegally. Then Alex and Ambassador Stewart appear and arrest Hume.
The day comes when Renhart plans to leave for the U.S. Alicia leaves a letter for him saying that she is leaving the convent and starting a new life as a woman. LAter Renhart comes to the tanguera to see Alicia dancing and tells her that he will work at the embassy for a while. The two go back where they met for the first time and start a new life together.
---
Passion Blue
"This show is about comparisons between the images of the eternal grand blue, the Mediterranean, and momentary human passions. This has a theme for water on a set and contains various types of music including European folk music, tango, bolero, and music which came from Africa and the Middle and Near East through the Mediterranean."
A man hums the blues, his admirer turns into a red rose, blooming on a stage.
When he reaches out, other men who also admire the rose, appear and start fighting. The man wins.
When the stage is covered with blue water, his dream, the rose woman appears. He dances with her for a sweet moment.
When the delighted man sings about everlasting love, the stage is full of brightness with eternal blue. The man and the woman dance wildly.
Blue Passion:
Asaji Saki
Rose Passion:
Shiraki Ayaka
Blue Guy A:
Minoru Kou
,
Shibuki Jun
,
Emao Yuu
,
Kozuki Wataru
Scenes 5-6 Lament Gitano -Cafe-
A man returns to a cafe in a port with Spanish music playing. Although the man sees a former love, the gigolos at the cafe separate them. Their love ends with music.
Lonely Guy:
Shibuki Jun
Gigolo S:
Kozuki Wataru
Lover:
Tomo Maika
Gigolos:
Kanda Tomo
,
Ayaki Nao
, etc.
Cafe Women:
Mari Yuzumi
,
Ryou Akino
, etc.
Scenes 7-8 L'amour Bleu -Narcissus-
Narcissus sings about the admiration of unknown love. Echo imitates his love and chases around him. A lake shines and Image appears. Narcissus feels attracted to him. After Narcissus's, Image's and Echo's rondo of love, Narcissus and Image leave Echo alone to go into the lake.
Narcissus:
Minoru Kou
Image:
Emao Yuu
Echo:
Tsukikage Hitomi
Nymph A:
Misono Erika
,
Shiratori Yurie
,
Hazumi Rui
,
Miya Erika
Scenes 9-10 Blue Rondo -Dream Devil-
Venice. A dream devil appears on the night of a carnival, looking for his game. A beautiful woman is happy to receive a pearl necklace from her lover. The dream devil tempts her to sleep and takes her to a mysterious dream. While she sleeps, she starts dancing about love with the dream devil. The bed where she sleeps is carried by the current of the canal, flowing to the sea. The devil sinks her under the blue ocean.
Dream Devil:
Asaji Saki
Madonna:
Shiraki Ayaka
Nobleman:
Ayaki Nao
Puppet (Singer):
Izumo Aya
Puppet (Men):
Chiaki Shin
,
Takao Rio
Scenes 11-15 Torre Pendente
An oriental astrologer appears in front of a tower, promising to get back a princess who is caught by a crusader. Ghosts of Pope and Crusader appear and promise to protect the tower. Warriors dance passionately.
A prince of the orient invades the tower. They fight desperately. The prince defeats the warriors and goes to the top of the tower. A beautiful princess is caught at the top of the tower. She sings about sorrow. The prince notices her, but she is a devil incarnate. She changes her appearance and attacks the prince. Both fall to the basement of the tower.
In the basement, devils wake up. The prince gets confused by the magic power of the devils, and is driven into a corner. When the prince touches the Crusader, the tower collapses.
The tower collapses, and the princess who is caught returns to life and is set free. Everything is covered with light and the prince and the princess go back to the paradise of the Orient.
Warrior S:
Shibuki Jun
Astrologer (Eastern):
Isono Chihiro
Pope (Western):
Natsumi You
Warriors A:
Emao Yuu
,
Kozuki Wataru
,
Kujou Akira
,
Ayaki Nao
,
Mayuzuki Kou
,
Otowa Ryou
Ghost of the Orient A:
Shiran Masumi
Ghost of the Crusader A:
Hodaka Yuu
Oriental Prince:
Asaji Saki
Oriental Princess:
Shiraki Ayaka
Captured Princesses:
Mari Yuzumi
,
Tomo Maika
,
Ryou Akino
The Devil:
Minoru Kou
Demons:
Emao Yuu
,
Nozomi Kei
,
Kanda Tomo
,
Oohiro Ayumu
,
Asamiya Mayu
Prince Ahammad:
Asaji Saki
Princess Sierrazard:
Shiraki Ayaka
Prince S:
Minoru Kou
Prince A:
Shibuki Jun
Princess A:
Tsukikage Hitomi
Princess (Singer):
Izumo Aya
A young man sings of love.
Singer:
Emao Yuu
Scenes 17-19 Blue Horizon
It is a party where a king of the desert orders a golden woman to dance. A gypsy boy sings about the sea, motivating the king to follow the boy to the beach.
Gypsies tear off the king's costume and the king turns into the free spirit of a gypsy. The horizon brightens up, and the gypsies fly away with birds toward the horizon.
REY (King):
Asaji Saki
Woman of Gold A:
Tsukikage Hitomi
Gypsy Boy:
Asamiya Mayu
Line dance in angelfish costumes. Asaji Saki solo about love. Otokoyaku tango.
Etoile:
Izumo Aya
The Takarazuka run was the final performance for
Kyougoku Ayano
and
Machi Arisa
.
A live white tiger cub from Takarazuka Family Land was onstage for a few productions during the Torre Pendente sequence, but was replaced with a stuffed animal for most performances.
None yet.
| | | | |
| --- | --- | --- | --- |
| Poster | DVD | VHS | CD |
| None Yet | None Yet | None Yet | None Yet |