Higher than the Sky of Paris / Fancy Dance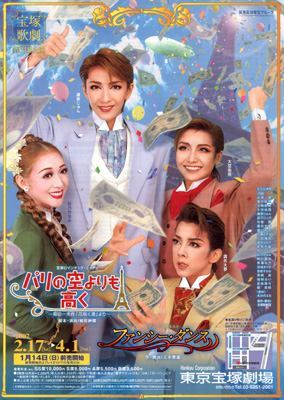 Picture Credit: caithion / promotional flier
English Title:
Higher than the Sky of Paris / Fancy Dance
Japanese Title:
「パリの空よりも高く」 / 「ファンシー・ダンス」
Romanized Title:
Paris no Sora yori mo Takaku / Fanshii Dansu
Troupe:
Moon
Year:
2007
Performances:
Grand Theater, 1/1 - 2/5; Tokyo Theater, 2/17 - 4/1
Shinjin Kouen Performances:
Grand Theater, 1/16; Tokyo Theater, 2/27
Higher than the Sky of Paris:
Based On:
Hana Saku Minato
by
Kikuta Kazuo
Adaptor/Director:
Ueda Shinji
Music:
Yoshida Yuuko
Choreography:
Hayama Kiyomi
,
Shou Sumire
,
Wakao Risa
Shinjin Kouen Director:
Ikuta Hirokazu
Fancy Dance:
Author/Director:
Miki Akio
Music:
Takahashi Kuni
,
Yoshida Yuuko
,
Kuratomi Shinichi
Choreography:
Hayama Kiyomi
,
Nakura Kayoko
,
Daren Lee
,
KAZUMI-BOY
Conductor (Takarazuka):
Sasada Aiichirou
Conductor (Tokyo):
Terashima Masao
Available on DVD:
Yes (
release date 3/20/07
)
DVD Scene/Music Cut:
Yes
The sound from Fancy Dance scenes 19-20 "Purple Haze ~From Scheherazade~ AB" has been replaced.
Others
:
Ori Yoshino
,
Saran Erika
,
Hino Anji
,
Kisaki Hinano
,
Kahou Shiori
,
Remi Kurea
,
Kotone Kazuha
,
Kaidou Nozomu
,
Kazane Mayuki
,
Tokiwa Mizuno
,
Asanagi Mana
,
Takachi Ao
,
Shirayuki Sachika
,
Urara Moe
,
Saki Akane
,
Harusaki Koron
,
Takamura Yuuki
,
Arise Sou
,
Kana Mikari
,
Chinami Karan
,
Maino Yuka
,
Takasumi Hayato
,
Houzuki An
,
Fuuri Mizuka
,
Maai Suzuka
,
Aina Yuuri
WARNING!! MAY CONTAIN SPOILERS!!
Higher than the Sky of Paris
A fresh and light romantic comedy based on the motif of Kikuta Kazuo's
Hana Saku Minato
.
In 1886, in Paris, Eléonore, the owner of the historic Hôtel St Michel, is very busy from very early in the morning making arrangements to welcome a special guest. Senator Leonid Mangebois and General Dominique Paticov, whom Eléonore asked to come to see her, arrive at the hotel. As soon as they demand of her an explanation for her calling them, she shows them a telegram. Armand Jacquet wired her that he was coming to the hotel that day. Armand is the son of the late Julien Jacquet who organized everything and made a great success of the second Universal Exposition at Paris twenty odd years ago. The president of Bank of Paris Albert de Saint-Loup and Gérard Lolbon arrive at the hotel since Eléonore had called them as well. Gérard, the son of the Lolbon family that owns the Lolbon financial group, says that Julien Jacquet had helped his father very much. The others including Eléonore also owed in fact a great deal to Julien Jacquet who stayed in the hotel those days. All of them are loud in their praise of his greatness and look forward to seeing his son each giving full scope of his imagination about him. Armand arrives at last, and Eléonore and the four gentlemen heartily welcome him. Armand tells them that his father used to talk about them. At that moment, a man comes in and presents himself as Armand Jacquet. Armand immediately introduces the man as his younger brother Georges to Eléonore and her friends who seem quite puzzled. Armand explains that they have come to the hotel separately because of a mutual misunderstanding. However, Eléonore and her friends are not totally convinced by his explanation.
Armand goes up into his room with Georges. Armand violently rebukes Georges for crossing his plans all the time by following him. In fact, Armand is a swindler, and Georges is his younger buddy. Armand has come to Paris after hearing the story of Georges' father, Julien. Armand thought that he could make a pile of money on the occasion of the universal exposition to be held in 3 years by exploiting the old story Julien used to tell Georges. Georges is furious at Armand who seems likely to keep such a rare trick of a swindle to himself. An architect named Gustav Eiffel rushes into the room as Armand and Georges hear Eléonore suddenly shouting. She accepted in spite of herself the architect's words that he would make something which could be a special feature of the universal exposition. However, as he had not paid the room charges for three months, she was trying to get him out of the hotel. Gustav tells Armand and Georges his dream of building the tallest tower in the world, one that would rise high into the sky of Paris. A lot of money was needed in order to make his dream come true. Armand hits upon the idea of making a pile of money from Gustav's dream. He decides to promote the construction of the tower using the hotel as headquarters while swindling the collected funds.
The project of building the tallest tower in the world in Paris becomes much talked about. Mimi, a Parisian flower girl, is thankful to Armand for his helping Gustav. She supports Gustav's dream from the beginning. She admiringly stares at Armand who looks resolute to achieve the project.
One year later, the construction of the tower is at the point of starting owing to Armand's efforts of promoting the construction. A great number of people fill the preparatory meeting hall of the construction of the tower. Gustav appeals to them that he will build a steel tower as tall as one thousand feet. People who agree with him begin investing in the construction. The construction fund steadily increases. Armand and Georges feel scared, now that they are aware that the amount of the money in the fund may exceed the amount they had initially expected.
The construction is well in progress. One evening, Armand and Georges decide to run away with the funds. However, just before slipping away from the hotel, Armand encounters Eléonore, who deceives herself that he is working late in the night. She kindly tells him that he must take care of his health and wishes him to become a great man like his father, leaving him alone. It is not long before that Mimi comes into the hotel in order to see Armand. She hands him a sum of money she is able to spare and asks him to use it for the construction of the tower however little it is. He is much moved by the trust Eléonore and Mimi have in him.
At midnight in the autumn of 1888, a storm bears down upon the tower, where construction so far is making fair progress. Gustav rushes to the construction site in fear of damage to the almost completed tower. Armand and Georges decide to take this chance to run away. However, the violent storm prevent them from going far, making them return to the hotel. Armand says that they cannot run away in such a storm, while Georges complains that the money they can take away becomes less if they stay longer as the construction is nearing the end. Leonid arrives and tells them that the tower is in danger of falling down due to the strong winds. He says that the tower is filled with the dreams and hopes of many people. Leonid hurries to the tower, as he cannot let the tower fall down. Mimi comes despite the wind. She tells Armand that the tower badly needs as many people as possible in order to keep it standing against the storm. Armand makes up his mind and goes out hand in hand with Mimi in the storm.
---
Fancy Dance
A revue show focusing on dance, with a mottif of famous ballets.
Scenes 1-4: Fancy Dance ~ On the Beat ~ A-D
Fancy dances are pompously performed to famous jazz band numbers.
Fancy Star ~
Sena Jun
Fancy Dancer (woman) S ~
Ayano Kanami
Scene 5-7: I Wanna Dance A-C
As soon as a spotlight shines on Champ, he dances and executes his performances.
Champ ~
Oozora Yuuhi
Dance Captain ~
Kiryuu Sonoka
Scene 8-10: Tango Noir ~ From Petrushka ~ A-C
On the night of the carnival, children gather around a gypsy puppeteer. The puppet show begins.
Petrushka ~
Kiriya Hiromu
Scenes 11-13: Last Dance ~ From Orpheus ~ A-C
The streets run with a good old four-beat music at twilight. A man sings a now forgotten melody, which a woman he lost used to sing.
Last Dancer ~
Sena Jun
Last Dancer's Girlfriend ~
Ayano Kanami
Scenes 14-18: Dance with Me! A-F
Way back in the 1930s, the super-star Frank dashingly comes out of the front entrance of a movie theater. Nancy, who is still a young girl, draws close to the star she adores.
Frank ~
Sena Jun
Nancy ~
Ayano Kanami
Scenes 19-21: Purple Haze ~ From Scheherazade ~ A-C
The scene changes into the Cassius' childhood.
Shahryar ~
Sena Jun
Nancy ~
Ayano Kanami
Scenes 22-24: Finale ~ On the melody ~ A-F
All the performers parade gorgeously.
Gentleman of Parade S ~
Sena Jun
Gentlewoman of Parade S ~
Ayano Kanami
Gentleman of Parade A 1 ~
Kiriya Hiromu
Gentleman of Parade A 2 ~
Oozora Yuuhi
(And all other performers)
Takarazuka Precious: Sakakihara Kazuko's Takarazuka First Night & Event Revue article
ENAK Sumire Style Stage GRAPH
Higher Than the Sky of Paris / Fancy Dance - Review by Ekusudei
Higher Than the Sky of Paris - Review by Valz
| | | | | |
| --- | --- | --- | --- | --- |
| Poster | DVD | Piano Sound CD | Theme Song CD | Live CD |
| None Yet | | | | |