The Prague Spring/Lucky Star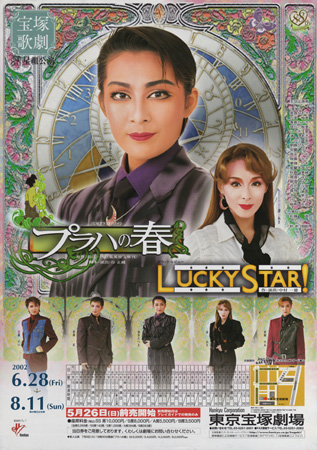 Picture Credit: Zephy / original chirashi
English Title:
The Prague Spring / Lucky Star!
Japanese Title:
プラハの春 / LUCKY STAR!
Romanized Title:
Puraha no Haru / LUCKY STAR!
Troupe:
Star
Year:
2002
Performances:
Grand Theater, 04/12 - 05/20; Tokyo Theater, 06/28 - 08/11
Shinjin Kouen Performances:
Grand Theater, 8/7; Tokyo Theater, 7/9
The Prague Spring:
Based On:
Japanese novel of the same name by Harue Kazuya.
Author/Director:
Tani Masazumi
Lyrics:
Kumon Ken (the pen name of
Kobayashi Kouhei
)
Composer:
Yoshizaki Kenji
,
Miyahara Tooru
Choreographer:
Shou Sumire
,
Yamamura Waka
Shinjin Kouen Director:
Kawakami Masakazu
Lucky Star!:
Author/Director:
Nakamura Kazunori
Composer:
Nishimura Kouji
,
Kai Masato
,
Kuratomi Shinichi
Choreographer:
Ieki Hiroshi
,
Ai Erina
,
Ootani Morio
,
KAZUMI-BOY
Available on DVD:
Yes (musical only) (
release date 03/27/09
)
DVD Scene/Music Cut:
None
Other Cast:
Umezono Sachi
,
Kosaki Hiyori
,
Kawai Mizuho
,
Hatsuse Yuka
,
Mikoto Sanae
,
Otohana Yuri
,
Minaho Sari
,
Maiha Megumi
,
Junka Marii
Other Cast (Tokyo Only):
Nanakaze Umi
,
Hana Nonomi
,
Mizuki Ryou
,
Hanasono Miyuu
,
Mahiro Shun
,
Hisaki Seara
,
Yashio Yuumi
,
Kurenai Yuzuru
WARNING!! MAY CONTAIN SPOILERS!!
The Prague Spring
In the course of the wintry period under the socialist regime which froze all freedoms, there was an ephemeral but lively spring called the Prague Spring. This is recalled as an important page in modern history.
Czech history is, indeed, composed of quite a few foreign invasions. The river that flows through Prague, the capital, had long been called the Moldau in German instead of its local name, the Vltava. At the fall of the dual Austro-Hungarian monarchy, the Republic of Czechoslovakia was born. During World War II, it was occupied by Germany, and after the war incorporated into the socialist block by the Soviet Union. Soviet socialism gradually revealed contradictions and inhumanity, rendering the whole nation stagnant. In January, 1968, Antonin Novotny was deposed as First Secretary of the Communist Party and succeeded by Alexander Dubcek, leader of the reformists. Czechoslovakia started to follow the way toward Dubcek's "socialism with a human face". He successively introduced liberalization measures: free speech, freedom of assembly, a market economy and abolition of censorship. The democratization in Czechoslovakia was contagious to the neighboring socialist countries in Eastern Europe, where demand for the same democratization was becoming louder. In March, 1968, at the summit meeting of the Warsaw Pact, Soviet Union's First Secretary Brezhnev and the leaders of the member nations violently criticized Dobcek. However, the reform continued to make progress and filter deeper into the whole country. People called this reform the Prague Spring.
The Warsaw Pact nations and old-line Communist Party leaders of Czechoslovakia seemed unlikely to ignore the reform in progress forever. The Hungarian Revolution turned into a tragedy. Prague was filled with extraordinary enthusiasm for reform and at the same time, tension of suspense due to the reform.
In March, 1967, Ryosuke Horie, second secretary to the Japanese embassy in Prague, is fated to encounter Kathlena Greve, a woman expelled for her strong beliefs from East Germany(German Democratic Republic) with which Japan has no diplomatic relations. Ryosuke, a diplomat, and Kathlene, an anti-government activist, timidly and hesitantly fall in love. Hess, a lieutenant colonel of Stasi (national security agency of East Germany), keeps an eye on them.
Heinz, Kathlene's younger brother, is shot dead while trying to cross the border. She hates and despises Stasi all the more which considered her brother's thirst for freedom to be an offence and regards her love for Ryosuke criminal. Soon after Heinz's death, Ryosuke hears nothing from her. Schutenzel, a lecturer of linguistics at Charles University, tells Ryosuke that she has become neurotic due to an excess of fear that she might compromise his career. Hearing Schutenzel say that the proof of real love is in persevering, Ryosuke restrains himself from immediately looking for her. Besides Kathlena and Ryosuke, not a few couples are afflicted with their love to their beloved: Telesa and Takahiro Inamura, Ryosuke's colleague; Monika and Jan Palach, a student of Charles University and ardent advocate for reform.
Kathlena turns up before Ryosuke as he is having a discussion with students in a tavern. She tells him that she has been offered a job as a disk jockey of a radio program, which will not only broadcast musical numbers but also report about the move for democratization in Czechoslovakia to foreign listeners. He first stands opposed to such a job for fear of risks because of her political stand. He then sees her determination to accept the job and finally promises to help her as much as possible. Her program, "Wine with Milena", gets a large audience consisting of many young East Germans, and becomes a symbol of the Prague Spring. However, her success involves inviting the attention of the conservatives. He fears for her safety. He cannot protect her as his wife by marrying her as Japanese law prohibits its diplomats from marrying foreigners. Inamura is in a dilemma of whether he should give up his position as diplomat to marry Telesa. Ryosuke and Inamura become skeptical of the state power which is able to meddle even in the choice of one's spouse.
The Soviet Union's armed intervention appears inevitable. Kathlena disappears leaving behind a letter which reads that Milena shall become Milena. Ryosuke roams alone along the Vldava in search of Kathlena.
Lucky Star
Chapter 1 : Prologue (Stars are born)
A dazzling prologue rolls out.
Kouju Tatsuki
- Lucky Star (man)
Nagisa Aki
- Lucky Star (woman)
Ayaki Nao
/
Aran Kei
- Lucky Star (man)
Act 4 A, B : Lucky Star ! A, B
Rider A -
Ayaki Nao
Act 5, 6 : Lucky Star ! C, D
Gigolo A -
Ayaki Nao
Chapter 3 : Celestial Wanderer
Act 7-9 : Celestial Wanderer A-D
Wanderer S rambling under she stars sings his wish looking at the stars.
Wanderer S -
Kouju Tatsuki
Peacock S -
Nagisa Aki
Death Bird A -
Aran Kei
Chapter 4 : From darkness into light
(from the bowels of the earth to the celestial stars)
Act 10 : From darkness into light A
A man sings the cry of the darkness. Darkness dance with the ropes. The Men of Darkness and the Women of Darkness perform a variety of dances.
Act 11-14 : From darkness into light B
After singing, Man of Wilderness dance with the other men. Woman of Wilderness and other couples follow suit. The dynamic dance and the song of hard rhythm proceed.
Kouju Tatsuki
- Man of Wilderness
Nagisa Aki
- Woman of Wilderness
Ayaki Nao
/
Aran Kei
- Man of Wilderness
Act 15 : From darkness into light C
Man of Light S sings alone in the celestial sphere. All men and women of light sing and dance.
Man of Light -
Kouju Tatsuki
Woman of Light -
Nagisa Aki
Chapter 5 : Lucky Star ! 88
Act 16, 17 : Lucky Star ! 88 A, B
On the shout of the Man of Light S, 48 debutantes of the 88th class turn up from three directions as meteors fall down from the sky. They perform a chorus line to "This Is My Lucky Day".
Men dance on the grand staircase with Man of Finale S at their center. Woman of Finale S sings, and Man of Finale dances with other men. As Man of Finale A and many women encircling him appear, all of them start dancing.
Kouju Tatsuki
- Man of Finale S
Nagisa Aki
- Woman of Finale S
Ayaki Nao
/
Aran Kei
- Man of Finale A
Man of Duet S and Woman of Duet S passionately dance in duet.
Man of Duet S -
Kouju Tatsuki
Woman of Duet S -
Nagisa Aki
All performers sing the theme songs in turn gorgeously parading.
Kouju Tatsuki
- Man of Parade S
Nagisa Aki
- Woman of Parade S
Ayaki Nao
/
Aran Kei
- Man of Parade A
Sendou Kaho
- Etoile
The Prague Spring / Lucky Star! - Review by Ekusudei
| | | | |
| --- | --- | --- | --- |
| Poster | DVD | VHS | CD |
| None Yet | None Yet | None Yet | None Yet |