The New Tale of Genji / Melodia (Flower 2015)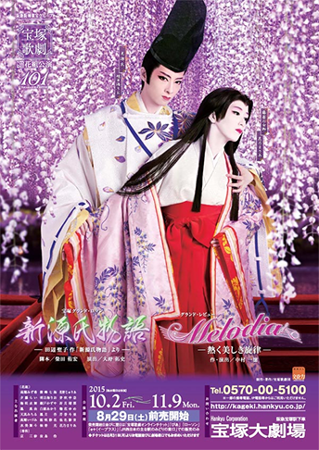 Picture Credit: coeuraubonheur | Official Chirashi
English Title:
The New Tale of Genji / Melodia -A Warm and Lovely Melody-
Japanese Title:
新源氏物語 / Melodia -熱く美しき旋律-
Romanized Title:
Shin Genji Monogatari / Melodia -Atsuku Utsukushiki Senritsu-
Troupe:
Flower
Year:
2015
Performances:
Grand Theater, 10/02 - 11/09 ; Tokyo Theater, 11/27 - 12/27
Shinjin Kouen Performances:
Takarazuka Grand Theater, 10/20; Tokyo Takarazuka Theater, 12/10
The New Tale of Genji:
Based On:
The Tale of Genji
by Murasaki Shikibu
Author:
Shibata Yukihiro
Director:
Oono Takuji
Composer:
Yoshida Yuuko
,
Terada Takio
,
Irie Kaoru
,
Nakamoto Kiyozumi
,
Takahashi Megumi
,
Uzaki Ryuudou
Choreographer:
Yamamura Tomogorou
,
Mine Saori
Conductor (Takarazuka):
Conductor (Tokyo):
Shinjin Kouen Director:
Oono Takuji
Melodia:
Author/Director:
Nakamura Kazunori
Composer:
Nishimura Kouji
,
Kai Masato
,
Kuratomi Shinichi
,
Nakagawa Akira
Choreographer:
Hirasawa Satoshi
,
KAZUMI-BOY
, Bryant Baldwin,
Satou Chikanori
Conductor (Takarazuka):
Ooyagi Yasushi
Conductor (Tokyo):
Available on DVD:
Yes (
release date 12/17/15
)
Available on BLU-RAY:
Yes (
release date 12/17/15
)
DVD Scene/Music Cuts:
Yes
From Melodia: Music and vocals have been replaced for "Spain" from scene 14A and 14C, "My Favorite Things" from scene 19, and "Entre Rejas" from scene 20.
Role
Cast
Shinko Cast
Prince Hikaru Genji, Emperor Kiritsubo's second son
Asumi Rio
Yuzuka Rei
Fujitsubo, his stepmother and lover Kiritsubo's concubine
Kano Maria
Asazuki Kiwa
Emperor Kiritsubo, father of Prince Hikaru Genji
Natori Rei
Mineka Towa
Kokiden Consort, the Consort of the Minister of the Right
Kyou Misa
Hina Ririka (1)
Prince Suzaku, the eldest son of Emperor Kiritsubo / Amagimi, nun
Takashou Mizuki
Ouma Shion
Minister of the Right, To no Chujo's father
Shihou Nanami
Chiyuki Aki (Grand Theatre), Kureha Maki (Tokyo)
Akashi nyuudou
Yuugiri Rai
Nanaki Kaoru
Aoi no Ue, Genji's wife
Hanano Juria
Mahou Tsugumi
Oomyoubu, Fujitsubo's lady-in-waiting
Mebuki Yukina
Wakakusa Moeka
Nakatsukasa, Kokiden's lady-in-waiting
Marika Yume
Kano Maria
Shounagon, Murasaki's lady-in-waiting
Umesaki Ibu
Sarasa Nachi
To no Chujo, the son of the Minister of the Left, Aoi no Ue's brother, Genji's friend
Seto Kazuya
Minami Maito
Chief of the Left Stables (sama no kami)
Ootori Mayu
Ayaki Hikari
Koremitsu, Genji's follower
Serika Toa
Yuunami Kei
Yoshikiyo, Koremitsu's follower
Yuunami Kei
Takamine Jun
Minister of the Left, father figure of Prince Hikaru Genji and Aoi no Ue's father
Tenma Michiru
Kureha Maki (Grand Theatre), Chiyuki Aki (Tokyo)
Oborozukiyo, Kokiden's sister and Genji's lover
Senna Ayase
Otohane Emi (2)
Murasaki no Ue, the niece of Fujitsubo, Genji's second wife
Ousaki Ayaka†
Shiroki Mirei
Chujou, Rokujou's lady-in-waiting
Kaga Ririka
Himeka Hinano
Chuunagon, of the same
Nana Kurara
Itotsuki Yukiha
Kumoi no Kari, To no Chujo's daughter, Yuugiri's lover
Shiroki Mirei†
Haruhi Urara
Onna san no miya, Genji's third wife, Suzaku's daughter
Asazuki Kiwa
Marei Sayana
Reizei
Maizuki Nagisa
Haruya Yuuri
Kurodo no suke
Maki Izumi
Hiryuu Tsukasa
Rokujou no miyasudokoro, Genji's lover / Kashiwagi, To no Chujo's son and Yuugiri's friend
Yuzuka Rei
Hozumi Mahiro
Yuugiri, the son of Prince Hikaru Genji and Aoi no Ue
Houzuki An
Yabuki Sena
Shikibu no jo, Genji's friend
Minami Maito
Seino Asuka
Hyobu no taifu, Genji's friend
Kazumi Shou
Aren Touma
To no shosho
Saezuki Runa
Aomiya Ruka
To no ben
Wataru Hibiki
Sumizuki Naoto
Kurimaru, a charioteer
Haryuu Mitsuki
Ichinose Kouki
Hachimaru, the same
Aren Touma
Maiki Tsubasa
Usuki, the same
Ayaki Hikari
Izumi Maira
Kaniro, the same
Hiryuu Tsukasa
Kazu Reisa
Wakamurasaki
Haruhi Urara
Oto Kurisu
Shikibu
Mihana Rino
Rinno Shizuka
Commander of the guard
Shiraki Akari
Ouka Rina
Inuki
Yabuki Sena
Mano Kazuma
Akitsu
Oto Kurisu
Hana Yuuki
Tsukushi
Marei Sayana
Rinka Mone
Other Cast:
Niina Kaho
,
Saebana Riona
,
Sachika Seira
,
Rinno Shizuka
,
Haruya Yuuri
,
Maiki Tsubasa
,
Mano Kazuma
,
Sakino Mion
,
Serina Ei
,
Tsubasa Anju
,
Ryouka Kina
,
Tatsuki Mio
(1)
Kano Maria
in Takarazuka.
(2)
Hina Ririka
in Takarazuka.
† As of 11/27
Ousaki Ayaka
will be absent due to poor physical health.
Shiroki Mirei
will assume the role of Murasaki no Ue while
Haruhi Urara
takes her role as Kumoi no Kari.
Announced on 11/30: instead of
Haruhi Urara
, the role of Kumoi no Kari will be played by
Oto Kurisu
.
WARNING!! MAY CONTAIN SPOILERS!!
The Tale of Genji
Hikaru Genji was born to Kiritsubotei when he was Emperor, as the second imperial Prince. Since childhood, he has harbored feelings of love for Fujitsubo-no-Nyogo, the Empress of Kiritsubotei. She is the living image of his late mother, Kiritsubo-no-Koui. Genji grows up to become a strikingly beautiful young man, whom the people call "the Shining Prince". One night, he is unable to control his yearnings. He sets off for the Sanjo estate where Fujitsubo is visiting her parents, as the Milky Way shines brightly. With unrestrained passion, he embraces Fujitsubo. She, leaning on Genji, is unable to calm her heart. The couple have knowingly committed the sin of forbidden love.
Afterward, tortured by his secret romance, Genji chases shadows of Fujitsubo by having numerous trysts with a variety of women.
One of them is the proud and noble-looking Rokujo-no-Miyasundokoro. However, Genji responds to her quite fervent love but tending to keep his distance from the Rokujo estate. Also, his relationship with Aoi-no-Ue, his haughty first wife, is no longer the way it was when they first married. This leaves him with the opportunity to encounter a beautiful young girl at a priest's hermitage on Kitayama. Young Murasaki in some respects looks like Fujitsubo. Genji enlists the help of his attendant Koremitsu in an attempt to bring her closer to him so he can mold her into his ideal woman. After taking her away from a protesting nun, he brings the girl to his estate.
One afternoon in spring, Hikaru Genji, encouraged by Emperor Kiritsubo, who is delighted with the Prince's birth, to hold the handsome, noble child (later to become the Emperor Reizei) in his arms. In fact, the prince is an illegitimate child born between Genji and Fujitsubo. His heart contains a mix of joy and dread.
Emperor Kiritsubo eventually abdicates. The Emperor Suzaku, Hikaru Genji's elder brother, is enthroned. The new Emperor is the child of Kokiden-no-Nyogo, a court lady from the family of the Minister of the Right, a political foe of Genji. The carriages of Rokujo-no-Miyasundokoro and Aoi-no-Ue collide while the two are out on an excursion on the day of Kamo-no-Saiin-no-Misogi, and conflict ensues as a result. From that point on, the vengeful spirit of Rokujo-no-Miyasundokoro makes trouble for Aoi-no-Ue every night. Aoi-no-Ue passes away, leaving behind Genji's child Yugiri.
Genji's heart is in turmoil. The pure form of Young Murasaki (to become Murasaki-no-Ue) is the only thing he takes comfort in. As time progresses, she grows into a fresh and well-rounded woman, and the two marry.
Genji appears to put aside his associations with other women. Even so, he succumbs to a dangerous romance with Oborozukuyo, the younger sister of Kokiden-no-Nyogo and much-loved mistress of Emperor Suzaku. The Minister of the Right and Kokiden-no-Nyogo find out about the relationship. Sensing he is in danger, Genji makes a firm decision to leave Kyoto and go to Sumanoura.
After time passes as if in a dream, Genji returns again to Kyoto.
Emperor Suzaku abdicates and Reizei is enthroned. Spring comes again for Genji, who has become a guardian for the Emperor Reizei. Both his once-young son Yugiri and the son of Tonochujo, Kashiwagi have grown into splendid youths. Tonochujo (the Interior Minister) is a close friend and worthy opponent of Genji's. It seems no clouds at all hover over Genji's prosperity. But, he is about to receive his destiny's retribution, which will come in an unexpected form.   
---
Melodia
This performance comprises a number of musical pieces played to passionate as well as beautiful melodies and rhythms that generate excitement. They all are part of passionate and beautiful tunes that brim with love, dreams, hopes, passion, sorrow and an energy that knows no bounds.
The revue weaves together the charm of the Flower Troupe, led by
Asumi Rio
who brims over with brilliance and youth, through lively songs and dancing.  
None yet.
| | | | |
| --- | --- | --- | --- |
| Poster | DVD | VHS | CD |
| None Yet | None Yet | None Yet | None Yet |