Red Flower of Tahiti / Viva! Shiva!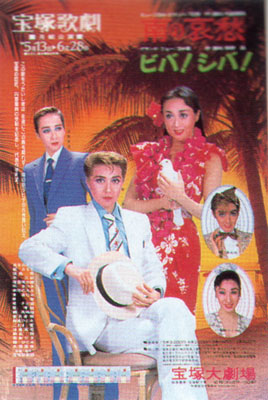 Picture Credit: Caithion
English Title:
Red Flower of Tahiti / Viva! Shiva!
Japanese Title:
南の哀愁 / ビバ!シバ!
Romanized Title:
Minami no Aishuu / Biba! Shiba!
Troupe:
Moon
Year:
1988
Performances:
Grand Theater, 5/13 - 6/28; Tokyo Takarazuka Theater, 8/4 - 8/30
Shinjin Kouen Performances:
Grand Theater, 5/31; Tokyo Takarazuka Theater, 8/16
Red Flower of Tahiti:
Based On:
n/a
Author/Director:
Utsumi Shigenori
Composer:
Terada Takio
,
Kawasaki Ichirou
Choreographer:
Yamada Taku
Conductor (Takarazuka):
Nomura Youji
Conductor (Tokyo):
Shinjin Kouen Director:
Viva! Shiva!:
Author/Director:
Kusano Akira
Composer:
Terada Takio
,
Takahashi Kuni
Choreographer:
Hayama Kiyomi
,
Yamada Taku
,
Nakura Kayoko
,
Ieki Hiroshi
Conductor (Takarazuka):
Hashimoto Kazuaki
Conductor (Tokyo):
Kitazawa Tatsuo
Other Cast:
Ashita Michiko
,
Kou Akemi
,
Aoi Miya
,
Aikawa Maki
,
Yamato Natsuki
,
Arimine Riki
,
Maki Yutaka
,
Asahi Mari
,
Rika Masumi
,
Namiki Kaori
,
Maiki Aya
,
Sachikaze Irene
,
Masumi Yutaka
,
Oomine Mayu
,
Yashio Yuuki
,
Namine Michiru
,
Seika Sakurako
,
Mineo Nana
,
Hitomi Maria
,
Azuma Michi
,
Wakana An
,
Natsuki Mami
,
Wakaki Moe
,
Hane Chisato
,
Yukimura Kyouko
,
Mashiro Tomona
,
Shinohara Yui
,
Shiori Miki
,
Hakuba Rei
,
Akatsuki Nagisa
,
Towa Ayumi
,
Maori Yuki
,
Mayama Haru
,
Toono Naomi
,
Oohara Yuuka
,
Koshi Haruki
,
Marina Tomo
,
Oomi Hiro
,
Nakajou Mari
,
Mihara Shiho
,
Takachiho Mai
,
Ujou Kaoru
,
Sono Nanami
,
Amaji Yuka
,
Taka Yuuki
,
Taiga Ren
,
Matsunami Mitsuru
,
Kai Chihiro
,
Minato Kirara
,
Konami Azusa
,
Satsuki Futaba
,
Asano Kayo
,
Hanazono Yukari
,
Nanami Hikaru
,
Akiji Shinobu
,
Kazusa Mahiro
,
Toki Yufuka
,
Misato Maya
,
Hanaoka Miyuki
,
Matsudaira Rubi
Grand Theater only:
Yayoi Mitsuki
,
Nijizono Harumi
, and
Kojika Mai
.
WARNING!! MAY CONTAIN SPOILERS!!
This is a tragic love story set in Tahiti.
John and Henry come together to visit the island, John to meet an old family friend, and Henry to visit his mother's grave. Eighteen years before, Henry's family had lived on the island. He also brings Henry with him to visit a local woman who helped to keep an eye on him as a child. Tefla is ecstatic to see Henry again, and agrees to let John stay with her for a while, as he is taking a holiday.
She soon regrets her decision, however, for her daughter Naiya and John fall in love. Tefla has always feared the day her daughter would marry and leave the island and her behind. She goes to visit the island witch for advice as she did once before. The island witch looks into the future and tells Tefla that if Naiya and Jon are together, there will be sorrow and death.
John leaves the island, and Naiya is upset that he hasn't returned. When he finally does return, he promises never to leave her again. Naiya's grandfather, who has always wanted to see her happily married, sneaks the couple off for a private island wedding. By the time Tefla learns of it, it's too late, so she gives the couple her blessing.
Time passes. We soon learn that John, an artist, has been afflicted with some kind of medical problem that affects his eye-sight. He is supposed to wear his sunglasses at all times. One day, he takes Naiya out to do her portrait, perhaps because he senses time is running out. Mid-sketch his eye-sight fails him completely, and John goes blind.
A letter arrives from his father, telling him he cannot be married to an island girl and he needs to return to England immediately. When this ploy fails, the general decides to go to Tahiti himself to fetch his son.
Naiya is worried and upset, but John promises that they'll win his father over. He asks Naiya to return to England with him, and she agrees. But she thinks it will be a sad thing for John to return home after so long and not be able to see his country. She goes off in search of a rare island flower which is fabled to have healing properties.
John's father arrives and refuses to allow the marriage, again on the grounds of her parentage. Tefla comes forward and admits her secret. Long ago, she was tending Mrs. Houston through her second birth in the middle of a terrible typhoon. A girl child was born, but Mrs. Houston passed away. Then Tefla herself had a miscarriage. So she secretly exchanged the dead baby for the live one without anyone knowing and raised Naiya as her own.
Everyone is shocked, but takes the news rather well. Then they realize that Naiya should have returned long ago. Everyone goes into the jungle to search for her. They find her, fallen from a cliff which the flower was growing on the edge of. In her hand she clutches one of the blooms.
---
Viva! Shiva!
None yet.
| | | | |
| --- | --- | --- | --- |
| Poster | DVD | VHS | CD |
| None Yet | None Yet | None Yet | None Yet |