How to Succeed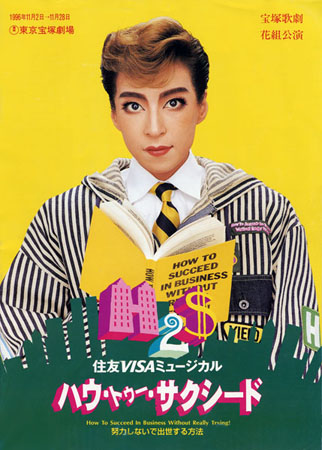 English Title:
How to Succeed in Business Without Really Trying
Japanese Title:
ハウ・トゥー・サクシード
Romanized Title:
Hau Tu Sakushiido
Troupe:
Hanagumi
Year:
1996
Performances:
Takarazuka, 6/21 - 8/25; Tokyo, 11/2 - 11/28
Shinjin Kouen Performances:
Grand Theater, 7/16; Tokyo Theater, 11/25
Based On:
The Broadway musical of the same name, which was in turn derived from the film of the same name, which had its origins in the book of the same name.
Author:
Abe Burrows, Jack Weinstock, Willie Gilbert
Director:
Sakai Sumio
Music Composed/Adapted By:
Frank Loesser
Choreography:
Wayne Cilento, Lisa Leguillou
Shinjin Kouen Director (Takarazuka):
Ogita Kouichi
Shinjin Kouen Director (Tokyo):
Katou Makoto
Available on DVD
: VHS Only
(1)
Sagami Rei
in Tokyo
(2)
Suzukake Miyuki
in Tokyo
(3)
Sakuragi Emi
in Tokyo
(4)
Otoki Mika
in Tokyo
(5)
Ranju Tomu
in Tokyo
(6)
Hayami Riki
in Tokyo
(7)
Kikuho Rina
in Tokyo
Other Cast:
Kokonoe Haruka
† ,
Yumeno Chikoto
† ,
Moemi Serika
,
Shou Tsukasa
,
Ootomo Reika
,
Morotori Ai
,
Futaba Karen
,
Mizuki Ai
,
Utahana Yumi
,
Mao Natsuki
,
Ayukawa Natsuki
,
Kouno Marika
,
Muko Ayumi
,
Mei Karen
,
Anri Michiru
,
Haruka Ikki
,
Hishou Yuu
,
Nazuki Mika
,
Hayase Ayu
,
Natsuho Akira
,
Maikaze Rira
,
Fuzuki Miyo
,
Yumeji Honoka
,
Mitaka Nozomi
,
Ouka Reiya
,
Mimori Sayaka
,
Takahane Ukyou
,
Hosaki Rinna
,
Nanami Sara
,
Sou Kazuho
,
Mikaze Maira
,
Chihaya Mae
,
Ayakaze Ran
,
Mihiro Seisa
,
Kino Kotose
†  (Takarazuka only)
WARNING!! MAY CONTAIN SPOILERS!!
Act One
Scene One
:
As the Overture fades, lights come up on J. Pierrepont Finch, a young window washer with a mind for advancement. He is at work squeegeeing the windows of the World Wide Wicket Company, though his mind is more closely focused on the book in his other hand. A disembodied voice, the "Book Voice", tells him that "everything
he
needs to know about the science of getting ahead" is contained within the pages of
How to Succeed in Business Without Really Trying
. His scaffold descends, he removes his overalls to reveal the business suit beneath, and he quickly disappears into the high-pressure world of Corporate America.
Scene Two
:
Finch's first act in the corporate world is to knock J.B. Biggley, the awed president of the company, to the ground. Unfazed, Finch presses Biggley for a job, who dismisses him to the personnel manager, Mr. Bratt. Having seen all of this, Rosemary Pilkington, a secretary, is impressed with Finch. She offers to help him meet Mr. Bratt, who initially treats Finch rather rudely — that is, until Finch mentions Mr. Biggley's name, implying that they are old friends. Finch is given a job in the mailroom, where he works with the nepotism-minded nephew of Mr. Biggley, Bud Frump. Rosemary dreams of a life in the suburbs ("New Rochelle. Or maybe White Plains.") with a smartly-attired junior executive. Regarding Finch, she tells her friend Smitty that she'd be
Happy to Keep his Dinner Warm
.
Scene Three
:
COFFEE BREAK!
The fatigued workers fall over each other in their rush to get to the coffee machine, only to find it bone dry. Frustrated with no discernable advancement in his first week, Finch flatters Miss Jones, Mr. Biggley's secretary. The two are introduced by Rosemary, and Finch is sure to add a bad word about Bud Frump.
Scene Four
:
"One word of caution about the mailroom: it is a place out of which you must get. Do not get stuck in the mailroom. Plan to rise." Twimble, head of the mailroom, is moving to the shipping department, but not without some words of wisdom for our young hero. He tells Finch that the secret to longevity at the company is to play things
The Company Way
: overwhelming fear of being fired coupled with absolute faith in the company's wisdom. After twenty-five years in the mail room, Twimble hands the reins to Finch. Finch, heeding the words of his trusty book, declines the promotion, saying that Bud Frump is more qualified. Frump accepts, vowing to play things
The Company Way
, too. Twimble and Bratt are impressed, again, by Finch, and Bratt offers him a job as a junior executive in the Plans and Systems department, headed by Gatch. Frump, seeing that he has been outdone, fumes.
Scenes Five and Six
:
Enter Hedy LaRue. And does she ever. Biggley's mistress, she leaves the men around the office panting in her wake as she goes to see Mr. Bratt for a secretarial job. Mr. Bratt needs to remind his men that
A Secretary Is Not a Toy
: relationships with one's secretary are not to be tolerated, but panting, catcalling, and generally driving oneself to the brink of insanity certainly is.
Scene Seven
:
It is Friday afternoon, just after five o'clock. As they make their way to the elevators, the secretaries complain of unwanted attention from their bosses, while the men talk of sales figures. The ever-alert Finch learns that Biggley is extremely proud of his alma mater, Old Ivy, and learns that he will be in the office Saturday morning to pick up his golf clubs for his game with Willy Womper, the Chairman of the Board.
Rosemary and Smitty encounter Finch at the elevator and Smitty knows that, despite their awkward silence, the two like each other. They agree that it's
Been a Long Day
, and Smitty points out a special "dinner for two" at a local restaurant. As the three enter the elevator, Finch and Rosemary decide to take advantage of the special.
Frump runs into Biggley and Hedy, arguing about her job. Frump realizes their relationship and blackmails Biggley into giving him a promotion, also rising the corporate ladder.
Scene Eight
:
Saturday morning, and Finch enters early and begins setting the scene: he begins strewing crumpled and paper around his office, breaks a few pencils, overturns the trash can, and scatters cigarette butts everywhere. It is apparent that he has been working all night. Biggley arrives, and Finch "absent-mindedly" begins humming
Grand Old Ivy
— the Old Ivy fight song. Finch convinces the old man that he, too, is a proud alumnus.
Scenes Nine and Ten
:
In a show of alumni favoritism, Biggley insists that Finch be given his own office and secretary. Bratt assigns Hedy, prompting the Book Voice to warn him to beware of secretaries who have many talents, none of them secretarial. Finch realizes that Biggley must be her advocate, and sends her on an errand to Gatch, knowing that he won't be able to resist making a pass at her. We next see Finch seated behind Gatch's desk, Gatch having been dispatched to Venezuela.
Scenes Eleven and Twelve
:
A reception for the new Advertising Department head, Benjamin Burton Daniel Ovington, is being held, and Rosemary hopes to impress Finch with her new
Paris Original
. She arrives first, only to watch all of the women in the office enter wearing the same dress. Hedy has too much to drink, and Biggley makes Frump take her home.
Scenes Thirteen and Fourteen
:
Hedy tells Frump that she's going to Biggley's office to shower. Frump, seeing an opportunity, tells Finch that Biggley is waiting in his office for him. Hoping to trap Finch and Hedy, Frump goes off to find Biggley. In the office, Hedy makes a pass at Finch, and, as they are kissing, Finch realizes that he is in love with
Rosemary
, who enters as Hedy returns to the bathroom. Finch proposes to her and, as she is about to accept, Hedy comes out of the bathroom. In a huff, Rosemary leaves the office, only to find Frump and Biggley just outside the door. Hedy returns to the bathroom, and Finch and Rosemary embrace — just in time for Frump and Biggley to walk through the door. In search of Biggley, Bratt and Ovington enter. Ovington resigns a few moments later: after being prompted for his alma mater by Finch, Biggley realizes that Ovington matriculated from Old Ivy's bitter rival. Biggley names Finch Vice-President in Charge of Advertising, just in time for a big meeting two days hence. Biggley leaves as Finch and Rosemary declare their love for each other and Bud Frump states "I will return!"
Act Two
Scene One
:
It is the morning of the big meeting, and Rosemary is feeling neglected by Finch. She decides to quit, but her fellow secretaries convince her to stay: she's living their dream of marrying an executive. They perform a reprise of
How to Succeed in Business Without Really Trying
.
Scene Two
:
"So you are now a Vice-President.... You have done beautifully. Unless you are Vice-President in Charge of Advertising. In that case you are in terrible trouble. There is only one thing that can save you: you must get a brilliant idea," warns the Book. Foreseeing that he may not have a brilliant idea, the Book suggests that he steal one. Bud Frump comes in and tells Finch about his idea for a treasure hunt. Finch loves the idea, unaware that Biggley has already heard the idea and shot it down. Finch bounces the idea off Rosemary, who tells him that, no matter what, she'd be
Happy to Keep His Dinner Warm
.
Scene Three
:
Hedy is unhappy with her secretarial duties and announces to Biggley that she is leaving. He begs her to stay, and they sing the unlikely duet,
Love From a Heart of Gold
.
Scene Four
:
In the executive washroom, Frump assures the others that Finch's plan will fail and, with it, his career. Finch enters and gives himself a pep talk, telling himself
I Believe in You
, while the other executives vow his downfall.
Scene Five
:
Finch presents "his" idea: he will hide five thousand shares of company stock in each of the ten offices around the country, and give the audience weekly clues as to their whereabouts. Biggley is about to reject this idea yet again, when Finch explains that the clue each week will be given by the scantily-dressed World Wide Wicket Girl: Miss Hedy LaRue.
Scene Six
:
During the first television show, the Treasure Girl is asked to swear on a Bible that she doesn't know the location of the prizes. Hedy, whom Biggley had told the night previous where the treasure was hidden, reveals this to the entire television audience.
Scenes Seven and Eight
:
"How To Handle a Disaster. In every businessman's career, there are times when things go a bit wrong. However, should you be the cause of a disaster that's really disastrous, we suggest that your best bet is to review the first chapter of this book: How to Apply for a Job." Treasure hunters have wrecked World Wide Wicket Company offices across the country, and the executives, including Chairman of the Board Willy Womper, are waiting in Biggley's office for Finch's resignation. Finch tells Rosemary that he will probably have to go back to washing windows and she tells him "
I Believe in You
". Frump arrives to escort Finch to Biggley's office.
Scenes Nine and Nine-A
:
About to sign his letter of resignation, Finch mentions that he'll probably be going back to washing windows. Womper hears this, immediately being drawn to Finch as he, too, was a former washer of windows. Finch manages to place the blame for the treasure show on Bud, also mentioning that Frump is Biggley's nephew. Womper is about to "clean house from top to bottom", when Finch steps in on everyone's behalf. Finch tells the executives that we're all part of the
Brotherhood of Man
. Everyone is spared, except Frump, who is fired.
Scene Ten
:
The show ends with the announcement to the employees that Biggley is still president, that Womper is retiring to travel the world with his new wife, Hedy, and that Finch will become Chairman of the Board. Rosemary stands by his side as she plants the seed for aspiring to the Presidency of the United States. Bud Frump is lowered on a window-washing scaffold, outside the building, squeegee in one hand and
How to Succeed in Business Without Really Trying
in the other.
None yet.
| | | | |
| --- | --- | --- | --- |
| Poster | DVD | VHS | CD |
| None Yet | None Yet | None Yet | None Yet |