Angelique / Masked Ball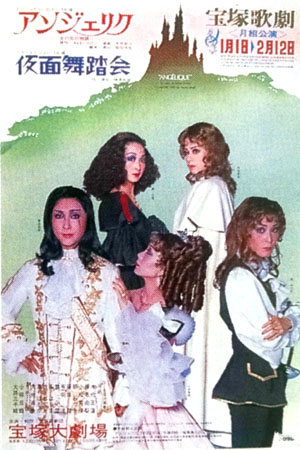 Picture Credit: The Takarazuka I: Moon Troupe
English Title:
Angelique: A Tale of the Flames of Love / Masked Ball
Japanese Title:
アンジェリク:愛の炎の物語 / 仮面舞踏会
Romanized Title:
Anjeriku: Ai no Honoo no Monogatari / Kamenbutoukai
Troupe:
Moon
Year:
1980
Performances:
Takarazuka Grand Theater, 1/1 - 2/12; Tokyo Takarazuka Theatre, 4/3 - 4/30
Shinjin Kouen Performances:
Takarazuka Grand Theater, 1/22; Tokyo Takarazuka Theater, 4/23 (originally scheduled for 4/16)
Angelique: A Tale of the Flames of Love
Based On:
'Angelique' novels by Anne and Serge Golon, 'Angelique' comic by Kihara Toshie
Author/Director:
Shibata Yukihiro
Composer:
Terada Takio
,
Nakamoto Kiyozumi
Choreographer:
Oka Masami
Conductor (Takarazuka):
Nomura Youji
Conductor (Tokyo):
Izawa Ichirou
Shinjin Kouen Director:
Masked Ball:
Author/Director:
Yokozawa Hideo
Composer:
Takai Yoshizumi
,
Irie Kaoru
,
Nakamoto Keiichi
Choreographer:
Kita Hiroshi
,
Hayama Kiyomi
,
Yamada Taku
,
Shuri Misao
Conductor (Takarazuka):
Mizoguchi Takashi
Conductor (Tokyo):
Available on DVD:
No
DVD Scene/Music Cuts:
Other Cast:
Ai Erina
,
Ariake Jun
,
Yakumo Akemi
,
Mizuno Ryou
,
Suzu Reiko
,
Jou Haruki
,
Shiga Midori
,
Kuni Chihiro
,
Kurenai Hitomi
,
Kyou Misa
,
Ushio Haruka
,
Natori Rei
,
Hoshihara Misao
,
Kuni Natsuki
,
Ema Chiaki
,
Narumi Yuki
,
Seri Machika
,
Hida Midori
,
Misa Noeru
,
Iku Katsumi
,
Dan Natsuki
,
Kou Akemi
,
Ran Konomi
,
Hime Hakuchou
,
Nobara Akemi
,
Yasato Gou
,
Hinami Reika
,
Nozomi Yuuko
,
Hinotori Mina
,
Arata Chihiro
,
Eri Miyuki
,
Ookawa Reo
,
Mayu Natsumi
,
Miyo Kaori
,
Masaki Kou
,
Ibuki Ai
,
Wakakusa Kaoru
,
Fuji Yayoi
,
Chihaya Hiromi
,
Chinami Shou
,
Misaki Ayumi
,
Ashibue Ruka
,
Tokiwa Sachiko
,
Mineshiro Towa
,
Aoi Miya
,
You Urara
,
Ou Natsuki
,
Kanou Rui
,
Gou Mayuka
,
Hiiragi Kazuki
,
Katsuragi Yui
,
Tsubasa Hikaru
,
Yuunagi Shiho
,
Aikawa Maki
,
Takeshiro Kotoe
,
Nishina Yuri
,
Fumi Sakae
,
Rei Tamaki
Grand Theater only:
Sei Renka
,
Takashou Megumi
,
Saori Mitsuyo
,
Koto Chiharu
,
Saki Erisa
WARNING!! MAY CONTAIN SPOILERS!!
A Musical Romance: Angelique, The Marquise of the Angels
Angelique is the daughter of an impoverished noble from Monteloup, in the mid-west area of France. The story begins in her youth, around the year 1650. Angelique is indifferent about her appearance and is a strong minded girl. She loves to run through the woods and fields barefooted. Her boyfriend, Nicolas, is a shepherd.
Philippe is a handsome marquis, the son of the feudal Lord du Plessis, whose domain is some distance from Monteloup. Angelique is always with the fun-loving Nicolas but she longs for Philippe's cool beauty and his splendid palace. Philippe, however, considers her poor family beneath him.
One day Angelique is attacked by five thieves in the woods. A troubadour appears from nowhere and rescues her, and then just as suddenly disappears. As time passes she almost forgets the incident.
For three years she studies in a convent, as was the custom for the daughters of noble families.
When a marriage is arranged for her with the wealthy Count Joffrey de Peyrac, of Toulouse, in the south of France, she returns to her hometown. Angelique is unhappy at the prospects of marrying a strict man twelve years her senior but because of her father's financial plight she consents. Angelique decides that the count will have only her body and never win her heart.
Before her wedding day, Nicolas tells Angelique goodbye and returns home to Paris with a broken heart.
When Angelique meets her fiance in Toulouse he seems much like the mysterious troubadour who once saved her from danger. She boldly tells him that marriage without love is no good and generously the count agrees with her. At first Angelique finds Joffrey unattractive. He has a scar on his face and he drags one leg due to injuries suffered during religious wars when he was young. But gradually she sees his strengths as a cultured gentleman. Joffrey has various interesting hobbies. He is well-liked by everyone. His singing voice is said to be the best in the kingdom.
As Angelique grows fonder of Joffrey she realizes there are many ladies who are in love with him. One of these ladies, Carmencita, is from the Spanish royal family; she came to France to marry, but has fallen in love with Joffrey. One day Angelique accidentally sees the dynamic Carmencita confessing her love to Joffrey. This scene arouses such jealousy that Angelique realizes she really does love Joffrey and eagerly consents to their marriage.
---
Masked Ball
A revue based on the theme of a multi-colored collection of masks.
A second show, continuing the story of Angelique, was produced later the same year, starring Asami Rei (as Philippe) and Haruka Kurara (as Angelique). Joffrey did not appear.
The Grand Theater show was the final performance for Sei Renka, Takashou Megumi, Saori Mitsuyo, Koto Chiharu, Saki Erisa, and the Tokyo run was the final performance for Shiga Midori, Kuni Chihiro, Ashibue Ruka, Komatsu Miho (top musumeyaku), Mizuno Ryou, and Ooji Michio (Senka).
None yet.
| | | | |
| --- | --- | --- | --- |
| Poster | DVD | VHS | CD |
| None Yet | None Yet | None Yet | None Yet |