Yohi and Baihi / The Blue Suitcase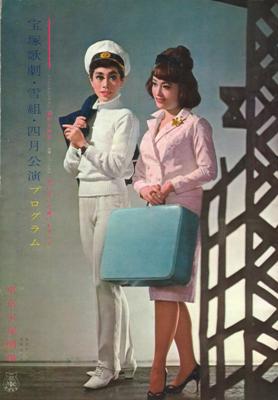 Picture Credit: Program
English Title:
Yohi and Baihi / The Blue Suitcase
Japanese Title:
楊妃と梅妃 / 港に浮いた青いトランク
Romanized Title:
You-hi to Bai-hi / Minato ni Uita Aoi Toranku
Troupe:
Yukigumi
Year:
1965
Performances:
Takarazuka Grand Theater, 1/29 - 2/28; Tokyo Takarazuka Theater, 4/3 - 4/27
Yohi and Baihi:
Based On:
Author:
Ueda Shinji
Director:
Ueda Shinji
Composer:
Nakai Mitsuharu
and
Terada Takio
Choreographer:
Kawakami Gorou
Conductor (Takarazuka):
Conductor (Tokyo):
Nakamura Kanefuji
and
Izawa Ichirou
The Blue Suitcase:
Based On:
Author:
Takagi Shirou
Director:
Takagi Shirou
Composer:
Nakamoto Kiyozumi
,
Takai Yoshizumi
,
Yoshizaki Kenji
Choreographer:
Yamada Takashi
Conductor (Takarazuka):
Conductor (Tokyo):
Mizoguchi Takashi
Available on DVD:
No
DVD Scene/Music Cuts:
Other Cast:
Soga Keiko
,
Asanagi Mifune
,
Oka Chiaki
,
Satozono Yuri
,
Takegawa Yuki
,
Masumi Noriko
,
Hanato Akira
,
Hinoki Masaru
,
Mitaka Yuuko
,
Ushio Youko
,
Suwa Midori
,
Tatsumi Hiroki
,
Nanaura Kyouko
,
Sakura Machiko
,
Asakaze Kaori
,
Miki Chisato
,
Kurushima Wataru
,
Koito Shikure
,
Yamashiro Yuri
,
Tamaoka Midori
,
Tsubasa Mari
,
Mai Chizuru
,
Ootsuki Eiko
,
Maki Ryuuko
,
Natsuki Jun
,
Noji Wataru
,
Urashima Chitose
,
Minakami Senya
,
Fujinami Kaoru
,
Kusunoki Kaori
,
Koyuki Hikaru
,
Saga Kaoru
,
Niou Kyouko
,
Yasaka Mitsuru
,
Sawa Misato
,
Hodaka Shigemi
,
Ookawa Hidemi
,
Irodori Nanako
,
Dai Takiko
Ken-1:
Migiwa Natsuko
,
Izumo Yumi
,
Miha Kazusa
,
Nanba Aki
,
Wakana Yuki
,
Mihama Kumi
,
Ashita Michiko
,
Ise Hikaru
,
Shiho Noboru
,
Enji Yuri
,
Shiratori Yuuko
,
Kino Kazuyo
,
Mayu Ako
WARNING!! MAY CONTAIN SPOILERS!!
Yohi and Baihi
In the harem kept by Emperor Yuan of the Tang Dynasty, no less than three thousand beauties are legendarily believed to have been employed and maintained.
These ladies were classified by "grades" or "ranks", of which the highest was named "Kihi" or Noble Lady. In order to rise up to this coveted rank, and enjoy all the glories and privileges accompanying it, the ladies severely competed among themselves, and, at times, went to the extremes of restoring to ugly mechanisms.
Now, Yohi and Baihi were fond of most dearly by the Emperor, and naturally they compete most severely between them to monopolize the Emperor's affection.
Shinji Ueda, the writer, develops the story on the them of the bitter strife fought between Yohi and Baihi, and through the theme, depicts the sad destinies allotted to the womenfolk, and goes on to emphasize the beauty of a true love.
Scene 1
The story begins on an early spring day on a ferry boat, Li-Kenen, a court musician, who was now on his way to the countryside, retiring from his court service, relates to the aged boatsman how he loved Yohi and how he was disappointed in his love affair.
Scene 2 - 4
Now, the scene is changed to the Imperial Court.
This evening, again, Emperor Yuan has beauties around his person and is enjoying his time over the cups of wine.
The Emperor is desirous that Yohi and Baihi, on this particular occasion, may compete with each other in the art of dancing. The subsequent competition takes place, and, in the dancing competition, Yohi sustains a defeat.
Disappointed and dismayed, Yohi returns to her chamber, when Haien, one of her chamber maids, who was spying on Baihi, her master's rival, sneaks in and reports that, on the occasion of the Flower Festival, Baihi, is planning to dedicate to the Emperor a tulip, brought all the way from Persia, and advises that, in order to beat over Baihi's scheme and to securely win the Emperor's favor, the only alternative will be to present to the throne the flowers of blue poppy, which blooms only deep in the Himalayan mountains.
Accordingly, Yohi asks Li-Kinen to fetch the blue poppy, with the pledge that, once he succeeds in bringing the rare flower to her, she would not grudge to satisfy whatever wishes he may harbor.
The annual Flower Festival is forthcoming in mere twenty days. Kinen at once proceeds to the Himalayas at the risk of his own life.
Scene 5
The day of the Flower Festival.
Li Kinen, worn out and emaciated, returns with a flower of blue poppy. Remembering her pledge, he makes himself bold enough to suggest that he wishes to take Yohi herself. Yohi is deeply moved by the undisguised manifestation of the true love by Kinen. However, her first preoccupation at this juncture is just to win over Baihi.
She wins and, as she has always longed for, is elevated to the rank of "Kihi".
Scene 6
Kinen is thus disappointed in love. In despair, he quits his Court service and went his way back to his nature country. Poor love-worn young man!
The Blue Suitcase
Shiro Takagi, the writer of this play, is well known as a capable writer of musical plays in a true Japanese style.
His previous works, "Under the Sky of Tokyo" and "The Rainbow Music Box Factory" won an unanimous applause as unique musical plays of undeniable charms.
The writer now has the new play, "The Blue Suitcase", to please the spectators. The background of the play is set in Kobe.
A suitcase, containing a package of narcotics, moves on from the hand of a sailor to a pick pocket, and, then, on to a gang of narcotic smugglers, and, in the course of the suitcase moving from one person to another, a variety of events happen to take place, thereby weaving a very intricate pattern of human relations.
As the play develops the story, the life led by the ragpickers at the Shinkawa district, by those living in and by gag night clubs is unfurled, and a love affair between a sailor and a popular singer is depicted.
The play, thus is intertwined with tears, laughter, thrills, and suspensions. It also abounds in songs and dances, and truly deserves to be acclaimed as grand.
Scene 1 - 6; A Morning on the Wharf
The port of Kobe, shrouded by fog.
Shoji Kusunoki and Ryuzo Sugawara, sailors who have just landed from their ship, making port from Hong Kong, begin to sing "I Love the Town of Kobe". The sailors and longshoremen, standing around, soon join in singing in chorus.
Scene 7; Near the Flower Clock
Teruko Suma, a popular singer, arrives from Hong Kong. She has a blue suitcase in her hand. She is under the promise that the suitcase be handed over to a person standing in front of the flower clock situated by teh City Office, exactly at noon, 12:00 o'clock.
Maya Hirano, then, appears and proposes to take Teruko around the streets of Kobe for sightseeing.
It so happens that Kusunoki, the sailor, accompanies them, and the blue suitcase is temporarily deposited at Sannomiya Station.
Presently, Ichiro Ujigawa appears on the scene. He is fatherless, and his mother is a rag-picker. He is fed up with poverty and is now a gangster. Still, he keeps on entertaining a hope for the future. He wants to become a sailor, sooner or later.
Together with Jiro, his younger brother, he sings "I Should Like to Go Aboard a Steamer and Sail Afar".
There appears George, another gangster and Ichiro's pal. He confesses that he has cheated to a blue suitcase out of its true owner. Ichiro advises George that the luggage be returned to its true owner.
Scene 8-11; An Old Apartment House
Rows of shacks for rag pickers and the like. They all are poor and they all are good workers.
With Ei-Han, a longshoreman, in the center, they sing in chorus "Men Are to Work".
Ichiro and Jiro happen to pass by. Mitsu, their mother, refuses to see them. Ichiro tries to return the suitcase to Teruko Suma, but, unfortunately, has it stolen by a man wearing black eye-glasses.
Scene 12 - 13; A Night Club
Toka, a Chinese, young blind girl, is singing the song "Rain Falls in the Port Again Today".
She is connected with a gang of narcotic smugglers. She has an elder sister called Ryuka.
Scene 14; In the Neighborhood of Foreigner's Mansion
After the time spent at a night club, Kusunoki, the sailor and Teruko Suma, appear on the night streets of Kobe, and together, sing "I Shall Not Escape From You". It appears that they have begun to love each other.
Sugawa, the sailor, and Maya Hirano, too, have apparently come to love each other. But Sugawara is suspicious of Maya because of her conducts, which are mysterious and enigmatically.
Scene 15; Black Cats
The man wearing the black eye-glasses, Maya Hirano and Ryuka run after the bus carrying Yuri Yamamoto.
Scene 16; At the Port
The someone with the blue suitcase is chased by the man wearing the black eye-glasses, Maya, Sugawara, George, and Ryuka.
Just at the moment when the blue suitcase in question is about to fall into the hands of the blackspectacled man, a cops of policemen appear and arrest them.
Then, it transpires that Maya Hirano is not a member of the smugglers' gang but a police woman.
Scene 17; A Morning at the Old Apartment House
Scene 18-19; Good-bye, Kobe!
Ichiro aska Kusunoki, the sailor, to help him in his longing to become a sailor. He does become a sailor, and sails, seen off by Suma, Jiro, and others.
Then, Mitsu, the mother, comes running, and cries out to Ichiro's ship "Hey, Ichiro good bye and good luck to you!"
Scene 20; FINALE
Any other interesting or important stuff.
None yet.
| | | | |
| --- | --- | --- | --- |
| Poster | DVD | VHS | CD |
| None Yet | None Yet | None Yet | None Yet |