The Rose of Versailles: Fersen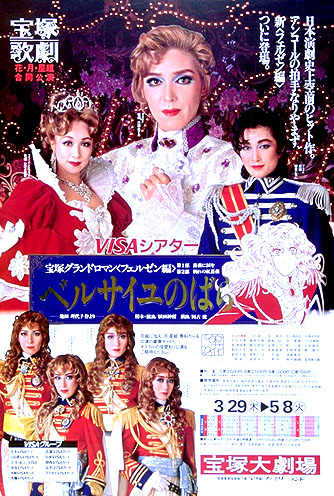 English Title:
The Rose of Versailles: Fersen
Japanese Title:
ベルサイユのばら ~ フェルゼン編
Romanized Title:
Berusaiyu no Bara ~ Feruzen-hen
Troupe:
Flower
Year:
1990
Performances:
Takarazuka Grand Theater, 3/29 - 5/8; Tokyo Takarazuka Theater, 7/1 - 7/29
Shinjin Kouen Performances:
Takarazuka Grand Theater, 4/17 (Act 1 only); Tokyo Takarazuka Theater, 7/10 (Act II only)
Based On:
The manga by Ikeda Riyoko.
Author/Director:
Ueda Shinji
Music:
Terada Takio
,
Irie Kaoru
,
Hirao Masaaki
,
Kawasaki Tsuneo
,
Yoshida Yuuko
Choreography:
Kita Hiroshi
,
Hayama Kiyomi
,
Kurotaki Tsukio
,
Shou Sumire
,
Oka Masami
Conductor (Takarazuka):
Nomura Youji
&
Okada Yoshiki
Conductor (Tokyo):
Kitazawa Tatsuo
Shinjin Kouen Director:
Available on DVD
: Box Set Only (
release date 4/30/2010
)
(1) 3/29 - 4/3
Suzukaze Mayo
(Moon)
4/4 - 4/8
Shion Yuu
(Star)
4/9 - 4/24
Maya Miki
4/26 - 5/8
Anju Mira
(2) 3/29 - 4/24
Anju Mira
4/26 - 5/8
Maya Miki
Other Cast:
Kurokawa Miyuki
,
Natsume Kana
,
Yumeno Chikoto
,
Moemi Serika
,
Asakaze Yuki
,
Shou Tsukasa
,
Morotori Ai
,
Shiraho Mari
,
Himiya Reiko
,
Sagano Yuri
,
Futaba Karen
,
Shihou Akeno
,
Misaki Suzuna
,
Kaori Yutaka
,
Masono Arisu
,
Akiyoshi Akane
,
Ibuki Kazu
,
Mizuki Ai
,
Mayuka Reo
,
Ezaki Rise
,
Mariai Hitomi
,
Sachimi Anna
,
Yuuya Naho
,
Tsukikage Hitomi
,
Chinami Yuu
,
Kazato Yuma
,
Kochou Asuka
,
Sagami Rei
,
Ai Miyabi
,
Asakura Aoi
,
Otoki Mika
WARNING!! MAY CONTAIN SPOILERS!!
The Rose of Versailles: Fersen
Fersen sings of the spring of love.
''How can I forget her?
The very beauty of a rose
Her image always deep
Within the one who loves
And wanders without aim
In a world forever changed
The moment I first knew
The gleam of her eye
The music of her voice
The beauty of her heart
My life was hers — that rose.
How can I forget?
When I try to turn away
Her smile of tenderness
Calms my pounding heart.
How can I forget?
How can I forget, Marie?
My Marie.''
Shortly after he had arrived in France a handsome young Swedish prince, Fersen, met Marie Antoinette at a grand costume ball held in the Opera House in Paris on the 30 th of January in 1774. They danced with youthful exuberance that soon gave way to passion.
Oscar, the young noblewoman raised as a boy, who had become the Commander of the Royal Guard, rushed onto the dance floor as soon as she saw what was happening. Oscar informed the astounded Fersen that the maid in his arms was the Queen. However the seeds of love had already been sown in all three hearts.
Felsen was in love for the first time in his life. Marie's beauty had conquered. His heart throbbed. Oscar, accepted by all as a man, had suppressed her womanly feelings. But now Fersen's valiancy and manly charms made Oscar feel more feminine than ever before in her life.
Marie had at once recognized Fersen as a true soulmate. His clear gaze had bathed her in a warm glow.
The three sing of their new feelings.
''This love is not returned
That I know.
Used by love I love love itself
Yet it's you I love.
I want a love strong and eternal.
But I know the end is sorrow.''
On board ship in the canal at Versailles Marie poured out her heart to the prince. At the age of fourteen her mother, Empress Maria Theresa of Austria arranged a political marriage for Marie with the Bourbon Crown Prince. Marie's feelings were not considered. She was simply a pawn used by others. In her adopted land she was received in a rather cool manner as a foreigner. Felsen's heart went out to her and the two expressed their feelings in a duet, "Love is eternal. "
''Love, it's sorrowful
Love, it's distress
Love, it's painful
Love, it's empty dreams
Love, love, love.''
The people of France had become disgusted by the idle, luxurious lives of the aristocracy and the declining influence of the Bourbon dynasty at home and abroad. Riots broke out all around the country as the love affair between the foreign Queen and the foreign prince became a focus for the people's resentment.
Oscar advised Fersen to leave the Queen and return to the Swedish court. Fersen declared that he would stay by his love even if there was a revolution and if Oscar knew the pain of love he wouldn't imagine that Fersen could ever give up Marie. Oscar replied that the best way to show the truth and depth of his love would be to leave the Queen and the country. Fersen never imagined the pain Oscar felt. Oscar was in love with Fersen. It was not only true love and first love but sadly, unreturned love.
Andre, Oscar's companion, faithful since childhood, wept at Oscar's heartbreak. Andre knew that his common birth would forever separate him from his own love. Oscar was not aware that Andre had always loved her and Andre shed tears for his own poor broken heart.
Fersen formally begged King Louis XVI to grant him permission to return to Sweden to marry. The King fully realized the power of the young prince's charms and frankly suggested he remain in France for Marie's sake. Fersen gently refused the King's generosity. Marie heard the King's words where she hid and was so moved that she vowed to sacrifice all her pleasure, even her life, to protect the Bourbon dynasty for the King and their children. Fersen left without a word of goodbye to either Oscar or Marie. He put his farewell into song.
''I turn my back on love.
I face the loss of all
For my love, for her.
I love my darling more
Than any man who has set out
On the lonely road.
My sweetheart, never forget me.
Even when far apart
I'll still be in your heart.
Hiding sorrow, looking for tomorrow
A man goes down the lonely road.
A man goes down the lonely road.''
Oscar resigned as Commander of the Royal Bodyguard and became a free-roaming sentinel to save France from the upheaval.
Oscar sings that she's a pilgrim of love.
''I'm a pilgrim of love.
I'm a pilgrim of love.
I wander alone a land unknown
Seeking for love today.
The land is boundless.
Where is my love looking?
What is my love looking for?
Who will understand
This girl's heart of mine,
Even though I'm hiding
As a man?''
From Sweden Fersen wrote to Oscar. He begged Oscar to guard Marie. The prince told Oscar how much Andre loved her. Oscar had never thought of Andre in that way but at once realized true love was hers.
As Andre held Oscar in a tender embrace they sang "Love is Eternal."
''Love, it's sweet
Love, it's strong
Love, it's holy
Love, it's noble
Love, love, love.''
On the banks of the river Seine Oscar made every possible effort to prevent an outbreak of violence. But when the King's troops opened fire on the citizens a bloody battle ensued. During the course of the terrible battle Andre was shot and then Oscar was gravely wounded. A white flag appeared over the castle wall. The King's men had given up the fight. With the victorious cheers of her fellow citizens ringing in his ears, Oscar quietly breathed her last.
The people marched on Versailles and captured King Louis XVI and Queen Marie Antoinette. The King and Queen were confined in the palace of Tuileries.
In distant Sweden, Fersen, whose movements were constantly watched, heard the news and grieved. King Gustav III of Sweden was deeply moved by the depth of Fersen's love and finally granted the prince permission to leave for France. Fersen immediately set out to rescue the Queen.
The Monarchy was abolished and the new republic proclaimed. The people demanded that the Bourbon dynasty accept full responsibility for the people's sufferings.
The King and Queen were grateful that they were allowed to spend a peaceful time with all the family at Tuileries. Marie deeply regretted that in ignorance she had advised the people to eat cake when bread was in short supply. Now her only thoughts were for France, and to be a good mother and wife.
Meanwhile Fersen petitioned Marie Antoinette's brother, the Austrian Emperor, for assistance. The Emperor replied that he could not possibly interfere in the internal affairs of another state for personal reasons. Certain sacrifices were necessary to maintain harmonious relationships.
King Louis XVI was executed on the 21 of January. He was 38 years old.
Marie Antoinette was taken to Conciergerie Prison. Fersen wanted to help his beloved escape from prison. However the imprisoned Queen had made up her mind to bravely accept her fate in a manner befitting a Queen of France.
Fersen sings, heartbroken.
''Love, it's sorrowful
Love, it's distress
Love, it's painful
Love, it's empty dreams
Love, love, love.''
Fersen tearfully bid farewell as the Queen was led to the guillotine. The prince sobbed, "Marie Antoinette, my Queen, you will live forever in my heart just as the red roses bloom every year in the gardens of Versailles."
None yet.
| | | | |
| --- | --- | --- | --- |
| Programme | DVD | VHS | CD |
| None Yet | None Yet | None Yet | |