Mélancolique Gigolo / La Nova!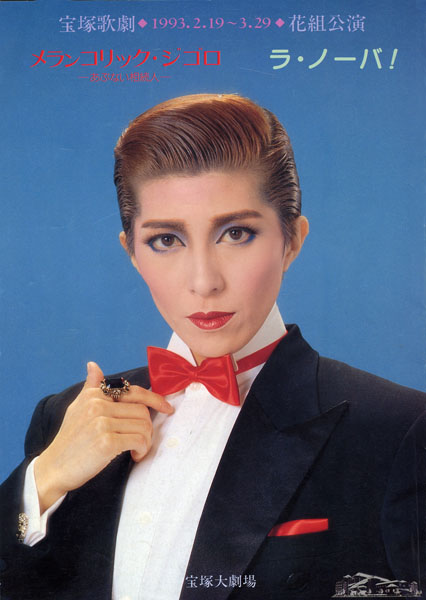 English Title:
Mélancolique Gigolo / La Nova!
Japanese Title:
メランコリック・ジゴロ / ラ・ノーバ!
Romanized Title:
Merankorikku Jigoro/Ra Nooba!
Troupe:
Hanagumi
Year:
1993
Performances:
Grand Theater, 2/19 - 3/29; Tokyo, 6/3 - 6/28
Mélancolique Gigolo
:
Author:
Masatsuka Haruhiko
Director:
Masatsuka Haruhiko
Composer:
Takahashi Kuni
Choreographer:
Shou Sumire
La Nova
:
Author:
Murakami Nobuo
Director:
Murakami Nobuo
Composer:
Yoshizaki Kenji
,
Takahashi Kuni
,
Kai Masato
,
Nishimura Kouji
Choreographer:
Kita Hiroshi
,
Hayama Kiyomi
,
Ieki Hiroshi
,
Maeda Kiyomi
Available on DVD:
Yes (
release date 12/5/04
)
DVD Scene/Music Cut:
No
** Also:
Hatsukaze Midori
(e.g. on the 3/2/1993, when the DVD was recorded.)
Other Cast:
Takatsuki Shou
,
Kokonoe Haruka
,
Yumeno Chikoto
,
Moemi Serika
,
Shou Tsukasa
,
Hama Shioka
,
Morotori Ai
,
Asaki Yui
,
Futaba Karen
,
Shihou Akeno
,
Aya Hiromi
,
Masono Arisu
,
Akiyoshi Akane
,
Maio Tsubasa
,
Shiki Kaoru
,
Mariai Hitomi
,
Kazato Yuma
,
Sagami Rei
,
Ai Miyabi
,
Asakura Aoi
,
Otoki Mika
,
Suzukake Miyuki
,
Haruno Sumire
,
Masaoka Nao
,
Sakuragi Emi
,
Asami Hikaru
,
Minami Shizuka
,
Nanase Kai
,
Yuuka Eri
,
Asazono Miki
,
Futaba Miki
,
Otowa Ryou
,
Ayana Mai
,
Sena Jun
,
Hiro Miyoshi
,
Mao Natsuki
,
Utahana Yumi
,
Mizuhono Seika
,
Amano Yuka
,
Chihiro Reika
Grand Theater only:
Oogi Chihiro
,
Ibuki Kazu
79th Class, Group B (Tokyo):
Eri Chiaki
,
Tatsu Tsukasa
,
Akisono Mio
,
Taiju Maki
,
Riri Seira
,
Kikuho Rina
,
Miki Chigusa
,
Ootori Rei
,
Michi Kiyora
,
Saki Nozomi
,
Aimi Rise
,
Masaki Kazusa
,
Komari Nana
WARNING!! MAY CONTAIN SPOILERS!!
Mélancolique Gigolo
---
Daniel is a gigolo. His patron is a wealthy woman who supports his law studies at university. One day Daniel's patron discovers that the young man has a girlfriend. She immediately cuts off the supply of funds. Daniel is penniless and he is thrown out of his apartment. Stan, another gigolo and Daniel's friend, concocts a plan to get rich. Daniel joins him in a plan to defraud the family of Mr. Norble who has recently passed away by posing as one of the heirs. They threaten a lawyer and out of fear he joins them.
The plan is successful but Daniel spends his small share on one drunken night on the town. However, the story is not over. There are other people who believe that Daniel is Norble's heir. A girl called Felicia comes to Daniel. She is Norble's daughter and has not seen Daniel, her older brother, for fifteen years.
Daniel looks so much like her real brother Felicia never doubts for a moment that he is her long lost brother. Felicia has been living alone since the mother she lived with passed away and she is thrilled to have found her brother. Daniel feels so guilty he can't bring himself to tell her the truth and he keeps the pretence going.
Next, Fondali, a man Norble owed a great deal of money, demands Daniel pay the debt. Fondali believes that Norble must have had a fortune in the bank. Fondali attacks Daniel after he is told the debt means nothing to Daniel and that anyway, there was little money in the bank. Later, a detective arrives and claims that Norble and Fondali robbed a train sixteen years before. Norble took all the money and disappeared. Fondali has been looking for him ever since. Daniel and Stan realize they have to leave town but Felicia is caught by Fondali. When Daniel tries to rescue her, Fondali captures him too and locks them both in a hotel room. Daniel fears that when Fondali finds out there is no money he will kill both of them.
Luckily, someone who Daniel used to treat to a drink now and then discovers the trapped pair and helps them escape. In fact, their rescuer is the man everyone thinks is dead, Norble. After the train robbery Norble discovered there was a traitor in the gang. He hid the money and went into hiding. Over the years the money was gradually spent until it was the small amount Daniel and Stan found in the bank. Norble also tells them his real son had already died. Felicia is broken-hearted to hear this.
Norble and Fondali are arrested for the train robbery. As Norble is taken away he asks Daniel to take care of Felicia. Daniel promises to look after the girl he has already fallen in love with. Norble gives Felicia her mother's locket as a keepsake.
The next morning. Felicia, who has gone home grieving for the loss of her newly found father and brother, opens the locket and finds a key and a note. The key is for a safe deposit box. In the box Felicia finds the money from the train robbery. She gives some money to Stan. Daniel takes her to the train station and they sadly try to say goodbye. Finally Daniel begs her to stay. He says he wants to get a job and live an honest life. Felicia jumps off the train into the arms of the man she loves.
---
La Nova
Prologue
The big bang resounds throughout the universe. A goddess contributes to the creation. She gives birth to Leon, the pirate of the universe, Fiana and her lover Alcon. The creation is celebrated in dance. As the joy of the dancers reaches a peak the goddess presents a crown to Fiana who is to be Princess of the Universe. Leon seizes the crown and flees.
Aztec Discotheque
Leon emerges from a Time Machine and runs into the Aztec Discotheque in Miami. Fiana and Alcon chase after him and they fight. Alcon is distracted by a beautiful Aztec queen and an Aztec prince tries to charm Fiana. The Aztec prince suddenly is transformed and he becomes Leon who grabs Fiana and runs away. Scenes 8-10 Jungle During their struggle Leon and Fiana run into a jungle. They are attacked by a leopard but luckily they escape. Leon and Fiana get caught in the rain and then find that they are surrounded by wonderful flowers. The mysterious power of these blossoms arouses feelings of love in the hearts of the young couple.
Birds
While Leon and Fiana are locked in a passionate embrace a bird swoops down, grasps the crown in its talons and soars up into the sky. Leon and Fiana follow on the back of another bird. The pair is
persued by Alcon. Scene 12 The Caribbean On a Caribbean beach Leon and Alcon dance with all their youthful energy. At first they don't recognize each other but when they do they immediately start to fight over Fiana.
Carnival
Many different colorful groups dance at the carnival in Rio. At the end of the parade Leon's group appears
and wins the grand prize. The Queen of the Carnival presents Leon with a crown. Fiana and the god of death who has possessed her take the crown and escape into the dancing throngs of carnival goers.
Tango
Fiana, under the influence of the god of death, tries to seduce Alcon. Leon, provoked into a jealous rage, attacks Alcon. Fiana gives Alcon a knife from the god of death and Leon is defeated. Fiana regains consciousness and now free of the evil power sadly goes to Leon.
Resurrection
Alcon and Fiana sing their grief. The song of mourning becomes a chorus praying far Leon's resurrection. Leon is
reborn. In the midst of the joy of the celebration Leon and Fiana meet again.
Finale
Bright Latin music warms the hearts of everyone who has shared in the joy of this tale.
None yet.
| | | | |
| --- | --- | --- | --- |
| Poster | DVD | VHS | CD |
| None Yet | Buy DVD | None Yet | None Yet |