Bamboo / The Love Robbers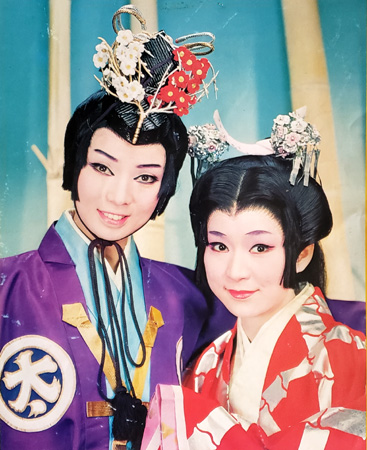 Picture Credit: Migiwa Natsuko & Maya Akemi on the program cover
English Title:
Bamboo / The Love Robbers
Japanese Title:
竹 / ラブ・ラバー
Romanized Title:
Take / Rabu Rabaa
Troupe:
Snow
Year:
1974
Performances:
Shinjuku Koma Theater, 1/2 - 1/28
Bamboo:
Based On:
Folk tales and dances collected by the Japan Folklore Exposition, Takarazuka Revue Co.
Director/Choreographer:
Watanabe Takeo
Author/Subdirector:
Ako Takeshi
Composer:
Takahashi Ren
,
Tsutsumi Gorou
,
Totoki Kazuo
,
Nakamoto Kiyozumi
,
Kawasaki Tsuneo
Choreographer:
Takagi Shouji
,
Suzuki Takeshi
,
Mutsumi Chiga
Conductor:
Matsunaga Koushi
The Love Robbers:
Based On:
Author/Director:
Kamogawa Seisaku
Composer:
Terada Takio
,
Nakai Mitsuharu
,
Yoshizaki Kenji
,
Hashimoto Kazuaki
Choreographer:
Kita Hiroshi
,
Tsukasa Konomi
,
Shuri Misao
Conductor:
Matsunaga Koushi
Available on DVD:
No
Other Cast:
Konohana Sakuya
,
Matsumoto Yuri
,
Oka Chiaki
,
Jou Hiroe
,
Mai Chizuru
,
Seto Chihiro
,
Aoba Mitsuru
,
Hitomoto Miki
,
Momo Chikage
,
Asaki Kozue
,
Chibana Sachiyo
,
Mizuho Mari
,
Kou Hizuru
,
Katase Chiho
,
Natsu Teruko
,
Shouji Michiru
,
Tama Kazumi
,
Yashiro Kou
,
Kamijou Akira
,
Watari Chihiro
,
Kana Kasumi
,
Masaki Keiko
,
Ban Akira
,
Sei Renka
,
Mario Sachi
,
Matsukata Rika
,
Katsu Sachiyo
,
Emi Hiroki
,
Shimizu Akira
,
Mizuki Ai
,
Akira Miyabi
,
Ako Chinami
,
Sara Kei
,
Houjou Hiroki
,
Kinugasa Akira
,
Aizono Yuka
,
Mon Ami
,
Akane Mayumi
,
Chibune Yuka
,
Yuuzuru Mai
,
Makina Erika
,
Kumi Mari
,
Chishiro Kei
,
Nagiri You
,
Waka Chitose
,
Gojou Aisen
,
Aran Mika
,
Yutaka Ayumu
,
Umi Shiraho
,
Fujinami Yuu
,
Hikari Kaoko
,
Hide Natsuki
WARNING!! MAY CONTAIN SPOILERS!!
Summary taken (with very few changes) from the English summary in the program.
Bambo
The dancers have tigers' heads, and dance to celebrate the new year.
Children:
Takamiya Sachi
,
Maya Akemi
,
Tamazusa Maki
Scene 2. Summer (dances symbolizing bamboo)
Local dances with properties made of bamboo.
a) Take Odori (Bamboo Dance) - Kagoshima Prefecture
b) Kusachi Odori (Grass Land Dance) - Oita Prefecture
c) Kasa Odori (Bamboo Hat Dance) - Toyama Prefecture
d) Tsugaru Ohara - Aomori Prefecture
e) Kusachi Odori
Singers:
Migiwa Natsuko
,
Takamiya Sachi
,
Maya Akemi
,
Uraji Natsuko
,
Tamazusa Maki
,
Jun Mitsuki
,
Shou Sumire
Scene 3. Autumn (working with bamboo)
On fine autumn days, people work here and there using bamboo tools.
a) A farmer's garden
b) A mountain
c) A tea shop in a bamboo village
d) The sea
Singer:
Takamiya Sachi
An aged man:
Ooji Michio
Students:
Migiwa Natsuko
,
Asaki Kozue
,
Uraji Natsuko
,
Shou Sumire
Dancers:
Maya Akemi
,
Tamazusa Maki
Scene 4. Winter (snow and bamboo)
Father bamboo teaches his little bamboo son how to live through the hard winter. At last the little bamboo gets the idea how to survive.
Father bamboo:
Soga Keiko
Little bamboo:
Jun Mitsuki
Scene 5a. Spring (a tale about bamboo shoots)
Tarobe is a keeper of bamboo groves. HE falls in love with Ohana who is Choja's daughter. But her father opposes their marriage. He wants her to get married to another man.
Tarobe gets angry and goes to bed sulky. He dreams of a funny heavenly bamboo world. There he gets married to Princess Bamboo of the bamboo world, who is like Ohana. When he and Princess Bamboo are returning to his home, they fall down from the heaven to the ground.
Next morning, Tarobe is called by Ohana. Ohana wanted to commit suicide during the night because she does nt want to marry the other man. Before she dies, she comes to see him. When Tarobe hears this, he says that they will die together. As they are about to throw themselves into a well, Choja to them to stop. They can get married at last.
Tarobe:
Migiwa Natsuko
Ohana / Princess Bamboo:
Maya Akemi
Choja (millionaire):
Kishi Kaori
Lord of the bamboo world:
Ooji Michio
Lady of the bamboo world:
Mitaka Keiko
Scene 5b. Spring (bamboos and children)
The children play with bamboo toys.
a) Aya Komai - Niigata Prefecture
b) Children's Song - Iwate Prefecture
c) Sansa Odori
d) Stilts
e) Ships Made of Bamboo Leaves
---
The Love Robbers
A very hot love story unfurled at Venice, the world-famous sea resort in Italy.
Sutania and Junciano, both gondolers, were childhood pals. They lived in the same room and everything went all right between them as they agreed on almost everything. Except Sutania was liked by womenfolk, perhaps too much, and this caused quarrels which occurred between them almost incessantly.
Junciano had a fiancee, named Yaccina, who was a telephone operator at a hotel. This Yaccina was curt to Junciano ans did not cast him looks of love. Instead she was mad about Sutania, and always chasing after him.
Sutania, for his part, had a girl he had met in Venice some years ago. She then married a baron, but he had died and she was now a widow. She, Piccolia by name, was now back in Venice, where she happened to board Sutania's gondola. Thus the fire of love began to be re-kindled.
On the other hand, Yaccina's aunt, a peddler of peas for cloves, and Junciano's father, a street cameraman, were lovers of oldstanding. Both of them, however, missed an opportunity of making a proposal for wedding. Even so, the old man and woman were still in love with each other, a love in old age.
Sumileila, a student of a school of theology in Venice, happened to come across Sister Sies on the street. A fire of love flared up between them at the moment their eyes met together.
Still on another occasion, Contessa Cashima, a countess from Paris, was attracted by Cunicore, a hotel boy, and the lady began chasing after him day and night.
Mickino and Yumiko, street musicians, were also on good terms with each other, they always had something to quarrel about.
Thus these various couples would vie with each other in love adventures, giving a rise to one trouble after another.
All, however, end up in a happy ending.
Any other interesting or important stuff.
None yet.
| | | | |
| --- | --- | --- | --- |
| Poster | DVD | VHS | CD |
| None Yet | None Yet | None Yet | None Yet |