Adieu Marseille / Love Symphony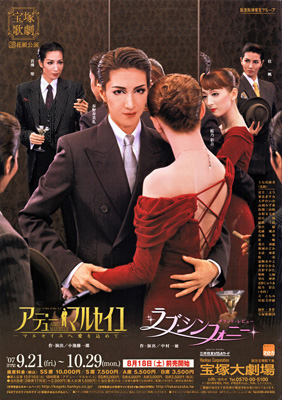 English Title:
Adieu Marseille -From Marseille With Love- / Love Symphony
Japanese Title:
アデュー・マルセイユ - マルセイユへ愛を込めて - / ラブ・シンフォニー
Romanized Title:
Adyuu Maruseiyu -Maruseiyu kara Ai o Komete- / Rabu Shinfonii
Troupe:
Flower
Year:
2007
Performances:
Takarazuka, 9/21 - 10/29; Tokyo, 11/16 - 12/24
Shinjin Kouen Performances:
Takarazuka, 10/16; Tokyo, 11/27
Adieu Marseille:
Based On:
n/a
Author/Director:
Koike Shuuichirou
Music:
Oota Takeshi
Choreography:
Maeda Kiyomi
,
Kenji Nakao
,
Wakao Risa
Conductor (Takarazuka):
Sasada Aiichirou
Shinjinkouen Director:
Kodama Akiko
Love Symphony:
Author/Director:
Nakamura Kazunori
Music:
Nishimura Kouji
,
Kai Masato
,
Kuratomi Shinichi
,
Nakagawa Akira
Choreography:
Hayama Kiyomi
,
ANJU
,
Wakao Risa
,
KAZUMI-BOY
Conductor (Takarazuka):
Misaki Megumi
Available on DVD:
Yes (
release date 12/20/07
)
DVD Scene/Music Cut:
Yes
The following scenes from Love Symphony were removed from the sequential video. The sound was replaced, and they can be found in a separate chapter on the extras menu.
Scene 4 Love Hunter, scene 6 Love Game, scenes 13-14 Latin Symphony, scene 18 Finale
Other Cast:
Maina Rion
,
Hinata San
,
Shiyou Rene
,
Yuugiri Rai
,
Yuuzumi Shun
,
Aizumi Moeri
,
Seika Mai
,
Shizuka China
,
Amamiya Nao
,
Mineno Kazuma
,
Uraki Hiroto
,
Hatsuki Yoshiya
,
Koko Maria
,
Ayashiro Rea
,
Ryou Kagura
,
Kouga Asahi
,
Umesaki Ibu
,
Seto Kazuya
,
Natsushiro Ranka
,
Hitomi Yuyu
,
Shiraki Akari
,
Ootori Mayu
,
Kachou Shiho
,
Kira Masato
,
Haruhana Kirara
,
Hanamine Chiharu
,
Ayasaki Mei
,
Manase Haruka
,
Marika Yume
.
Tenma Michiru
,
Ginka Sui
,
Hatsuhana Misaki
,
Hidaka Daichi
,
Tsukino Himeka
,
Hanaori Chisa
,
Hanaki Maho
,
Kazusa Yoshiki
,
Nana Kurara
,
Maki Izumi
,
Taiga Rin
,
Saho Yukari
,
Wataru Hibiki
,
Nagisa Seina
,
Ousaki Ayaka
,
Houryuu Aya
,
Hanana Mio
,
Mihana Rino
WARNING!! MAY CONTAIN SPOILERS!!
Adieu Marseille
In the early 1930's, the beautiful port of Marseille, France, which is ruled by the French mafia, ranks at the top for its high crime rate. There are two warring factions: Scorpio, which controls port services, and Orion, which is laying hold on the red-light district.
One evening, Gerard Clément, born and raised in Marseille, returns to the city for the first time in 14 years. A woman runs into Gerard who is gazing fondly at the streets of Marseille, wistfully recalling his boyhood there. He instinctively holds her in his arms, but is violently rebuked by Marianne, a tour guide for Artemis Travel Agency, who mistakenly believes that he is trying to kidnap the woman. Marianne is not only a tour guide but also a leader of Artemis Women's Union that advocates women's suffrage. She has come to the rescue of the woman as requested. Men from both mafia factions arrive in pursuit of the woman, and Gerard is caught up in their fight for her. Then, Orion's boss Simon, alias King of Night, appears. He is a childhood friend of Gerard's and the very person Gerard intends to see that evening.
Simon brings Gerard to a music hall he runs, and they renew their friendship, thinking back together on all those years behind them. Gerard tells Simon that he has contacts with Cosa Nostra and is smuggling premium wines into the U.S.A. where Prohibition is in force. And he adds that he has come home under the pseudonym of Louis Marais in order to set up a new smuggling channel from Marseille. 14 years earlier, Gerard was confined in a reformatory, bearing the blame for a crime that Simon committed. Simon has not heard from Gerard since his confinement. Now that he has come to know the details of why Gerard was confined in the reformatory and his life thereafter, Simon makes lavish promises in order to repay Gerard for his sacrifice, and agrees to help set up the new channel
Gerard has led a very solitary life for these 14 years, living with his secret, which he cannot entrust to anybody --- he had never confessed the truth, however severe the cross-examinations, in order to protect Simon. He was consequently confined in the reformatory, where he met with Philippe Besson of the International Criminal Police Organization who was impressed by Gerard's strong willpower to keep secrets and bear solitude. Gerard was thereupon sent to the organization's training center in Paris and, sometime later, appointed agent to investigate international crimes. Gerard has come back to Marseille on a mission to uncover the mafia's smuggling channel, impersonating Louis Marais who was once arrested for bootlegging wine.
The office of Artemis Women's Union is located in a former soap factory. Marianne, the councilor Maurice de Broca, and other members of the union are busy preparing a bazaar to promote the union's aims to as many people as possible. Maurice is so fond of Marianne that he enthusiastically her union work and her political science studies: she wishes to become councilor after finishing her university degree. Simon, his girlfriend Jeanne, and Gerard arrive at the union's office. Simon's mother and Gerard's had both worked at the soap factory and Simon and Gerard had spent their boyhood in the factory-provided housing. After learning that Gerard was called Geogeo as a boy, Marianne tells him that she heard of him when she was a little girl. She feels convinced in the course of conversation with Gerard that he still loves Marseille. She asks him to lend his hand to her union's urban renaissance efforts.
Simon invites his old friend to his casino, where he then introduces Gerard to Giolamo Giuliani, a strange Italian billionaire. Giolamo seems interested in Gerard, who has introduced himself as Louis Marais. Suddenly they hear the noise of raised voices; somebody has found counterfeit notes. Counterfeit notes were also discovered in the casino in the previous month. Simon is taken away for questioning by the police. Giolamo invites Gerard, now left alone, to have a drink in his hotel room.
Although Giolamo is not a billionaire, but in fact an information advisor of the Sicilian mafia of Chicago, he believes that Gerard is indeed Louis Marais. He proposes that Gerard join with him in building up a channel in Marseille for smuggling wine disguised as soap. Gerard agrees to work with him without hesitation, and is introduced to such members as the Scorpio faction boss Richard, the police inspector Belland and, to Gerard's surprise, Maurice. Maurice tells Gerard that he needs money in order to win the next mayoral election and that he will use the former soap factory, now occupied by Artemis Women's Union, to start soap production.
Simon's casino is ordered to suspend business for one month. Gerard visits the bazaar organized by the Artemis Women's Union, with Simon and Jeanne who is trying to cheer him up. During the visit, Jeanne comes up with the idea of turning out custom soaps. Gerard and Maurice thereby encourage Marianne to produce and export soap. Marianne agrees to the idea with the view of raising more funds for her movement. Maurice suggests that the union's office move somewhere else, but does not disclose his true aim of using the ex-factory without constraints. However, she replies that she will move the office only after making enough money by selling soap. Upon hearing Marianne's reply, Jeanne proposes organizing a charity ball to help raise money for advertising the custom soaps. Members of the union agree with Jeanne and start preparing a charity ball.
While Marianne feels obliged to Maurice for his special interest in her, she wonders if women could accomplish anything without men's help. When Gerard listens to her delicate problem, he encourages her by telling that his mother, who had brought him up alone, would certainly support her movement if she were alive. He says that one can survive with a belief that someone needs him somewhere in the world. He then talks about the myth of Artemis and Orion, ideals of a man and woman. They feel attracted to each other.
Simon is convinced that the forger of the counterfeit notes is Scorpio. When he learns that Gerard is seeing the Scorpio faction boss Richard and his members, he tells Gerard to get out his house saying that he will not tolerate anyone doing business with Scorpio. However, Gerard is not allowed to tell the truth even to his best friend and the person he loves. He makes every effort to remain strong and silent, in spite of his sorrow.
The production of soap advances. Gerard succeeds in securing definitive proof of the smuggling organization. One day when the charity ball is at last held, all the persons concerned get together and...
---
Love Symphony
Delight, encounter, passion... A revue focused on the different forms love takes. Unfolding from a brilliant of Paris revue opening, through passionate dance scenes set to Latin music, and the bright world of jazz.
Scenes 1 - 3: Prologue
As the curtain rises with a brilliant overture, Gentleman S of Prologue appears. A gorgeous prologue begins.
Gentleman S of Prologue
Haruno Sumire
Gentlewoman S of Prologue
Sakurano Ayane
Gentleman A of Prologue
Matobu Sei
,
Sou Kazuho
Scene 4: Love Hunter
Gentleman S (Love Hunter) stylishly sings about many ways of being in love.
Gentleman S (Love Hunter)
Haruno Sumire
Scene 5: Gambler
Man A of Club sings while Men of Club dance.
Man A of Club
Sou Kazuho
Scene 6: Love Game
In a game club, some people are thrilled with love's stratagems and other people are enjoying gambling.
Man S of Club
Haruno Sumire
Lucky Girl
Sakurano Ayane
Man A of Club
Sou Kazuho
Scenes 7 - 8: Flower Love
A thief, who has stolen flowers simply because of their pleasant fragrance, sings the praises of flower blossoms, calling to mind their lovely shapes.
Thief of Flowers
Matobu Sei
Scene 9: Latin Symphony
In a gorgeous flower garden, Butterfly-Men dance encircling Butterfly-Woman Singer S.
Butterfly-Woman Singer S
Sakurano Ayane
Scenes 10 - 13: Latin Symphony
A splendid butterfly world appears.
Butterfly-Man S
Haruno Sumire
Butterfly-Woman S
Sakurano Ayane
Butterfly-Man A
Matobu Sei
,
Sou Kazuho
Scene 14: Latin Symphony
A Butterfly-Singer sings solo on the apron stage.
Butterfly-Singer
Aine Harei
Scene 15 - 16: Spanish Symphony
A traveler arrives in Spain.
Traveler
Haruno Sumire
Spanish Woman
Sakurano Ayane
Spanish Man
Matobu Sei
,
Sou Kazuho
Scenes 17 - 18: Finale
Takarazuka's Rocket Boys and Rocket Girls come on stage accompanied by lively music.
Finale Girl (singer)
Sakurano Ayane
Scenes 19 - 20: Finale
While Gentleman S sings, many other gentlemen enter the stage.
Gentleman S
Haruno Sumire
Gentleman A
Matobu Sei
,
Sou Kazuho
Scene 21: Finale
Gentlemen of Duet and Gentlewomen of Duet dance in pairs.
Gentleman of Duet S
Haruno Sumire
Gentlewoman of Duet S
Sakurano Ayane
Scene 22: Parade
All the performers parade to the theme song.
Gentleman of Parade S
Haruno Sumire
Gentlewoman of Parade S
Sakurano Ayane
Gentleman of Parade A
Matobu Sei
,
Sou Kazuho
(And all other performers)
Takarazuka Precious: Sakakihara Kazuko's Takarazuka First Night & Event Revue article - Adieu Marseille
Takarazuka Precious: Sakakihara Kazuko's Takarazuka First Night & Event Revue article - Love Symphony
ENAK Sumire Style Stage GRAPH
"Adieu Marseille" - reviewed by Ekusudei
| | | | |
| --- | --- | --- | --- |
| Poster | DVD | VHS | CD |
| None Yet | None Yet | None Yet | None Yet |