Pale Dawn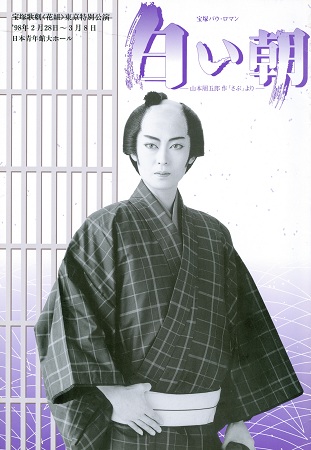 English Title:
Pale Dawn
Japanese Title:
白い朝
Romanized Title:
Shiroi Asa
Troupe:
Flower
Year:
1997 - 98
Performances:
Bow Hall, (1997)10/25 - 11/11; Nippon Seinenkan, (1998)2/28 - 3/8
Based On:
The novel
Sabu
by Yamamoto Syuugorou
Author:
Shibata Yukihiro
Director:
Shibata Yukihiro
Composer:
Terada Takio
Choreographer:
Hanayagi Hagi
Available on DVD:
No (VHS only)
(1) In Nippon Seinenkan
Mizu Natsuki
Others:
Shou Tsukasa
,
Kazato Yuma
,
Sagami Rei
,
Utahana Yumi
,
Mao Natsuki
†,
Eri Chiaki
,
Kouno Marika
‡ ,
Ayukawa Natsuki
,
Momoka Sari
,
Sou Kazuho
,
Chihaya Mae
† Performed in Bow Hall only.
‡ Performed in Nippon Seinenkan only.
WARNING!! MAY CONTAIN SPOILERS!!
The Edo Era, Edo. Eiji and Sabu, apprenticed together from a young age under a famous paper craftsman and studied together, but while Eiji finished a skilled craftsmen, Sabu always comes to a standstill at the gluing stage, and fails at whatever task he is given.
However, Eiji always protects, concoles, and encourages Sabu, and because Sabu is grateful their friendship becomes even deeper. Near their store there is a money-exchange business called the "Watobun", there is a servant girl named Osae, who is clever and hard-working, and a restaurant where a hazy and loving girl named Onobu works. While visiting Watobun on business, Eiji meets and befriends Osae, and Sabu (who sometimes goes drinking at the restaurant) has fallen for Onobu. However, Onobu has feelings for Eiji.
At that time, the master of the Watobun's prized cammellia has lost his buds. Because they are found in Eiji's tool bag, he falls under suspicion and is set under house-arrest. From the beginning, Eiji has no memory of having done such a thing, and so he plans to explain to the master, but without being allowed to meet him he is harshly beaten by visitors to the store. After that, when he is investigated by a government official, he obstinantly refuses to give so much as his name or address, and made homeless he is sent to be a day laborer on Ishikawa Island....
First performed in the Grand Theater by Moon Troupe in 1974.
None yet.
| | | | |
| --- | --- | --- | --- |
| Poster | DVD | VHS | CD |
| None Yet | None Yet | None Yet | None Yet |