Man of Starlight / Non, Non, Non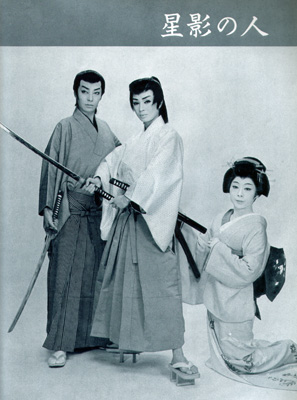 Picture Credit: GRAPH Sept. 1976
English Title:
Man of Starlight / Non, Non, Non
Japanese Title:
星影の人 / Non,Non,Non
Romanized Title:
Hoshikage no Hito / Non, Non, Non
Troupe:
Snow
Year:
1976
Performances:
Takarazuka Grand Theater, 6/25 - 8/10; Shinjuku Koma Theater, 9/4 - 9/27
Shinjin Kouen Performances:
Takarazuka Grand Theater, 7/16 & 7/22; Shinjuku Koma Theater, 9/22
Hoshikage no Hito:
Based On:
The life of Okita Souji
Author/Director:
Shibata Yukihiro
Composer:
Hirao Masaaki
,
Terada Takio
,
Kawasaki Tsuneo
Choreographer:
Nishikawa Ritefu
Conductor (Takarazuka):
Conductor (Tokyo):
Shinjin Kouen Director:
Non, Non, Non:
Author/Director:
Kusano Akira
Composer:
Terada Takio
,
Yoshizaki Kenji
,
Maeda Norio
Choreographer:
Kita Hiroshi
,
Tsukasa Konomi
,
Nakagawa Kumi
Conductor:
Hashimoto Kazuaki
Available on DVD:
No
Man of Stardust
(1)
Chishiro Kei
in Tokyo
(2)
Kunizuki Miki
in Tokyo
(3)
Kizuki Miho
in Tokyo
(4)
Shikino Hanae
in Tokyo
(5)
Kojou Chiaki
in Tokyo
Non, Non, Non
Other Cast:
Oka Chiaki
,
Mai Chizuru
,
Kana Kasumi
,
Aizono Yuka
,
Fujinami Yuu
,
Yutaka Ayumu
,
Narukami Jun
,
Machi Yuu
,
Megumi Hanae
,
Tae Kurumi
,
Nana Asami
,
Hanamiya Rara
,
Ebira Kaoru
,
Nagi Masami
,
Kiri Satomi
,
Asakaze Megumi
,
Ichihara Kei
,
Natsuki Jun
,
Kage Chisato
,
Mifune Sachi
,
Ooshiro Tsubasa
,
Mizuki Sei
,
Sen Midori
,
Saotome Maria
Grand Theater only:
Shizu Misaki
,
Urara Mika
,
Asaki Kozue
WARNING!! MAY CONTAIN SPOILERS!!
Hoshikage no Hito
(English summaries from the original Tokyo program, with slight modifications.)
At the end of the Edo Period, there were two political groups who were much disputed in Japan. One set up the Emperor as their leader, and the other set up the Shogun as their leader.
The Shinsengumi was formed by the Shogunate to guard Kyoto and to repress Ronin (Samurai who have no leader).
The scene is a street on the Gion (Kyoto).
We can hear the noise of sword fighting. Okita is fighting with some Ronin. On his way home, it starts to rain. He does not have an umbrella. Just then Tamayuu and her maid happen to ass carrying an umbrella. When she sees him, she says, "Have you got an umbrella? If you haven't, I'll lend you mine." So Okita borrows her umbrella. They introduce themselves to each other and from then on she is unable to forget him.
The residence of Yagi in Mibu was also the office of the Shinsengumi. A lot of young men come to the office to join the Shinsengumi every day. The captain, Hijikata Toshizou, tells the young men the five rules of the Shinsengumi. Then Okita returns from the Gion.
Hijikata, aware that Okita has a woman's umbrella, asks Okita, "You went to the Gion to see a girl, didn't you?" "No, I never think of anything but the sword. To live with the sword is my life," answered Okita.
Yamazaki Susumu arrives to announce the news of the whereabouts of Katsura Kogurou. Katsura Kogurou is on the side of the Emperor. The Shinsengumi rush to the pub in the Gion where Katsura Kogurou is, with Okita and Hijikata in the lead.
On a street in the Gion, Katsura runs away from the pub, injured. At that moment, Okita confronts Katsura. Okita and Katsura have known each other for a long time. When Okita lived in Edo (Tokyo), they used to do kendo (Japanese fencing) together.
So they know each other's skill. Okita would not fight with Katsura because of his injuries.
After Okita lets him pass, he meets Tamayuu again. They do not want to say goodbye, so they make a promise to meet tomorrow afternoon in the precinct of Kenninji Temple. In the arranged place, two people arrive before them. They are Yamanami Keisuke, a captain of the Shinsengumi, and Akezato. While they are walking around, Okita comes. Yamanami tells Okita that he doubts the way of the Shinsengumi. After they leave, Tamayuu appears and calls out to him. She says," I just wanted to have a chat with you, but I have a strange feeling that I might fall in love with you."
The next day, there is a party sponsored by the Shinsengumi near the Kamo River. During the party, Hijikata lays his head on Teruha's lap.To tell the truth, Teruha is a girl from the Totsugawa Clan, called Kayo. She wants to kill him in revenge for the killing of her fiance, but Hijikata already knows her real intention and yet he dares to tell her that he loves her. Meanwhile, Okita finds the secret technique of swordsmanship when he sees Tamayuu dance kyomai. Some killers attack the party, and Okita fights them, but suddenly he is taken ill. He has a bad lung disease. While the members of the Shinsengumi take care of Okita, there comes an urgent report. There is a plan by a group to attack the Gosho (a place in Kyoto).
The plan is now known as "The Political Affair of Ikedaya". Katsura has a narrow escape, but Okita coughs up blood.
After two months, Okita calls on Dr. Yokoi to ask what is wrong with him. He is told that he only has two more years to live. When he hears this, he says, "Even though I have only two years left, I will fight hard for the Shinsengumi." Upon hearing this, Tamayuu decides to follow him wherever he goes.
---
Non, Non, Non
In the world of humans ther eis only male or female. When a man meets a woman, sometimes the two start to fall in love for no particular reason-That is fate. If we are bold enough we could say the reason they fall in love is because of the night. Night takes us into a different world. It is a world that is ruled by the fairies, and many of these creatures are rather mischievous. It is said that fairies can live up to 300 years and that they can do anything they like.
The fairy who rules time is called Mr. Clock-He is rather handsome but gives the impression of not caring. However he is really a nice kind of person. At seven in the evening he is seen leading a band of fairies. Into their midst comes a man. We have called him "Naive". He is very lonely. Also into the scene comes a girl. We have called her "Melancholy". The mischievous fairies have brought them together. They don't know what to do, so the fairies make it rain. Taking advantage of the rain, they begin to talk to each other. Everything is set and they begin to go forward down love's track.
9 o'clock in the evening and Naive and Melancholy are seen sitting in an apartment each holding a glass of wine. You can hear Mozart's "Romance" in the background. The atmosphere is very romantic. Back in the fairy world, Mr. Clock's Grandma and Grandpa are wondering whether or not to go to heaven as they have already lived 365 years.
Before we know it, it is 11 o'clock. It is better to get to bed early than to think of tomorrow. Melancholy is standing by the window watching the rain-soaked street. She is thinking, "I'm about to fall in love with him, but I must leave here tomorrow." (She is booked on a plane at 6 o'clock in the morning.) Naive is also feeling the same way about her but cannot express himself. Naive sings a sad song with his back to her. Melancholy says, "I can't go home." The two fall in love, but beside them is fairy Non-no who also loved Melancholy.
4 o'clock in the morning and the fairies start to play an opera because they have to send dreams to the human world. They draw Naive and Melancholy into the fairy world. But it's 5 o'clock and Melancholy leaves Naive even though she is filled with regret. The fairy who loves her weep tears of sorrow too.
6 o'clock and it is a beautiful dazzling morning. Naive is sitting on his bed lost in thought. "Was that a dream? Melancholy!"
There is the sound of a jet passing overhead-he does not hear it. "Good morning," a voice says. Naive thinks he is hearing things, he thinks he can hear Melancholy. But yes, it's true! Melancholy has come back to him, and their love becomes real. Mr Clock says, "Any time, any night, we fairies will be with you!"
None yet.
| | | | |
| --- | --- | --- | --- |
| Poster | DVD | VHS | CD |
| None Yet | None Yet | None Yet | None Yet |