Yukariko / Heat On Beat!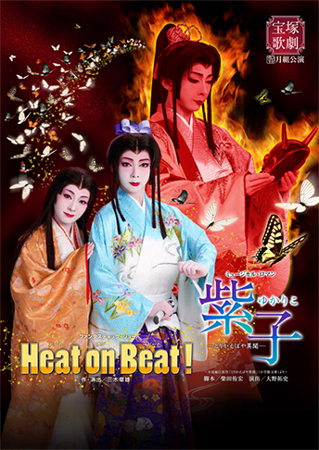 Picture Credit: coeuraubonheur | Official Chirashi
English Title:
Yukariko -The Strange Tale of the Changelings- / Heat On Beat!
Japanese Title:
「紫子(ゆかりこ)」/「Heat on Beat!(ヒート オン ビート)」
Romanized Title:
Yukariko -Torikaebaya Ibun- / Hiito on Biito!
Troupe:
Moon
Year:
2010
Performances:
Chunichi Theater, 02/01 - 02/24
Yukariko:
Based On:
Kihara Toshie's manga "Torikaebaya Ibun", which was in turn based upon the anonymously written Heian tale "Torikaebaya Monogatari"
Author:
Shibata Yukihiro
Director:
Oono Takuji
Composer:
Choreographer:
Nishizaki Mine
Conductor:
Heat On Beat!:
Author/Director:
Miki Akio
Composer:
Choreographer:
Conductor:
Available on DVD:
Yes (
release date 04/20/10
)
DVD Scene/Music Cuts:
None
* Role name romanizations may contain mistakes.
WARNING!! MAY CONTAIN SPOILERS!!
Yukariko
The famous work that was so widely praised in 1987 when performed by Star Troupe and Mine Saori, Minakaze Mai, Hyuuga Kaoru, and Shion Yuu, will be revived after a period of 23 years. Written by Kihara Toshie, who reimagined once more in a dramatic way the anonymously written Heian Era "Torikaebaya Monogatari," the "Torikaebaya Ibun" rewrites the story from a historical setting in the noble world of the Dynastic Period to the samurai class of the Warring States Period.
The time is the Azuchi-Momoyama Period. While Yukariko is a woman, she is by nature masculine and, as she was raised in a family with no heir, she learned general martial arts. Then an unexpected story is told to Yukariko, whose father died suddenly. It is said that because Yukariko is the daughter of the daimyo of Aki (Hiroshima), and twins with the current feudal lord, she was given to an adoptive family in secret. As a matter of fact her brother the feudal lord, Midorio, is ill, and in order that the other provinces may not know, she is told that he wants her to serve as his substitute....
The story tells of Yukariko, who becomes the substitute for her brother, and the heart she sacrifices to protect the feudal domain according to her brother's wishes, as well as the love of the people surrounding Yukariko: Fubuki, the Princess Maizuru, and Sadatsugu.
---
Heat on Beat!
Rhythms which are continuously carved in an instant, tied together for eternity. Those are the joys of living, the prayers of love, and yearning for dreams; dazzlingly beautiful, reminiscent of an eternally burning flame. A work enlivened with energy which has its roots in the rhythm of the music.
Asahi Stage Gallery
None yet.
| | | | |
| --- | --- | --- | --- |
| Poster | DVD | VHS | CD |
| None Yet | None Yet | None Yet | None Yet |