Too Short a Time to Fall in Love / Jewel de Paris!!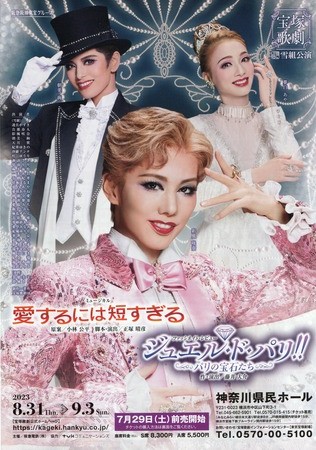 Picture Credit: yaomeis / Official Chirashi, from personal collection
English Title:
Too Short a Time to Fall in Love / Jewel de Paris!! -The Jewels of Paris-
Japanese Title:
愛するには短すぎる / ジュエル・ド・パリ!! -パリの宝石たち-
Romanized Title:
Ai Suru ni wa Mijikasugiru / Jueru do Pari!! -Pari no Housekitachi-
Troupe:
Snow
Year:
2023
Performances:
National Tour, 08/25 - 09/18
Too Short a Time to Fall in Love:
Concept:
Kobayashi Kouhei
Author/Director:
Masatsuka Haruhiko
Composer:
Choreographer:
Jewel de Paris!!:
Author/Director:
Fujii Daisuke
Composer:
Choreographer:
Available on DVD:
Available on Blu-Ray:
DVD Scene/Music Cuts:
Other Cast:
Miho Keiko
(Senka),
Manaha Ayane
,
Manahi Michi
,
Asahana Suwan
,
Aisora Minami
,
Yumeto Miwa
,
Ayana Miki
,
Mizuki Serena
†,
Kazetachi Niki
,
Himena Tamaki
,
Enri Kouki
and
Hoshizawa Arisa
WARNING!! MAY CONTAIN SPOILERS!!
CONTENT WARNING(S):
Add warnings here, or write "None".
Too Short a Time to Fall in Love
Fred Walbask is returning from a study abroad on board a passenger liner headed for New York. He is expected to succeed his stepfather who owns and runs an important steel manufacturing company.
On the first day of the voyage, Fred comes across on deck Barbara O'Brien, a member of the show team with the ship's band. As she has read the article of the engagement of the son of a famous industrial tycoon in the newspaper, she recognizes Fred and congratulates him on his happy marriage and bright future. However, Fred tells her that he is all at sea about his future. He is amazed that he has told his true feelings to Barbara whom he has just met. Then, he suspects that he has met her before. Barbara and Fred part promising to see each other again at the welcoming party to be held on the ship.
In the evening of the same day, Fred sees Barbara arguing with Frank, the manager of the band. Concerned, Fred asks her what the problem is. Frank stubbornly tries to make Barbara love him. He thinks she ought to love him in return for money he has loaned to her. She used the money to pay the doctor's bills for her sickly mother. Barbara thanks Fred for his worrying of her and tells him that the show during the voyage is the last one for her as she has decided to go home to care for her mother. Listening to her, Fred realizes that she is the little girl he had promised to marry in his childhood. When he was six years old, he moved with his parents from his native state of Missouri to New York. He lost his parents one after the other and was adopted by Walbask who was the owner of an orphanage. Barbara and Fred are thrilled by their first encounter in 20 years. They talk of their own personal pasts.
When Fred comes back to his cabin, he sees his friend Anthony waiting for him. Anthony tells him that there is something different about him these days. Fred tells him of the incident that he had come upon his old childhood friend Barbara. He thereby can see clearly what had been worrying him. He wonders if he should take the offered post of president and marry Nancy without really deciding anything by himself. Anthony analyzes Fred's troubled thoughts and gives him irresponsible advice that he may just as well let go the passion he keeps inside.
On the next day, Fred introduces Barbara to Anthony at lunch. Anthony realizes that she is the woman who kept his attention during the show of the previous evening. He is so delighted at this coincidence that he makes every effort to woo her while Fred feels troubled. Barbara's show team colleague calls her out and tells her that she is suspected of theft, as she has no alibi for the previous night. Fred rushes to Barbara and declares that he was with her during the hours of the theft.
Anthony becomes madder over Barbara and asks Fred not to stand in the way between Barbara and him, as Fred has his fiancée Nancy. As he listens to Anthony, he becomes conscious that he himself seriously loves Barbara. He wishes that he had met her well before his planned marriage to Nancy, and grieves over his misfortune. Barbara now sees Fred more than her simple childhood friend. They met again at the time when each was about to start a new life. They must now try to find the best solution within the limit of four days. The ship continues its journey along with the swaying feelings of Barbara and Fred.
Jewel de Paris!!
The city of Paris, steeped in glamorous yet bewitching beauty. A revue featuring a series of dramatic scenes about famous and fascinating landmarks in Paris. The top pair of Sakina Ayakaze and Aya Yumeshiro, along with other members of Snow Troupe who sparkle like jewels, present a bewitching world filled with glamorous dreams of Paris
Tour Schedule

Dates
Location
8/25 - 8/28
Umeda Arts Theater (Osaka)
8/31 - 9/03
Kanagawa Kenmin Hall (Kanagawa)
9/05
Utsunomiya City Cultural Center (Tochigi)
9/06
Shirakawa Cultural Exchange Center Cominess (Fukushima)
9/07
Koriyama City Cultural Center (Fukushima)
9/09
Akita Arts Theatre Mille Has (Akita)
9/11
Kitakami Sakura Hall (Iwate)
9/13 - 9/14
Natori City Cultural Center (Miyagi)
9/16 - 9/18
Sapporo Cultural Arts Theater (Hokkaido)
None yet.
| | | | |
| --- | --- | --- | --- |
| Poster | DVD | VHS | CD |
| None Yet | None Yet | None Yet | None Yet |