The Last Tycoon / TAKARAZUKA ∞ Dazzling Dreams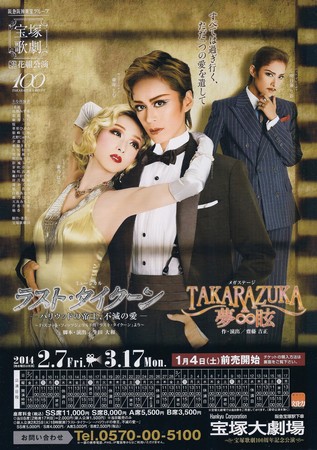 Picture Credit: Official Chirashi/carmila
English Title:
The Last Tycoon - An Undying Love by the Emperor of Hollywood - / TAKARAZUKA ∞ Dazzling Dreams
Japanese Title:
ラスト・タイクーン -ハリウッドの帝王、不滅の愛- / TAKARAZUKA ∞ 夢眩
Romanized Title:
Rasuto Taikuun -Hariuddo no Teiou, Fumetsu no Ai- / Takarazuka ∞ Mugen
Troupe:
Flower
Year:
2014
Performances:
Takarazuka Grand Theater, 2/7 - 3/17; Tokyo Takarazuka Theater, 4/10 - 5/11
Shinjin Kouen Performances:
Takarazuka Grand Theater, 2/25; Tokyo Takarazuka Theater, 4/24
The Last Tycoon
Based On:
F. Scott Fitzgerald's unfinished novel "The Love of The Last Tycoon"
Author/Director:
Ikuta Hirokazu
Composer:
Oota Takeshi
,
Aoki Tomoko
Choreographer:
Miori Yumino
,
Sakuragi Ryousuke
Conductor (Takarazuka):
Sasada Aiichirou
Conductor (Tokyo):
Wakabayashi Yuuji
Shinjin Kouen Director:
Tabuchi Daisuke
TAKARAZUKA ∞ Dazzling Dreams
Author/Director:
Saitou Yoshimasa
Composer:
Kai Masato
,
Aoki Tomoko
,
Teshima Kyouko
Choreographer:
Hayama Kiyomi
,
Wakao Risa
,
AYAKO
,
Segawa Nami
,
KENTO MORI
Conductor (Takarazuka):
Misaki Megumi
Conductor (Tokyo):
Misaki Megumi
Available on DVD:
Yes (
release date 05/10/14
)
DVD Scene/Music Cuts:
Yes
From "TAKARAZUKA ∞ Dazzling Dreams":
Scene 4B: "Give Him a Great Big Kiss" (Hanagata Hikaru, Nozomi Fuuto, Serika Toa / Ranno Hana, Ousaki Ayaka, Kaga Ririka, etc.) - music replaced
†  Due to injury,
Nanaki Kaoru
was absent from the Grand Theater
shinjin kouen
and
Sumizuki Naoto
played the role of Eric.
Other Cast
:
Nagisa Seina
,
Mihana Rino
,
Hanana Mio
,
Maizuki Nagisa
,
Haryuu Mitsuki
,
Niina Kaho
,
Yumehana Ran
,
Saebana Riona
,
Sachika Seira
,
Mahou Tsugumi
,
Miran Renna
,
Otohane Emi
,
Asazuki Kiwa
,
Sarasa Nachi
,
Ouma Shion
,
Chiyuki Aki
,
Yabuki Sena
,
Haruhi Urara
,
Kureha Maki
,
Ayaki Hikari
,
Hina Ririka
,
Aomiya Ruka
,
Mineka Towa
,
Hiryuu Tsukasa
,
Maaya Kiho
,
Marei Sayana
,
Nanaki Kaoru
,
Sumizuki Naoto
,
Hizuki Yume
,
Ouka Rina
WARNING!! MAY CONTAIN SPOILERS!!
The Last Tycoon
The Love of the Last Tycoon is inspired by the life of film producer Irving Thalberg, on whom protagonist Monroe Stahr is based. The story follows Stahr's rise to power in Hollywood, and his conflicts with rival Pat Brady, a character based on studio head Louis B. Mayer.
The story is set in America in the 1930s. Monroe Stahr is a young and talented movie producer, known as the "Tycoon of Hollywood". He had earlier fallen in love with Mina Davis, whom he had discovered and was the heroine in one of his epic films. However, she was taken away from him by a sudden accident shortly after they had announced their marriage. While harboring this incurable wound to his heart, Monroe is fired by ever more passion to make movies for the masses, having discovered his path in life through his own encounters with movies while young. Yet this fervor toward his work leads to frequent clashes with staff members on the movie sets, to the point where he is criticized for being a dictator. Angered by their downtrodden position, the staff members initiate forming a labor union to gain their rights. Meanwhile, Pat Brady, a producer who groomed Monroe, is jealous of his talent, and he schemes to have Monroe shut out of the movie industry.
Commotion breaks out one day when fire starts on a movie set during a shoot. During the incident, Monroe spots a woman who appears to be a carbon copy of the late Mina, and he is instantly captivated. He soon manages to be "reunited" with this woman, called Kathleen, and in time he starts to love her for her true self, not as a replacement for Mina. Kathleen, nevertheless, feels she is merely Mina's surrogate. Although enchanted by Monroe, she lives in fear of being hurt. A breakup letter arrives from her announcing her plans of marrying her live-in boyfriend.
With the film hanging in the balance after the set's destruction by fire, Kathleen disappears, having been a reminder of Monroe falling in love again. As he struggles with the film's outcome and with the person he loves, will Monroe manage to profit again with one of his dreams, on which he has gambled his own life?
---
TAKARAZUKA ∞ Dazzling Dreams
Numerous ~dazzling dreams~ are filled with wishes for our centenary, which has fulfilled ~boundless~possibilities. Gorgeous revues and shows,which have been cultivated by Takarazuka and are said to be our representative works, weave together contemporary senses and tastes. These works aspire to display the new style of revues and shows that will be staged beyond the 100th anniversary.
None yet.
| | | | |
| --- | --- | --- | --- |
| Poster | DVD | VHS | CD |
| None Yet | None Yet | None Yet | None Yet |