Profile of a Saint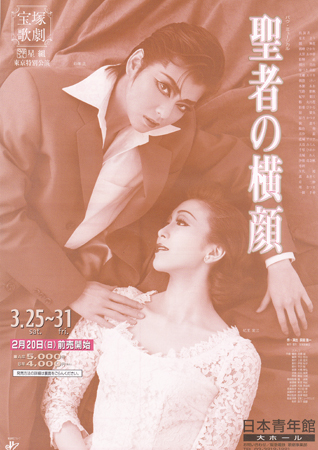 Picture Credit: GuyVeR
English Title:
Profile of a Saint
Japanese Title:
聖者の横顔
Romanized Title:
Seija no Yokogao
Troupe:
Star Troupe
Year:
2000
Performances:
Bow Hall, 3/25 - 3/31
Based On:
Author/Director:
Ogita Kouichi
Music:
Takahashi Kuni
Choreography:
Ueshima Yukio
,
Iga Yuuko
,
Hirasawa Satoshi
Available on DVD:
VHS
WARNING!! MAY CONTAIN SPOILERS!!
Mid 1960's. In the sea-port town of Genova in the Northern part of Italy. In the secret club "Primavera", Italy's high-class married ladies, party every night with gigolos. Among them, there is one noticeably charming and sparkling young man called Luca. This man has been chosen as a "companion", by Irene, the wife of a shipping magnate. The club proprietress, Aura, together with Antonio, fear for Luca. In that woman's eye there is a look of foreboding... Luca, unminding, probably naively starts to fall for Irene.
One day, a woman who didn't look like the usual patrons, came to the club to call on Luca. This woman, Annina, was the mother of Luca's childhood playmate and close friend, Gennaro. Luca hasn't heard from Gennaro for a year. He died under the care of his mother. Annina hands Luca a notebook. Gennaro's dying wish was for Luca to read it. The notebook is addressed to Luca. The day-to-day life in the orphanage in Tuscany, and then the day of leaving the orphanage, in order to escape the desolation of the countryside, and seek whatever they may find. With Luca were Gennaro, Rocco, Fabrizio, all raised in the orphanage. They dream of reaching America on the other side of the ocean. They reach the sea-port town of Genova, but do not travel to America together. The others part from Luca. Roco thinks boarding a ship is best. Faburicio found a job. And lastly, Gennaro, who has been suffering from a lung ailment for a long time, has gone off to search for his mother. Left alone, Luca is wrapped in loneliness. Wandering aimlessly, he is picked up by Aura.
Around this time, Luca has come to think of leaving Genova. Selling tenderness, the gigolos take away the sadness of the women by making love to them. Gotten used to this life, Luca's equanimity is shaken by Gennaro's memory. He thinks, I have not yet seen the ends of the ocean...
At the harbor, Luca meets Rocco again. Travelling by ship, getting married to Fiona, Roco has achieved a calm happiness. By chance, they see Fabrizio as well. Although Rocco is happy with the accidental reunion, Fabrizio adopts a challenging stance to Luca. Fabrizio is presently working for a top shipping firm. Fired with ambition, there is talk that he will be getting married to the shipping tycoon's daughter, Franchesca. Luca encounters Franchesca on the road. The previous day he saved her when some gigolos put her in an uncomfortable situation, and flirts with her lightly. But for Franchesca, this was already her first love. She becomes heartbroken when she discovers that Luca's patron is her own mother. Luca thinks long and hard, and comes to the conclusion that he can't bear to be seperated from Irene.
Fabrizio, who has been told of his complicity in the company's nefarious doings by the mysterious Julio, urged him to steal the company books. Using his knowledge of the relation between Luca and Irene, he blackmails Irene, and comes crying to Luca, begging him to steal it. Ignorant about the situation, Luca agrees to help for the sake of a childhood friend, little knowing he is about to spark off a chain of events.
Any other interesting or important stuff.
None yet.
| | | | |
| --- | --- | --- | --- |
| Poster | DVD | VHS | CD |
| None Yet | None Yet | None Yet | None Yet |