Saint-Exupéry / CONGA!!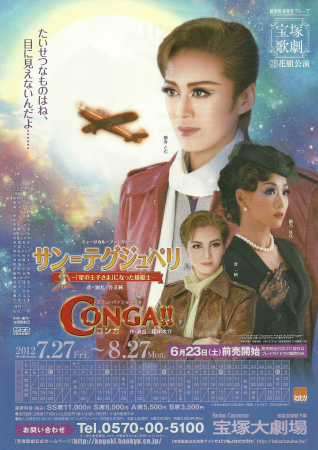 Picture Credit: Your wikiname
English Title:
Saint-Exupéry -The Pilot Who Became "The Little Prince"- / CONGA!!
Japanese Title:
『サン=テグジュペリ』 -「星の王子さま」になった操縦士(パイロット)-『CONGA(コンガ)!!』
Romanized Title:
San=Tegujuperi -"Hoshi no Oujisama" ni natta Pairotto- / KONGA!!
Troupe:
Flower
Year:
2012
Performances:
Takarazuka Grand Theater, 07/27 - 08/27; Tokyo Takarazuka Theater, 09/14 - 10/14
Shinjin Kouen Performances:
Takarazuka Grand Theater, 08/14; Tokyo Takarazuka Theater, 09/27
Saint-Exupéry:
Based On:
The life and works of Antoine de Saint-Exupéry
Author/Director:
Tani Masazumi
Composer:
Yoshizaki Kenji
,
Wakita Minoru
,
Mizuno Hisaoki
Choreographer:
Shou Sumire
,
Miori Yumino
Conductor (Takarazuka):
Izawa Ichirou
Conductor (Tokyo):
Nishino Jun
Shinjin Kouen Director:
Oono Takuji
CONGA!!:
Author/Director:
Fujii Daisuke
Composer:
Aoki Tomoko
,
Teshima Kyouko
Choreographer:
Hayama Kiyomi
,
Miori Yumino
,
Wakao Risa
,
Hirasawa Satoshi
,
ANJU
Conductor (Takarazuka):
Ooyagi Yasushi
Conductor (Tokyo):
Nishino Jun
Available on DVD:
Yes (release date
10/10/2012
)
DVD Scene/Music Cuts:
Yes
Music removed from "Conga" (Ranju Tomu) Scene 12A of CONGA!!
Other Cast:
Ryou Kagura
,
Shiraki Akari
,
Kachou Shiho
,
Haruhana Kirara
,
Marika Yume
,
Kazusa Yoshiki
,
Nana Kurara
,
Maki Izumi
,
Saho Yukari
,
Wataru Hibiki
,
Nagisa Seina
,
Mihana Rino
,
Hanana Mio
,
Kazumi Shou
,
Haryuu Mitsuki
,
Maizuki Nagisa
,
Niina Kaho
,
Yumehana Ran
,
Sachika Seira
,
Saebana Riona
,
Misaki Rion
,
Minami Maito
,
Yuzuka Rei
,
Mahou Tsugumi
,
Aiha Fubuki
,
Miran Renna
,
Kotoka Chino
,
Yukihana Sakura
,
Otohane Emi
,
Yuunami Kei
,
Ranma Yuu
,
Asazuki Kiwa
,
Sarasa Nachi
,
Ouma Shion
,
Chiyuki Aki
,
Yabuki Sena
,
Haruhi Urara
,
Kureha Maki
,
Ayaki Hikari
,
Hina Ririka
,
Aomiya Ruka
Other Cast (98th Class Group C):
Shinjou Makara
,
Aya Ouka
,
Miono Saki
,
Yukarino Koyuki
,
Ayanami Keito
,
Yumenoka Mai
,
Suou Mahiro
,
Yuunagi Ryou
,
Hizuki Yume
,
Naomi Rise
WARNING!! MAY CONTAIN SPOILERS!!
Saint-Exupéry
On September 20, 1945, Horst Rippert, a German, visits the home of Leon Werth, a Jewish journalist who lives on the outskirts of Lyons in France. Horst has brought with him the novel "The Little Prince" and he has come to ask Leon a favor, to tell him about the book's author, Saint-Exupéry, as Leon's name appears in the book in a dedication. As for Saint-Exupéry, he has not abandoned his humanity, even in this cruel era of war when ordinary people living life as humans so difficult.
It's 1930. Though having been born into the household of a well-known aristocratic family in France, Antoine de Saint-Exupéry flies the skies of South America as a postal delivery pilot. He leads a busy life as he spends his free time as a writer. One day, at the Club Tavares, where a group of pilots are having a binge after knocking off work, the French writer Benjamin Crémieux brings in Consuelo, who is in mourning dress. Born in El Salvador and of Central American Mayan blood, Consuelo brims with passionate charm. Saint-Ex is smitten the moment he spots her and immediately proposes marriage. Consuelo, whose husband has just passed away, refuses. But gradually she is won over by Saint-Ex, as he continues to show his ardent love for her, and she finally relents. Rather than giving her a ring, Saint-Ex presents her with a novel he has just written, "Night Flight". The book earns high praise after its publication, and in an instant, Saint-Ex is in the public limelight. But in the meantime, the couple spends less and less time together the busier they become. A rift has started to develop between the two, a couple who had so feverishly loved each other before. Then there is news that an airplane Saint-Ex was piloting has gone missing over the Libyan desert. Saint-Ex has made an emergency landing. Determined to stay alive, he spends three days walking before collapsing from exhaustion. After spending the night sleeping under the wide starry sky, he is awoken by the voice of a boy. Starkly incongruous to the desert environment, the youth is sporting formal clothes, and for all appearances he is like a small "prince". The prince makes a mysterious request before bombarding Saint-Ex with one question after another. The pilot is confounded by the scenario, but then the Prince disappears in a flash.
Consuelo, whose days have been filled with anxiety, and the pilots including Guillaumet and Mermoz get word that Saint-Ex has been found alive. He was spotted at a hotel in Morocco, and now his safe return home is a source of joy for many of his friends and acquaintances. However, one member of the circle is not present, and it is Consuelo. Saint-Ex and Consuelo may be in love but their hearts remain apart.
---
CONGA!!
Themed in the Latin world, this is a passionate show drawing freely upon Flower Troupe Top Star
Ranju Tomu
's charms; highlighting masculinity and maturity. Suitable for mid-summer: hot, stimulating, and glorious.
None yet.
| | | | |
| --- | --- | --- | --- |
| Poster | DVD | VHS | CD |
| None Yet | None Yet | None Yet | None Yet |