Romanesque Mask / Apasionado!! II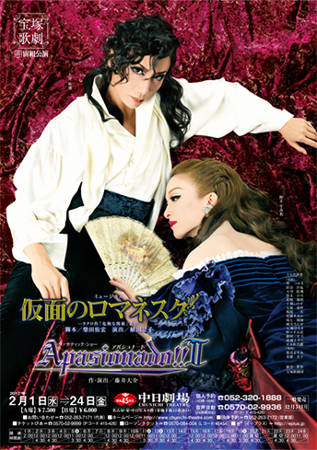 Picture Credit: coeuraubonheur | Official Chirashi
English Title:
Romanesque Mask / Apasionado!! II
Japanese Title:
仮面のロマネスク / Apasionado!!II
Romanized Title:
Kamen no Romanesuku / Apasionado!! II
Troupe:
Cosmos
Year:
2012
Performances:
Chunichi Theater, 02/01 - 02/24
Romanesque Mask:
Based On:
Les Liaisons Dangereuses
by Choderlos de Laclos
Author:
Shibata Yukihiro
Director:
Ueda Keiko
Composer:
Terada Takio
,
Yoshida Yuuko
Choreographer:
Nakura Kayoko
Apasionado!! II:
Author / Director:
Fujii Daisuke
Composer:
Aoki Tomoko
,
Teshima Kyouko
Choreographer:
Hayama Kiyomi
,
Miori Yumino
,
Wakao Risa
,
ANJU
,
KAZUMI-BOY
Available on DVD:
Yes (
release date 04/20/12
)
DVD Scene/Music Cuts:
Yes
Vocals were cut from the following numbers from Apasionado!! II:
Scene 11 "Quando, Quando, Quando" (various)
Scene 12 "Ammore Mio" (Ozora)
WARNING!! MAY CONTAIN SPOILERS!!
(Original English language program summary from 1997, with minor edits)
Musical
Romanesque Mask
from the novel Les Liaisons Dangereuses by Laclos
Paris, 1830. After the fall of Napoleon, Imperial Rule is restored by Charles X, younger brother of Louis XVI who was guillotined during the French Revolution. The aristocrats are somewhat fearful of the changing status quo, but nonetheless continue to live in luxury. In this social circle of truth and deception, much attention is gathered on one particular young noble, the Viscount Valmont. The Viscount family was ruined, but using his talent and charisma, he plans to make his house powerful once more.
Although he keeps company with many women, he has never been able to forget his past lover the Marchioness Merteuil. She became a widow at a young age, and was the object of many nobles' affection, but was regarded as an unobtainable beauty.
At a soiree held by Marchioness Merteuil, Valmont meets Mrs. Tourvel, a temple master's wife who is known for her high moral virtues. Valmont, who in all his lovers has never known such a woman, is deeply intrigued by her. He is aware that the temple master is away on a long business mission, and plans to seduce her during her husband's absence.
Merteuil suspects his intentions and observes amused, but at the same promises to become his lover should his plan succeed. On the other hand, she knows that Count Gercourt, by whom she was once betrayed, is engaged to marry her cousin Cecile de Volanges. In order to exact her revenge on Count Gercourt, she asks Valmont to tempt Cecile.
Meanwhile, the innocent and honest Baron Danceny meets Cecile at a soiree and is strongly attracted to the charming girl. He makes frequent visits to the Volanges residence to teach her music, and falls more deeply in love with her. But he hesitates to confess his love because she has a fiance.
In the meantime, Valmont visits Mrs. Tourvel at her Rosemonde residence in the Loire and soon begins to make heated advances. Mrs. Tourvel is afraid to betray her husband and refuses him consistently, but at the same time is struggling to resist his charms. Valmont senses her torment, and sends a letter to Merteuil informing her that he will return to Paris to let the situation cool down.
Merteuil is vexed at Valmont's uncharacteristic lact of action, and thinks up a plan. She discloses to Cecile's mother, Mrs. Volanges, that Danceny has attempted to seduce Cecile, and suggests she let Cecile go to the Rosemonde residence where Valmont is staying. Valmont is to lay the cloth for an easy seduction by acting as mediator between Danceny and Cecile, and approaches the naïve Cecile who falls easily into his hands. Danceny, who knows nothing of the situation, gladly accepts an invitation from Valmont to visit the Rosemonde residence. Cecile is still in love with him, and is infinitely ashamed of her actions.
Valmont at last seduces Mrs. Tourvel, and asks Merteuil to fulfill her promise. Merteuil however refuses, indicating that she believes he is still attached to Mrs. Tourvel. Merteuil has seriously fallen in love with him now is jealous of Tourvel.
Several days later at masquerade, Valmont pulls Mrs. Tourvel from her husband's side and dances with her, but soon tears himself from her and dances with Merteuil, drawing her intimately to him. Mrs. Tourvel, shocked by his conduct, hides away in a nunnery and is thought to have disappeared.
Danceny is told by Merteuil that Valmont seduced Cecile, and challenges him to a duel. On the day of the duel, Valmont fires shots into the air and hearing them, Danceny is alarmed by the racket and leaves. Soon after, revolutionary movement activities begin to increase and society once again is enveloped by an atmosphere of dark unrest verging on war. Valmont decides to join the King's army, and Merteuil leaves Paris in order to escape the war fire.
The two lovers Valmont and Marteuil are unwilling to part with the days of pleasure they enjoyed at the center of society. Ignoring the approach of war, they continue to dance the last waltz.
--
-----
Fanatic Show
Apasionado!! II
Queen Reina of Ice, Hielo the Ice and other Ices wake up in the world covered with ice.
Reina -
Truenos -
Viento -
Lluvia -
Hielo -
Gradus, wearing a huge coat and at the scarlet grand staircase, serenely sings expressing his inner passion.
Gradus / Apasionado - Oozora Yuuhi
Calor Woman S -
Calor Man S -
Apasionado, all alone, sings a ballad as if he were trying to cool himself down.
Apasionado - Oozora Yuuhi
Truenos -
Viento -
Lluvia -
Chica - Sumireno Rei
Calor Women -
Count Vampiro - Hokushou Kairi
Chica - Sumireno Rei
Fantasma Man (Singer) -
Fantasma Woman (Singer) -
The Third Night: Quente Olhar
Actors - Toki Irisu, Houshou Dai, Nagina Ruumi
Valentino sensually dances with women in three motion pictures.
Valentino - Oozora Yuuhi
Natasha - Nanami Hiroki
Director -
Doña Sol -
Violetta -
Yasmine -
Actors -Toki Irisu, Houshou Dai, Nagina Ruumi
Actriz (Solo 1) -
Actriz (Solo 2) -
Actriz (Solo 3) -
Valentino - Oozora Yuuhi
Natasha - Nanami Hiroki
Background Solo -
The Fourth Night: Tropicos Noches
Tropical flowers vie with each other in beauty and a carnival begins.
Truenos -
Lluvia -
Oja -
Violeta -
Pensamiennto -
Tulipán -
Clavel -
Negro Rosa -
Jazmín -
Lavanda -
Abeja -
Orquidea -
Pensamiennto -
Lavanda -
Violeta -
Clavel -
Jazmín -
Tulipán -
Caliente -
Orquidea -
Pensamiennto -
Lavanda -
Violeta -
Guapa Rosa -
Clavel -
Jazmín -
Tulipán -
Oja -
Flor (Chorus) -
Truenos -
Viento -
Lluvia -
Honrado -
Amamble -
Soldado -
The Sixth Night: Quente Amor
Saddened by the death of Honrado, Lágrima (Tear Spirit) Man S and Woman S sing. Many Lágrimas dance calmly at the beginning and gradually add strength to the dance.
Apasionado - Oozora Yuuhi
Blanco -
Lágrima Man S -
Lágrima Woman S -
Lágrima Men (Chorus) -
Lágrima Women (Chorus) -
The Seventh Night: Apasionado
Truenos -
Viento -
Lluvia -
Cantaor -
The Monas' Rockette.
Apasionado dances with female Hermosas.
Apasionado -
Hermosas -
Apasionado dances with male Guapos.
Apasionado - Oozora Yuuhi
Amante appears to return to her beloved Apasionado. As Guapo sings, they dance in a pledge of their eternal love.
Apasionado -
Amante -
Guapo S -
All the performers parade to the theme song.
Apasionado - Oozora Yuuhi
Amor Woman S -
Amor Man S -
Amor Men A -
Amor Woman (Estrella) -
(And all other performers)
None yet.
| | | | |
| --- | --- | --- | --- |
| Poster | DVD | VHS | CD |
| None Yet | None Yet | None Yet | None Yet |