Passion / Apasionado!!III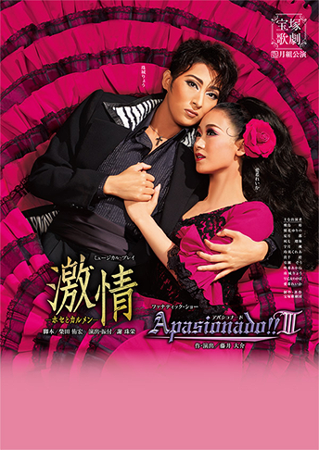 Picture Credit: coeuraubonheur | Official Chirashi
English Title:
Passion -Jose and Carmen-/ Apasionado!!III
Japanese Title:
激情 —ホセとカルメン— / Apasionado(アパショナード)!!III
Romanized Title:
Gekijou -Hose to Karumen- / Apasionado!!III
Troupe:
Moon
Year:
2016
Performances:
National Tour, 03/19 - 04/17
Passion:
Based On:
Carmen
by Prosper Mérimée
Adaptor:
Shibata Yukihiro
Director:
Sha Tamae
Composer:
Takahashi Kuni
,
Saitou Tsuneyoshi
Choreographer:
Sha Tamae
Apasionado!!III:
Author/Director:
Fujii Daisuke
Composer:
Aoki Tomoko
,
Teshima Kyouko
Choreographer:
Available on DVD:
Yes (
release date 8/30/2016
)
DVD Scene/Music Cuts:
None
(1) As of 03/24,
Takachi Ao
will be absent from the performance until further notice.
Yuu Hikaru
will take up her role as Juanito.
Other Cast:
Shouga Tsubaki
,
Kirami Ruise
,
Kousaki Ran
,
Yumeha Miyu
,
Samomo Satsuki
,
Misato Yumeno
,
Akane Konatsu
,
Souya Tomoki
,
Aose Yuuki
,
Himesaki Mirei
,
Souma Seren
,
Maihina Kanon
WARNING!! MAY CONTAIN SPOILERS!!
Passion - José and Carmen
Based on motifs in Mérimée's original work "Carmen," Don José is destined to be at the mercy of Carmen. His attraction to her passion is portrayed in this musical work. It premiered in 1999 starring Shizuki Asato and Hanafusi Mari of Cosmos Troupe and won the Excellence Award in the theatre department at the 54th Annual Agency for Cultural Affairs Arts Festival. In 2010, the work was revived by Star Troupe led by Yuzuki Reon and Yumesaki Nene on a well-received National Tour. This time, select Moon Troupe members will step up to the plate.
Apasionado!! III
Apasionado
in Spanish means "hot" or "the passion of man." To the theme of "heat," its various forms are incorporated into this revue, such as in hot rhythms, heated emotions, burning love, and the flames of jealousy. People will gamble their lives in the name of passion. It was performed by Moon Troupe in 2008, led by Sena Jun and in 2009 by Oozora Yuuhi of Cosmos Troupe. A staged piece overflowing with adult atmosphere, a brush-up will be delivered.
Schedule

Dates

Location

3/19 - 3/21
Umeda Arts Theater (Osaka)
3/24
Iwate Prefectural Hall (Morioka, Iwate)
3/26 - 3/27
Aichi Prefectural Art Theater (Nagoya, Aichi)
3/28
Hashima City Central Community Center Sky Hall (Hashima, Gifu)
3/30
Kota Chomin Hall (Kota, Aichi)
3/31
Mie Prefecture Culture Hall (Tsu, Mie)
4/02
Aubade Hall (Toyama)
4/03
The Kanazawa Theatre (Kanazawa, Ishikawa)
4/05
Hitachinaka City Bunkakaikan (Hitachinaka, Ibaraki)
4/06
Iwaki Performing Arts Center (Iwaki, Fukushima)
4/08
Yokosuka Arts Theatre (Yokosuka, Kanagawa)
4/09
Ichikawa City Cultural Hall (Ichikawa, Chiba)
4/10
Niigata Prefectural Civic Center (Niigata)
4/12
Joetsu Bunkakaikan (Joetsu, Niigata)
4/14
Hokuto Community Hall (Nagano)
4/16 - 4/17
Fukuoka Civic Hall (Fukuoka)
None yet.
| | | | |
| --- | --- | --- | --- |
| Poster | DVD | VHS | CD |
| None Yet | None Yet | None Yet | None Yet |