Love and Death in Arabia / Red Hot Sea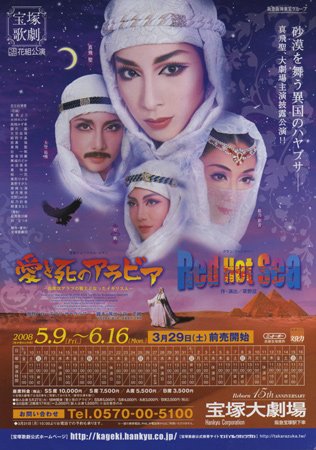 Picture Credit: Zephy
English Title:
Love and Death in Arabia - A Scotsman who becomes a noble Arabian Warrior / Red Hot Sea
Japanese Title:
愛と死のアラビア-高潔なアラブの戦士となったイギリス人 / Red Hot Sea
Romanized Title:
Ai to shi no Arabia - Kouketsu na Arabu no Senshi to natta Igirisujin / Red Hot Sea
Troupe:
Flower
Year:
2008
Performances:
Takarazuka Grand Theater, 5/9 - 6/16; Tokyo Takarazuka Theater, 7/11 - 8/17
Shinjin Kouen Performances:
Takarazuka Grand Theater, 5/27; Tokyo Takarazuka Theater, 7/29
Love and Death in Arabia:
Based On:
BLOOD AND SAND
by Rosemary Sutcliff
Author / Director:
Tani Masazumi
Composer:
Yoshizaki Kenji
Choreographer:
Shou Sumire
Conductor (Takarazuka):
Kiyokawa Tomomi
Conductor (Tokyo):
Kiyokawa Tomomi
Shinjin Kouen Director:
Suzuki Kei
Red Hot Sea:
Author:
Kusano Akira
Composer:
Takahashi Kuni
,
Oota Takeshi
,
Takahashi Megumi
Choreographer:
Hayama Kiyomi
,
Masaki Rino
,
Miori Yumino
,
Wakao Risa
Conductor (Takarazuka):
Misaki Megumi
Conductor (Tokyo):
Ooyagi Yasushi
Available on DVD:
Yes (
release date 08/10/08
)
DVD Scene/Music Cut:
Yes
Two songs from Red Hot Sea had their music replaced:
"Eleven" (dance scene) and "Quiereme Mucho" (singer: Sou Kazuho)
Beginning 5/12, the role of Suleyman was played by understudy Hinata San
Others:
Maishiro Nodoka
,
Mochizuki Rise
,
Hanano Juria
,
Hatsuhime Saaya
,
Hinata San
,
Shiratori Kasuga
,
Shiyou Rene
,
Aizumi Moeri
,
Seika Mai
,
Shizuka China
,
Hanazuki Yuma
,
Koko Maria
,
Ryou Kagura
,
Natsushiro Ranka
,
Hitomi Yuyu
,
Shiraki Akari
,
Kachou Shiho
,
Kira Masato
,
Haruhana Kirara
,
Hanamine Chiharu
,
Ayasaki Mei
,
Marika Yume
,
Ginka Sui
,
Hatsuhana Misaki
,
Tsukino Himeka
,
Hanaori Chisa
,
Hanaki Maho
,
Kazusa Yoshiki
,
Nana Kurara
,
Maki Izumi
,
Saho Yukari
,
Wataru Hibiki
,
Nagisa Seina
,
Ousaki Ayaka
,
Houryuu Aya
,
Hanana Mio
,
Mihana Rino
Others (Tokyo Only):
Senna Ayase
,
Kazumi Shou
,
Haryuu Mitsuki
,
Maizuki Nagisa
,
Niina Kaho
,
Saebana Riona
,
Asahi Mirai
,
Yumehana Ran
,
Sachika Seira
WARNING!! MAY CONTAIN SPOILERS!!
Love and Death in Arabia
In 1807, Egypt is under the rule of the Ottoman Empire. Sometime earlier, the imperial government appointed Muhammad Ali viceroy of Egypt, whose provinces are controlled by tribes. His present goal is to establish central authority and create an independent state of Egypt. However, not only the Ottoman Empire but also European countries such as France and England ambitious for the conquest of the Orient stand in his way.
In the Mediterranean port, Rosetta, North Egypt, Thomas Keith and Donald McLeod, respectively a sniper and a surgeon serving in the 78th Highlanders, have already spent three months in prison since they were captured by Egyptian forces. They are well treated for prisoners of war. The Egyptian soldier Medjid takes care of them as their valet, and they are not placed under strict guard. One day Muhammad Ali's eldest son Ibrahim and the French military advisor Colonel De Juliet come to see Thomas to check out a rumor: Thomas' eyes are said to be as sharp as a falcon's. Once this ability is confirmed, Thomas is separated from Donald and the other prisoners; sent to Nubia in South Egypt as a training officer of a cavalry.
Thomas arrives at a Bedouin campsite in Aswan after traveling by water for more than one month and starts training the cavalry. One day, bandits come down upon the campsite. The cavalry successfully fights back under Thomas's direction. Some cavalrymen including Al-Malik chase down the bandits in order to gain trophies: women held captive by the bandits. A woman resists Al-Malik so hard that he gets furious. At the moment Al-Malik is about to cut her, Thomas intervenes and saves the woman named Anoud. The bandits had attacked her and her father while on a journey; killing him, her only family. They captured Anoud, along with her servant Samira. Thomas sympathizes with her in her depending on herself and feels attracted to her. He tells her that she can regard him as her brother and count on him whenever she needs help. She is moved by his warm heart and replies that she wants him to take her as his sister. Anoud and Thomas meet right in the middle of the desert and fall in love as if they were destined to do so.
Thomas goes to Cairo in order to celebrate Tussun's wedding ceremony. In an inner building of the palace, Tussun introduces Thomas to Muhammad Ali's first wife Amina. While talking with her, Thomas remembers his home and sings some songs of his country as requested by her. Muhammad Ali grants him an audience and puts a high value on his command of the Bedouin cavalry, appointing him training officer of the regular army of Egypt.
After moving to Cairo, Thomas again sees Donald and Medjid whom he has not seen for a long time. Ibrahim brings Anoud as a slave serving Thomas, who cannot treat her as a slave. Ibrahim persuades Thomas that there are religious and legal barriers between Anoud and him.
Thomas directly tells Muhammad Ali that he wants to join Tussun who has gone on an expedition to Sudan. The Malmuk bodyguard Aziz who hates Thomas objects to his request and insults him. Thomas challenges Aziz to a duel and Muhammad Ali permits it. In the duel, Thomas stabs Aziz to death although he by no means wants to kill him. Watching the duel, Ibrahim admires Thomas. Thomas wins popularity. However…
---
Red Hot Sea
At dusk, a boy jumps out of an antiquated ship.
Scene 2: Prologue A (Southern Sea)
Colorful tropical fishes swim around at the bottom of a southern sea.
Hombre:
Matobu Sei
Scene 3: Prologue B (Sea of Teardrops)
Five pairs of men and women dance in front of the red setting sun.
Hombre:
Matobu Sei
Mujer:
Sakurano Ayane
Scene 4: Prologue C (Red Hot Sea)
There are settings of blue waves on the stage. All the performers dynamically dance to the theme song.
Hombre:
Matobu Sei
Mujer:
Sakurano Ayane
Scenes 5 – 7: Sea of Gulls A – C
Shell plays with toy-gulls in its hand on the old ship lying at anchor.
Amigo A:
Oozora Yuuhi
Onda A:
Sou Kazuho
Scenes 8 – 10: Phantom Ship A – C
A man comes out of a lighthouse. He is the lighthouse keeper. He sings dreaming of love he is expecting to come from across the sea.
Lighthouse Keeper:
Matobu Sei
Visionary Woman:
Sakurano Ayane
Tropicana of three people comes.
Tropicana A:
Sou Kazuho
Scenes 12 – 14: Pearl Castle B - D
As soon as light reaches the bottom of the sea, a dazzling pearl castle appears.
Mar Rey:
Matobu Sei
Mar Reina:
Sakurano Ayane
Principe:
Oozora Yuuhi
Scenes 15 and 16: Pearl Castle E (Pearl Rockettes)
A singer sings and then the performance of the rockette girls of Takarazuka begins.
Perla Singer:
Sou Kazuho
There is a long sandy beach under the beautiful clouds floating in the sky.
Young Man of Ebb Tide A:
Oozora Yuuhi
Scenes 18 and 19: The Sea Is Burning A and B
Shell is fishing onboard the antiquated ship. A girl runs along the beach.
Mario:
Matobu Sei
Marta:
Sakurano Ayane
Serra:
Sou Kazuho
Scenes 20 and 21: Sea Breeze A and B
A funeral procession continues mourning over Mario's death.
Mario:
Matobu Sei
Marta:
Sakurano Ayane
Scene 22 A and B: Epilogue
Uno, Dos and Tres come back with Pedro.
Pescado A:
Oozora Yuuhi
Pair of man and woman performs a duet in front of the grand staircase.
Amor (man):
Matobu Sei
Amor (woman):
Sakurano Ayane
All performers dance in succession just like surging waves.
Onda Star (man) S:
Matobu Sei
Onda Star (woman) S:
Sakurano Ayane
(And all other performers)
Final performance for Ootomo Reika, Maishiro Nodoka and Taka Reira
First show as a musumeyaku for former otokoyaku Amamiya Nao
05/17/08: Effective as of the 1pm performance on 05/12, Takashou Mizuki will be absent from the Takarazuka run due to poor health. It has been decided that she will not return for the run, and Hinata San will play her role for the rest of the Takarazuka and Tokyo runs.
Sumire Style Stage GRAPH
Ekusudei's
| | | | |
| --- | --- | --- | --- |
| Poster | DVD | VHS | CD |
| None Yet | None Yet | None Yet | None Yet |