Classico Italiano / Nice Guy!!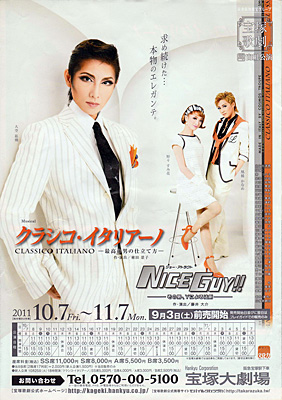 Picture Credit: Official flyer
English Title:
Classico Italiano ~The Tailoring Style of the Best of Men~ / Nice Guy!! ~The Rules According to the Man "Y"~
Japanese Title:
クラシコ・イタリアーノ / NICE GUY!!
Romanized Title:
Kurashiko Itariaano -Saikou no Otoko no Shitate Kata- / NICE GUY!! -Sono Otoko, Y ni yoru Housoku-
Troupe:
Cosmos
Year:
2011
Performances:
Takarazuka Grand Theater, 10/07 - 11/07; Tokyo Takarazuka Theater, 11/25 - 12/25
Shinjin Kouen Performances:
Takarazuka Grand Theater, 10/25; Tokyo Takarazuka Theater, 12/08
Classico Italiano:
Author / Director:
Ueda Keiko
Composer:
Kai Masato
Choreographer:
Masaki Rino
,
KAZUMI-BOY
Conductor (Takarazuka):
Misaki Megumi
Conductor (Tokyo):
Shinjin Kouen Director:
Ueda Kumiko
Nice Guy!!:
Author / Director:
Fujii Daisuke
Composer:
Aoki Tomoko
,
Teshima Kyouko
Choreographer:
Hayama Kiyomi
,
Miori Yumino
,
Wakao Risa
,
Hirasawa Satoshi
,
KAZUMI-BOY
Conductor (Takarazuka):
Ooyagi Yasushi
Conductor (Tokyo):
Available on DVD:
Yes (
release date 12/21/11
)
DVD Scene/Music Cuts:
No
Other Cast:
Hanatsuyu Sumika
,
Ayane Raira
,
Mikage Rin
,
Kanon Mai
,
Kazahane Reia
,
Amakaze Ibuki
,
Yuino Kanari
,
Yukino Kokomi
,
Hanasaki Airi
,
Sakurane Rei
,
Aisaki Maria
,
Sakihana Riho
,
Suzuka Maya
,
Risaki Shigure
97ths, Group A:
Rui Makise
,
Umino Mitsuki
,
Himeno Ree
,
Ayaki Hikari
,
Yumeto Asami
,
Ouha Mirai
,
Asahina Aoi
,
Himesaki Mirei
,
Mizusa Ruru
†
Miho Keiko
will only be appearing in
Nice Guy!!
WARNING!! MAY CONTAIN SPOILERS!!
Classico Italiano
The Tailoring Style of the Best of Men
The setting is the Italian capital of Rome, whose postwar economic revival is flourishing, during the 1960s. One man, Salvatore Ferri, pulls off a stunning debut at the Florence Men's Suit Collection. "Gran Cielo" tailor's, which he started up and became the most famous in Italy, will be launched in America, he has decided. Gran Cielo suits are said to bring out the appeal of any man who wears them, and they have gained popularity both at home and abroad. Salvatore Ferri has had great success with his new business — selling ready-made suits at low prices to the masses. A crew from a U.S. TV station arrives in Italy to do some reporting for a documentary program on him. Filmmaker Leonard (Lenny) DeLuca annoys the fussy Salvatore Ferri at first, but then comes into contact with his personality, which refuses to tolerate compromise in his job. In short order, the filmmaker starts to take an interest in him.
The documentary crew comes to the Gran Cielo workshop. Mario is the only one who displays an unveiled sense of discomfort to the Americans, who are watching in amusement at the workers who cannot do their jobs due to the distraction. Mario is critical of how the launch in America will lead to a decline in product quality, as it will entail a greater amount of mass production. Salvatore tells him he will make sure the launch in America is a success, regardless of the means employed. Both men learned their craft under the same master in Naples, and they have built up a wealth of training as tailors. The pair came to Rome together, but in time the rift widened between them. Salvatore has a dream that envisions world recognition for Neapolitan-tailored suits, while Mario cannot accept the idea of corrupting the traditions of Neapolitan tailoring. In the course of an interview, Lenny gets a glance at another side of the career that Salvatore can see so vividly. Now he begins to think he would like to know about Salvatore's true character, which is hidden by a strength that borders on aggression and that runs right through him.
Shooting for the documentary takes place several days later at the Cinecitta studio. The actress who was to be the narrator cancels at the last minute, and so Mina Putti, a film trainee, is enlisted to stand in. With everything being new to her, she only makes mistakes, over and over. Salvatore has harsh words for Mina, who has sunk to the point of self-loathing. But he also encourages her to press forward, no matter what, if she is serious and trying to achieve something. Mina was brought up as a member of a masked troupe, a traditional art in a village of Naples, where Salvatore had also spent his apprenticeship. Escorting her back to her home in the old quarter of the city, he watches Mina as she performs the role of the clown Pulcinella together with local music-hall performers, and he recalls his own days spent in Naples. Having been orphaned during the war and spending each day in loneliness, Salvatore was taken in by Alessandro, said to be Naples' finest tailor. Salvatore spent that time by throwing himself into his training.
Lenny, who has checked out Salvatore's past, knows of his years spent in Naples. He asks Salvatore about his drive, which has allowed him to crawl up from the bottom of society to become one of its leading members, and he is even said to be one of the leading players in Italy's postwar revival. Salvatore has discovered that the only thing for him in life is to be successful, he answers. Now there is news that Mario has angered some buyers from America who are on a field trip at the workshop...
Nice Guy!!
The Rules According to the Man "Y"
The theme of "nice men" and "cool guys" — a production pursuing male beauty. "The Man Y" of course is Oozora Yuuhi. A composition with abundant variety — modern stylishness, the kindness of an adult man — a dynamic and glamorous show presenting the various charms of Oozora Yuuhi.
None yet.
| | | | |
| --- | --- | --- | --- |
| Poster | DVD | VHS | CD |
| None Yet | None Yet | None Yet | None Yet |