City Hunter / Fire Fever!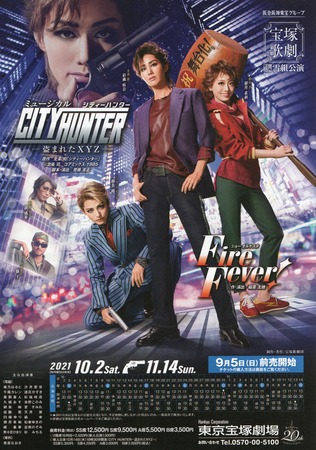 Picture Credit: yaomeis / Official Chirashi, from personal collection
English Title:
City Hunter -The Stolen XYZ- / Fire Fever!
Japanese Title:
CITY HUNTER-盗まれたXYZ-/ Fire Fever!
Romanized Title:
City Hunter -Nusumareta XYZ- / Fire Fever!
Troupe:
Snow
Year:
2021
Performances:
Takarazuka Grand Theater, 08/07 - 09/13; Tokyo Takarazuka Theater, 10/02 - 11/14
Shinjin Kouen Performances:
Takarazuka Grand Theater, 08/31; Tokyo Takarazuka Theater, 10/14
City Hunter
:
Based On:
The
Shonen Jump
manga
City Hunter
by Hōjō Tsukasa
Adaptor / Director:
Saitou Yoshimasa
Composer:
Aoki Tomoko
,
Miyazaki Asako
Choreographer:
Ayako
,
Minato Yurika
Conductor (Takarazuka):
Misaki Megumi
Conductor (Tokyo):
Shinjin Kouen Director:
Sashida Shuko
Fire Fever!
:
Author / Director:
Inaba Daichi
Composer:
Oota Takeshi
,
Takahashi Megumi
Choreographer:
Miori Yumino
,
Wakao Risa
,
Hirasawa Satoshi
,
Momoka Sari
,
Mitsui Satoshi
Conductor (Takarazuka):
Misaki Megumi
Conductor (Tokyo):
Available on Blu-Ray:
Yes (
release date 11/05/21
)
Available on DVD:
Yes (
release date 11/05/21
)
DVD Scene/Music Cut:
No
Other Cast (Tokyo only):
Shiraki Hana
,
Mizuki Serena
,
Ayazuki Haruto
,
Kazetachi Niki
,
Touzuki Riku
,
Himena Tamaki
,
Otose Chiharu
,
Konomi Yuki
(
From official site
)
WARNING!! MAY CONTAIN SPOILERS!!



CONTENT WARNING(S):
CITY HUNTER
brownface on the middle eastern characters
drug abuse
gunshots
sexual harrassment played for laughs

FIRE FEVER
transphobia
City Hunter
Tsukasa Hojo's original "City Hunter" is a very popular comic that started serializing in "Weekly Shonen Jump" in 1985 and has a cumulative circulation of over 50 million copies. 2020 will celebrate the 35th anniversary, and it is a work that continues to fascinate many people regardless of country or generation. The new top combination
Ayakaze Sakina
and
Asazuki Kiwa
will take on the challenge of creating the first stage version of this masterpiece hard-boiled comedy!
"XYZ" written on the public message board at the east exit of Shinjuku Station is a message to require the service of Saeba Ryō, aka "CITY HUNTER". Ryō is the best "sweeper" in the underworld, whose operation is to wipe out evil or injustice. The last three letters of the alphabet, XYZ, means "reaching a dead end". The helpless, who have fallen into difficult situations that cannot be solved by legitimate means, come to him for help with their last hopes. Ryō only takes on cases that involve beautiful women or when his client's request moves his heart.
This morning, as always, Makimura Kaori's yelling echoes throughout Ryō's fictitious business office, Saeba Corporation. Ryō is a highly skilled gunman and a compassionate man who can be counted on in a pinch. But he is somewhat "loose" in his personal life and that irritates his partner, Kaori. While they are having a spat, Ryō gets a visit from Nogami Saeko who is a beautiful and capable detective of the Tokyo Metropolitan Police Department. Ryō and Saeko have known each other for a long time. She asks him to work as a bodyguard for Princess Alma, who has defected to Japan from the Kingdom of Gujamala, a small African state where a military coup arose. Saeko adds this is at the request of the princess herself. Ryō, whose only interests are beautiful mature women, is reluctant to escort the princess when he learns she is only 17 years old.
Around the same time, a note with "XYZ" is left on the message board at Shinjuku Station. This is a request from an actress Utsunomiya Oto, whose son is in trouble with a Japanese organized crime group. Struck by the beautiful actress's concern about her son, Ryō accepts her request with no hesitation.
A short while later, a man from the U.S. comes to visit Ryō and Kaori. It is Mick Angel, who is Ryō's first partner in the U.S. where he used to live. What is the purpose of his visit to Japan?
The coup in the Kingdom of Gujamala, the request from Utsunomiya Oto… The two different cases gradually become linked to one another, and Ryō eventually squares off against Union Teope, a huge crime syndicate of the underworld headed by Kaibara Shin whom Ryō was brought up by.
---
Fire Fever!
"Fire Fever!" Is a show in which
Ayakaze Sakina
and other Snow Troupe members compete on the stage to scatter sparks and engulf the audience in a whirlpool of enthusiasm.
Beginning with a prologue full of energy that makes you feel the new breath of Snow Troupe, we will deliver a variety of scenes where men and women passionately sing and dance.
Please enjoy the flame-hot and dynamic revue show, which is packed with the charm of the new Snow Troupe.
None yet.
| | | | |
| --- | --- | --- | --- |
| Poster | DVD | VHS | CD |
| None Yet | None Yet | None Yet | None Yet |
Footnotes:
Ema Naoki was originally announced to be joining this performance, however it was announced during rehearsals that she would be out due to poor health and that Natsumi You would taking her role.