Caleb Hunt, Private Eye / Greatest Hits!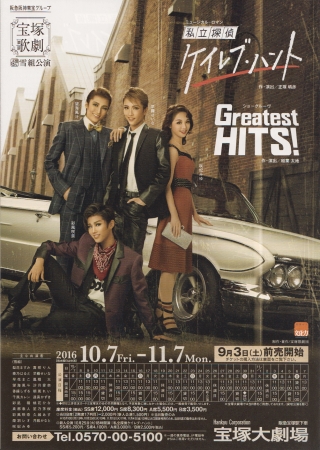 Picture Credit: Zaraphena | Official Chirashi
English Title:
Caleb Hunt, Private Eye / Greatest Hits!
Japanese Title:
私立探偵ケイレブ・ハント / Greatest HITS!
Romanized Title:
Shiritsu Tantei Caleb Hunt / Greatest Hits!
Troupe:
Snow
Year:
2016
Performances:
Takarazuka Grand Theater, 10/07 - 11/07; Tokyo Takarazuka Theater, 11/25 - 12/25
Shinjin Kouen Performances:
Takarazuka Grand Theater, 10/25; Tokyo Takarazuka Theater, 12/08
Caleb Hunt, Private Eye:
Based On:
Author/Director:
Masatsuka Haruhiko
Composer:
Takahashi Kuni
,
Tama Shouichi
,
Takahashi Megumi
Choreographer:
Iga Yuuko
,
Hirasawa Satoshi
Conductor (Takarazuka):
Nishino Jun
Conductor (Tokyo):
Shinjin Kouen Director:
Kashihata Aiko
Greatest Hits!:
Based On:
Author/Director:
Inaba Daichi
Composer:
Takahashi Kuni
,
Oota Takeshi
,
Takahashi Megumi
Choreographer:
Miori Yumino
,
Wakao Risa
,
KAZUMI-BOY
,
Sakuragi Ryousuke
Conductor (Takarazuka):
Nishino Jun
Conductor (Tokyo):
Available on DVD:
Yes (
release date 12/23/16
)
DVD Scene/Music Cuts:
Yes
"Material Girl" recorded with the original lyrics.
Other Cast:
Chikaze Karen
,
Anno Konomi
,
Ai Sumire
,
Ouji Kaoru
,
Amatsuki Tsubasa
,
Shiramine Yuri
,
Kazushiro Runa
,
Yumenoka Mai
,
Kirara Umi
,
Yume Maoto
,
Shiose Kazami
,
Kotohane Riri
,
Hiyori Haruma
,
Yumi Serina
,
Mochizuki Atsuno
,
Mika Monami
,
Asazumi Mare
,
Asato Mire
,
Mayuzuki Rea
,
Ichika Ao
,
Arisu Himeka
,
Suzuhana Miu
,
Kohaku Reira
,
Jun Hana
, and
Mareha Rinto
.
WARNING!! MAY CONTAIN SPOILERS!!
English summary from official
site
:
Caleb Hunt, Private Eye
During the course of an investigation, private detective Caleb Hunt visits a studio where he witnesses an accident resulting in the death of an actress. Following this incident, Caleb meets with Jim Creed and Kazno Hammer, co-owners of the detective agency he works for. The three discover through the meeting that all of their current investigations involve a company called Max Actors Promotions, leading them to further investigate the company. That investigation sees them questioning a married couple from Mexico who have been unable to get in touch with their daughter. Caleb, leaving the investigation to Jim and Kazno, hurries to visit Horatio, his detective friend and confidant, and to greet his former brother-in-arms, Nigel, who is facing his own troubles with the law. Afterwards, Caleb meets his girlfriend, Yvonne, at a restaurant to celebrate her birthday. During the meal, Yvonne's concerns for Caleb and his dangerous profession—and the strain those concerns are having on their relationship—come to light. The following day, Caleb is updated on Jim and Kazno's investigation into Max Actors Promotions. Caleb gets a bad feeling about the company's president, Maximilian. Looking into the matter further, Caleb discovers a photo of particular interest. That photo, left behind by the Mexican couple looking for their daughter, shows the face of Adele, the actress who had died in the studio the previous day. Because Adele belonged to Max Actors Promotions as an actress, Caleb begins to feel a dreadful darkness brewing just around the corner and heads to Maximilian's mansion for questioning. There, he unexpectedly runs into Yvonne. Caleb learns that Maximilian asked Yvonne, a stylist, to draw up new fashion plans for his resort club. Once the two are alone, Caleb pleads with Yvonne to break off all contact with Maximilian as soon as possible. Yvonne, however, can't afford to pass up the job opportunity and refuses Caleb's request. Convinced that Maximilian is involved not only in Adele's death but also in numerous other incidents, Caleb swears to see the investigation through to the end. Meanwhile, now that he knows detective is sniffing around, Maximilian doubles down on being extra vigilant, even while exposing a new and particular behavior...
Greatest Hits!
The Takarazuka Revue's signature Show Groove features a mesmerizing and rousing collection of popular standards. Opening with a prologue highlighting spirited soul music, Greatest Hits! features scenes with popular Christmas songs and other masterpieces that enjoyed great popularity in their day yet continue to tug at our heartstrings. The greatest of the Snow Troupe performers, led by the hot and sexy yet composed Seina Sagiri, combine glimmering harmonies with glamorous dance.
Any other interesting or important stuff.
None yet.
| | | | |
| --- | --- | --- | --- |
| Poster | DVD | VHS | CD |
| None Yet | None Yet | None Yet | None Yet |