The Man From Algiers / Juju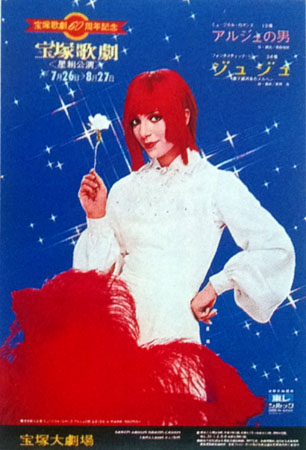 Picture Credit: The Takarazuka I: Star Troupe
English Title:
The Man From Algiers / Juju
Japanese Title:
アルジェの男 / ジュジュ
Romanized Title:
Aruje no Otoko / Juju
Troupe:
Star
Year:
1974
Performance:
Takarazuka Grand Theater, 7/26 - 8/27
Shinjin Kouen Performance:
Takarazuka Grand Theater, 8/13
The Man From Algiers:
Based On:
Autho/Director:
Shibata Yukihiro
Composer:
Irie Kaoru
,
Terada Takio
,
Kawasaki Tsuneo
Choreographer:
Kita Hiroshi
Conductor:
Nomura Youji
Juju:
Based On:
Author/Director:
Kusano Akira
Composer:
Terada Takio
,
Nakai Mitsuharu
,
Yoshizaki Kenji
Choreographer:
Kita Hiroshi
,
Tsukasa Konomi
,
Akiko Kanda
,
Nakagawa Kumi
Conductor:
Mizoguchi Takashi
Available on DVD:
No
Other Cast:
Oozora Midori
,
Rijou Mariko
,
Kasuga Kiyoshi
,
Nazuki Hitomi
,
Ashita Michiko
,
Midori Misa
,
Ryuu Etsuyo
,
Chigi Takashi
,
Mihara Jun
,
Agata Emi
,
Nao Hiroki
,
Kouyama Miki
,
Nami Watari
,
Mafune Yutaka
,
Hoshina Sawako
,
Nao Honoka
,
Wakazuki Kaoru
,
Fuji Kyouko
,
Uzuki Chika
,
Yamana Yuka
,
Sumi Natsuko
,
Yume Madoka
,
Katsumi Hiroshi
,
Tama Ruiko
,
Kanna Ai
,
Kamozuru Miki
,
Hazuki Shigeru
,
Miho Marika
,
Hanazono Mari
,
Byakudou Reina
,
Takaho Rina
,
Yuki Reina
,
Koi Noboru
,
Oozuki Serika
,
Mizusawa Yuki
,
Shiki Izumi
,
Aya Komaki
,
Shin Moeru
,
Namiji Youko
,
Mikami Miyuri
,
Taki Azusa
,
Moegi Natsu
,
Sawana Moe
WARNING!! MAY CONTAIN SPOILERS!!
The Man From Algiers
(From the official HP)
In the period leading up to World War II, Algeria was still a colony of France. In the town of Algiers, where the Government General is located, lives a young man called Julien Clair. Brought up as an orphan, Julien has experienced a shadowy childhood, committing evil deeds together with his gang of friends. Yet he harbors grand ambitions. One day, he leaves Algiers to head to Paris in search of his own place in the sun. While nurturing his unfulfilled dreams with an eagle eye, Julien awaits his chance put his murky past behind him.
On the evening of Bastille Day, Julien makes a bet with his friend Jacques - whether he can lift the wallet from Monsieur Bollinger, the Viceroy of Algeria. Confident of his skills, Julien decides to accept the hazardous challenge, not heeding the remonstrations of his girlfriend Sabine.
Julien loses the bet the following day. He fails in the attempted theft and is arrested by Monsieur Bollinger. Julien prepares for the worst, expecting to be turned over to the police. However, Monsieur Bollinger sees promise in Julien's eyes, as they burn with ambition, and speaks to him about leading a proper life for a man, persuading him to work as a member of his staff. Julien, whose heart has been stirred by the Viceroy's passion, decides to devote his life to him.
Julien starts working as Bollinger's chauffeur. Two months later, he follows his boss to Paris as a new Viceroy is rotated in. Sabine suppresses her sense of loneliness and gives Julien, who has just seized a foothold on his way to glory, a secret push on the back.
It is now five years later in Paris. At an evening party to celebrate Bastille Day, we see Julien in attendance. He has managed to transform himself into a young gentleman, to an extent that he is unrecognizable from before. Having zealously pursed knowledge, Julien has become a Secretary to Monsieur Bollinger. The Viceroy is considering having Julien marry his daughter Elisabeth, which would eventually make Julien his successor. Yet his daughter, a pompous woman, is aloof toward this young man who makes no effort to cover the flames of his ambition, and her heart is shut off to him.
That night, Duchess Chardonne, the hostess of the party and a woman who wields immense influence in fashionable circles, sees hope in the ambition-filled eyes of Julien, and asks him an ardent favor - to provide some womanly happiness to her blind niece Annabel. Annabel has lost her parents and lives a quiet life together with Henri Claudel, who once worked under her father. Should a man ever come forward to marry Annabel, then that man's own future as a political figure would be guaranteed. These words, spoken by the Duchess, rekindle the flames of Julien's ambitions.
However, Julien, who has been striving to ascend the stairs of glory, has a chance encounter with an unexpected person. At a nightclub in the Old Quarter, which he visits with his young gentlemen friends, his eyes fall on a beautiful dancer with elegant moves. The dancer is Sabine, the lover he left behind in Algiers. She tells Julien she had followed him to Paris and has been watching over him in secret, as her presence could be a hindrance to his career. Julien cannot control his trembling at this surprising confession. Then another person appears before him - an acquaintance from his years in Algiers.
---
Juju
Set in a galaxy far from Earth, this revue shows was created referencing "The Little Prince" and Tezuka Osamu's "Phoenix."
Ootori Ran
plays a lonely Juju that longs for it's mother.
Terada Takio
created the lullabies.
Any other interesting or important stuff.
None yet.
| | | | |
| --- | --- | --- | --- |
| Poster | DVD | VHS | CD |
| None Yet | None Yet | None Yet | None Yet |