Say It Again (Bow Shakespeare Series #7)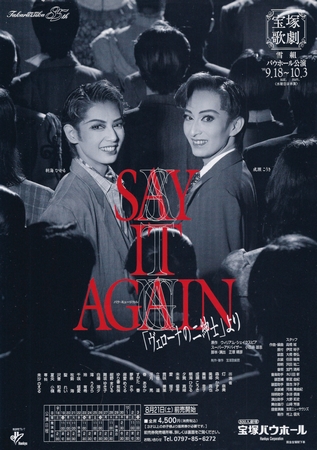 Picture Credit: carmila
English Title:
Say It Again (Bow Shakespeare Series #7)
Japanese Title:
SAY IT AGAIN
Romanized Title:
Troupe:
Snow
Year:
1999
Performances:
Bow Hall, 9/18 - 10/3
Based On:
Shakespeare's
The Two Gentlemen of Verona
Adaptor/Director:
Masatsuka Haruhiko
Composer:
Takahashi Kuni
Choreographer:
Iga Yuuko
Available on DVD:
VHS only
Role
Cast
Pierre Valentine, a marriage swindler
Naruse Kouki
Vince Proteus, a marriage swindler
Asami Hikaru
Cheryl Reed, a hotel maid, actually a politician's daughter
Kisaki Miri
Julie Valentine, an uncertain daughter of the upper class
Konno Mahiru
Emmett, a detective
Misa Noeru
Charlotte, a detective
Morio Kazumi
Nora Valentine, Julie's mother
Akari Nami
James Reed, Cheryl's father, a politician
Misato Maya
Howard Thulio, Cheryl's fiance
Mirai Yuuki
Anne, Howard's lover
Ai Youko
Launce, a hotel clerk
Sugata Kou
Other Cast:
Miho Keiko
,
Yuuki Mao
,
Tatsuki You
,
Saezuki Akira
,
Haru Ayuka
,
Yumena Saya
,
Machika Meguru
,
Yurika Shiho
,
Maisaka Yukiko
,
Shiroka Koyu
,
Mio Urara
,
Rei Yuuki
,
Chisaki Maria
,
Makise Kai
,
Hijiri Rei
,
Sawane Kazuki
,
Natsuo Komaki
WARNING!! MAY CONTAIN SPOILERS!!
Pierre Valentine and Vince Proteus travel the country tricking rich young women into falling in love with them and then absconding with their money. Their latest destination is New Orleans, and they arrive in town just as it is gearing up for Mardi Gras. They quickly assume the identities of wealthy young men and check into a hotel. At a party there, they home in on a lovely young lady named Julie Valentine. Although Pierre has argued that it is his turn to run the scam, Vince horns in on him, and when Julie introduces herself, Vince says that his name is also "Valentine"! Although annoyed, Pierre lets Vince get away with stealing his name. Pierre then bumps into an unsteady young maid who spills her champagne drinks tray all over his suit jacket. Pierre notices that she looks pale and unwell, and later when she brings him a replacement jacket, the maid (Cheryl) admits to him that she is expecting to be fired.
Julie and Vince continue to spend time together, although we soon learn that Julie is also a scam artist. Vince rings all of her bells, and her mother warns her not to waste her time on a young man with obviously no money, but Julie bucks her mother's authority. While Vince tries to scam her into believing he is a film producer trying to raise funds for a film, Julie at the same time scams him into believing that her father is the president of a pharmaceutical company just about to make a big breakthrough, and that he should buy stocks now, before they go public.
Pierre, meanwhile, runs into Cheryl in the hotel lobby the next morning, and she has indeed been fired. She convinces a rather standoffish Pierre to let her show him around town... which ends up continuing for several days before Pierre reminds her that she needs to find a job instead of wasting all of her time on him. The audience sees two mysterious figures following them around town. Eventually, we realize that they are Emmett and Charlotte, two detectives hired by the politician James Reed to keep an eye on his run-away daughter. .... Who it turns out is Cheryl.
In the hotel lobby, the hotel clerk Launce continues to call Vince "Valentine," since he overheard his deception to Julie. On one such occasion, a young man approaches Vince, confusing him for Pierre. He introduces himself as the young lady's fiancee, Howard Thulio, but tells Vince that he is in love with someone else and he wishes Vince all the best with the young lady. At first thinking Howard is talking about Julie, Vince soon realizes he is talking about Cheryl, and begins to suspect her true identity.
Vince approaches Pierre for help raising $50,000 to buy the stocks for Julie's father's company. Pierre warns him that he is falling for a scam, but Vince refuses to believe it. Meanwhile, Pierre protests that there is no way that he can get that money, and when Vince hints that Cheryl is more than she appears, he refuses to admit it. The two partners leave each other in a huff.
Cheryl eventually does reveal her true identity to Pierre, and Pierre panics a bit and awkwardly tries to warn her to go back to her father where she can't be taken advantage of. But Cheryl refuses to return to the arranged marriage her father set up with Howard's father.
Becoming more desperate, Vince approaches Pierre again to swindle Cheryl, and again Pierre refuses. Suspecting that Pierre is trying to cut him out of the scam, Vince takes matters into his own hands. He goes to see Cheryl's father and arranges a scheme with him to have Pierre kidnapped. The detectives take Pierre away at gunpoint and leave him with some drifters in the slums. Then Vince approaches Cheryl with some lies and convinces her that they need to pay off the mafia ($50,000) to get Pierre back. Cheryl goes to her father, who agrees to help out, on the condition that Cheryl agrees to come back home and marry Howard. Cheryl does agree, and her father reluctantly gives the money to his co-conspirator, expecting him to send the money back secretly as part of their scheme.
Vince, of course, starts to take off with the money, when he runs into Julie, who has decided to run off from her mother, whether Vince is a scam artist or not. Somehow, in the crowds of Mardi Gras, they also stumble across Cheryl, who has decided to come with Vince after all to rescue Pierre, once she learns that Howard has run off with his girlfriend Anne. Faced with the increasingly tangled lies, Vince starts to stumble, and then Pierre returns, having escaped from the detectives with the help of the drifters he has befriended.
All of the lies and confused identities are sorted out, and Vince and Julie and Pierre and Cheryl happily end up together in the end.
Any other interesting or important stuff.
None yet.
| | | | |
| --- | --- | --- | --- |
| Poster | DVD | VHS | CD |
| None Yet | None Yet | | None Yet |