Orpheus in Spiral / Nova Bossa Nova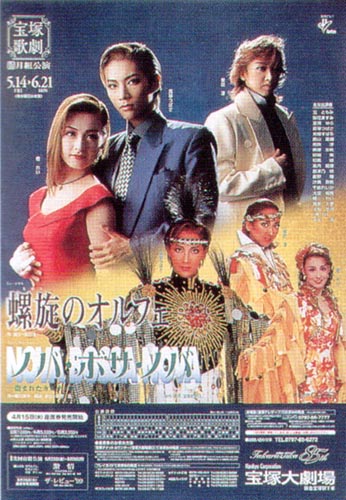 Picture Credit: Caithion
English Title:
Orpheus in Spiral / Nova Bossa Nova
Japanese Title:
螺旋のオルフェ / ノバ・ボサ・ノバ
Romanized Title:
Rasen no Orufe / Noba Bosa Noba
Troupe:
Moon
Year:
1999
Performances:
Grand Theater, 5/14 - 6/21; 1000days Theater, 8/20 - 9/27
Shinjin Kouen Performances:
Grand Theater, 6/8; 1000 Days Theater, 8/31
Orpheus in Spiral:
Based On:
n/a
Author/Director:
Ogita Kouichi
Composer:
Takahashi Kuni
Choreographer:
Ueshima Yukio
,
Iga Yuuko
,
Kawasaki Etsuko
Nova Bossa Nova:
Based On:
n/a
Author:
Kamogawa Seisaku
Adaptor/Director:
Kusano Akira
Composer:
(Original)
Nakai Mitsuharu
,
Irie Kaoru
,
Terada Takio
,
Yoshizaki Kenji
, (1999)
Takahashi Kuni
,
Miyahara Tooru
Choreographer:
(Original)
Kita Hiroshi
,
Agata Youji
,
Shuri Misao
,
Tsukasa Konomi
, (1999)
Hayama Kiyomi
,
Shou Sumire
,
Muromachi Akane
,
Ueshima Yukio
,
Iga Yuuko
,
Miori Yumino
Shinjin Kouen Director:
Suzuki Kei
Available on DVD
: Yes (musical only) (
release date 03/27/09
) / Musical and revue were released on VHS
DVD Scene/Music Cut:
None
Other Cast:
Suzuna Mio
,
Honami Aria
,
Mizushima Aoi
,
Kitajima Mami
,
Misugi Chika
,
Sonomiya Reina
,
Taiju Maki
,
Kitahara Rima
,
Akane Mitsuki
,
Arika Jun
,
Kou Suzuka
,
Kazaho Yuuri
,
Ayura Kao
,
Kanon Shiori
,
Asama Moyu
,
Akizuki Shou
,
Hanase Mizuka
,
Takigawa Sueko
,
Chigusa Kotomi
,
Madoka Sakura
,
Ayadori Kanna
,
Kusunoki Keika
†,
Mamiya Yuki
††,
Memu Chisato
,
Ken Ruisu
,
Kanou Chika
,
Takaki Amane
,
Koizumi Kirara
,
Shijou Rui
,
Natsume Rin
,
Ayane Eika
,
Houjou Rumi
,
Fuuga Minato
,
Moeki Ayato
,
Moeki Ayato
,
Seo Mitsuki
,
Shirahane Yuri
,
Yukina Tsugumi
,
Asabuki Yuika
85th Class (Grand Theater only):
Mihou Aya
,
Yuzuki Reon
,
Miwa Asahi
,
Sakura Ichika
,
Otoki Sunao
,
Kamizuki Akane
,
Takamiya Rina
,
Nanase Kira
,
Maisaki Rin
,
Suzushiro Marina
,
Emi Kurara
,
Souno Haruto
,
Yamashina Ai
,
Nanaho Hikaru
,
Mano Sugata
,
Morisaki Kaguya
,
Mashiro Fuari
,
Shikibu Iroha
,
Hanagata Hikaru
,
Jin Reika
,
Amagiri Mayo
,
Aoki Izumi
,
Umezono Sachi
,
Otono Izumi
,
Hazuki Sara
,
Minami Mari
,
Oomi Ako
,
Hanagiri Wakana
,
Hanamori Mayuri
,
Toki Irisu
,
Kosaki Hiyori
,
Tenshou Yuuri
,
Ginga Ami
,
Kaho Anna
,
Mineki Ayato
,
Ayana Oto
,
Amano Hotaru
,
Jun Aira
,
Hiiragi Tomoe
,
Otose Shuka
†
Kaji Yuuki
was absent for the entire Takarazuka run, so
Narumi Jun
covered the role of Gaston as well as Claude.
†
Narumi Jun
was absent for part of the Tokyo run, and her role was played by
Kusunoki Keika
.
††
Mamiya Yuki
was absent for part of the Takarazuka run.
* After
Hoshino Hitomi
retired, the role of Simone was not filled.
WARNING!! MAY CONTAIN SPOILERS!!
Paris, 1950. Although the war is over, a new world has begun with the east and west sundered. Yves Blanchet is caught in a never-ending nightmare.
Lucile has come to Paris from Belgium with her step-brother in search of her older sister Adèle. Adèle had remained behind during the war and joined the French resistance, and was shot by a German officer, but it seems no one knows what happened to her in the end. Only the savior of the resistance, Yves Blanchet, knows.
Lucile and her brother Edouard are shown around Paris by Vergès, who is actually a Soviet spy. Verges is following Yves, who was once known as Major von Lebenburg, and was one of the Nazi officers in occupied Paris during the war. He guards the switch to a sleeping bomb somewhere in Paris. Because of this, two French secret service agents are following and reporting his every move.
Yves is lost in the darkness of the underside of Paris, but he can never leave the city, because Adèle is here... A spirit exorcist named Arion has her soul trapped.
And then Adèle's living image appears to him in the form of her sister Lucile and frozen time begins to move again.... What dark secrets from the past will be revealed?
---
Nova Bossa Nova
WARNING!! MAY CONTAIN SPOILERS!!
This is a famous revue which has been performed eight times by Takarazuka Revue, beginning in 1971. It incorporates well-known Spanish songs with new Japanese ones to tell the story of Sol, Estrela, Ouro, and Brisa. The only spoken dialogue in the revue is the priest and the nun, plus one line each by Sol and Estrella. The rest is told through song, or acted out.
Rio de Janeiro in South America. Once every year a carnival takes place for three days and three nights. Everyone is excitedly preparing for the big event.
The revue opens with a scene introducing the main characters. They sing happily about the sea and the sky. Later, Sol and Ouro each rob a bank with their young helpers. They meet and Ouro is instantly jealous of Sol. He tries to best him in coolness, but Sol throws money to the crowd and departs with their shrieking loyalty. Later, Sol dons a ragged disguise to hide from the police. He manages to misdirect them and disappears.
That night, everyone goes to the tango club. Ouro is sleezing up to Estrella, desperate to get his paws on her diamond necklace. He steals it without her noticing, then Sol tricks him into giving it up, and
then
Ouro's follower pulls a gun and takes it back. Sol takes a nasty knock over the head.
Mar and Brisa are happily walking along in the night singing of their love. Bolo, Sol's helper, comes to beg Mar's help to get the dizzy thief home. While she's waiting for Mar to return, Brisa hears sirens. Ouro comes running by, the police in pursuit. He sees an opportunity and grabs her, kissing her passionately to throw the police off. Dazed, Brisa lets Ouro lead her away.
The next day Brisa and Ouro, and Sol and Estrela and dancing on the beach. Everyone is happy and celebrating carnival. Suddenly, Mar appears. He is looking frantically through the crowds for Brisa. He finds her dancing passionately with Ouro and is enraged. The two men fight, trying to posses Brisa. Ouro thinks he has won, and then Mar pulls his knife and lunges. Brisa is caught between them.
Mar is devastated, as is Ouro. Both men sing in sorrow and distress. Eventually, Ouro is comforted by Labios. Mar is arrested, but Sol sends Bolo to bribe the guards and free him. Mar is happy to have a new chance at life. Everyone dances for the joy of life.
Later that night, while Bolso, Ouro's follower, is getting ready for carnival, the diamond necklace is stolen. It eventually ends up in the hands of Madam X, a woman in a female-only nightclub. Both Sol and Ouro don female disguises to go in in pursuit of the necklace. Eventually it is Sol who emerges triumphantly, and he returns the necklace to Estrela.
The next morning Estrela must leave Rio de Janiero. She and Sol say their goodbyes, and Sol is sad to watch her go. As she leaves, she drops her necklace. After an internal battle, the thief returns it to her mother. Not seconds after she goes off stage, however, we hear a cry and Bolso runs past with the necklace once more. Sol trips him, and the necklace flies through the air to land at the feet of Lua and Mama. Mama adds it to her collection box. Sol laughs and goes to join the last of the carnival.
Ekusudei's shinjin koen review
| | | | |
| --- | --- | --- | --- |
| Poster | DVD | VHS | CD |
| None Yet | None Yet | None Yet | None Yet |