Guys & Dolls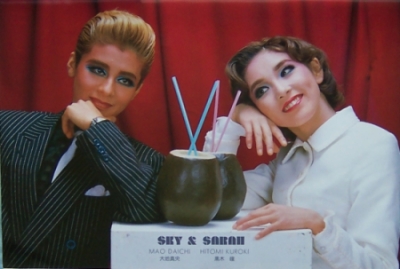 Picture Credit: jenebi, Show Program
English Title:
Guys & Dolls
Japanese Title:
ガイズ&ドールズ
Romanized Title:
Gaizu & Douruzu
Troupe:
Moon
Year:
1984 - 1985
Performances:
Grand Theater, 11/9 - 12/23; Tokyo Theater, 3/3 - 3/31
Shinjinkouen Performances:
Grand Theater, 12/7; Tokyo Theater, 3/12
Based On:
Author:
Jo Swerling; Abe Burrows
Director:
Sakai Sumio
Composer:
Frank Loesser
Music Adaption:
Terada Takio
,
Takahashi Kuni
Choreographer:
Yamada Taku
Conductor (Takarazuka):
Okada Yoshiki
Conductor (Tokyo):
Kitazawa Tatsuo
Shinjinkouen Director:
Other Cast:
Kurenai Hitomi
,
Hoshihara Misao
,
Seri Machika
,
Kou Akemi
,
Hinotori Mina
,
Arata Chihiro
,
Eri Miyuki
,
Aoi Miya
,
Rei Tamaki
,
Kodama Ai
,
Houjou Tsugumi
,
Kou Kirara
,
Arimine Riki
,
Maki Yutaka
,
Asahi Mari
,
Suzukaze Mayo
,
Maiki Aya
,
Sachikaze Irene
,
Masumi Yutaka
,
Miya Marina
,
Oomine Mayu
,
Yashio Yuuki
,
Asanagi Rin
,
Senda Mayumi
,
Haru Urara
,
Mineo Nana
,
Dan Hitomi
,
Hitomi Maria
,
Kuze Seika
,
Sawaki Mari
,
Shirahara Kaai
,
Karin Izumi
,
Azuma Michi
,
Wakana An
,
Ran Reika
,
Wakaki Moe
,
Hane Chisato
,
Yukimura Kyouko
,
Itsuki Ginka
,
Yayoi Mitsuki
,
Natsuki Mami
,
Nijizono Harumi
,
Mashiro Tomona
,
Grand Theater only:
Jou Haruki
,
Masaki Kou
,
Shirakawa Aki
WARNING!! MAY CONTAIN SPOILERS!!
(Original English summary from the show program)
GUYS AND DOLLS
A Musical Fable of Broadway
Based on a story and characters by Damon Runyon.
Music and Lyrics by FRANK LOESSER
Book by JO SWERLING and ABE BURROWS
1984. New York City.
Nathan, a gambler who hangs around Times Square wants to open a gambling den but he can't raise the money. He never gives up looking for a good spot.
Lieutenant Brannigan, a tough cop, keeps all the local gamblers under his watchful eyes.
Joey Biltmore tells Nathan he can rent him a garage for $1000.
Sky, one of Nathan's gambling friends, comes back from Las Vegas, a winner. Sky is $50,000 richer and Nathan suggests they make a $1000 wager. Nathan will nominate a girl. If Sky can get the girl to "Havana" Sky wins. If she refuses Nathan wins $1000. Sky, not only a gambler but a notorious playboy, accepts the bet.
Nathan chooses Sarah, a sergeant in the Salvation Army, the strict missionary society.
Sarah's group has been preaching Christianity without gaining any converts and the Salvation Army authorities have warned them that unless they produce some good results soon Sarah's mission will be closed down.
Sky comes to the Mission and promises Sarah that if she'll have dinner with him the following Wednesday he'll get one dozen people to become believers and join the society. Doubtful and at first reluctant Sarah finally accepts Sky's invitation.
Sky takes Sarah out to "Havana". It is a totally new experience for Sarah and it goes to her head. She has too much to drink and made bold by the alcohol she tells Sky she loves him. Sky with the pride of an experienced playboy won't allow himself to take advantage of the drunken young lady.
While Sky and Sarah are at "Havana" and the missionary band is out preaching Christianity, Nathan and the gamblers turn the Mission into a gambling den. When Sky and Sarah return, the Police raid the Mission as an illegal casino. Sarah thinks that Sky has tricked her in order to use the Mission as a gambling hall.
Nathan has gambled away the last of his money. Sky tells him he can't get Sarah so he owes Nathan $1000.
Sky suggests a crap shoot to all his buddies. If Sky loses each player gets $1000. If Sky wins the guys have to attend the Mission. Sky wins. Sarah's pride is restored by the new converts to Christianity.
All ends happily. Sky and Sarah marry. And Nathan marries his fiancée, Adelaide, who he has kept waiting for fourteen long years.
None yet.
| | | | |
| --- | --- | --- | --- |
| Poster | DVD | VHS | CD |
| | None Yet | None Yet | None Yet |