Great Pirates / Amour, it's something like...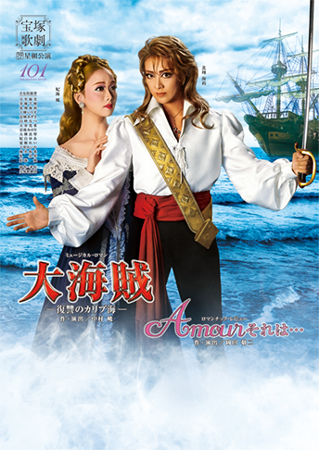 Picture Credit: coeuraubonheur | Official Chirashi
English Title:
Great Pirates / Amour, it's something like...
Japanese Title:
大海賊 / Amour それは・・・
Romanized Title:
Daikaizoku / Amour Sore wa...
Troupe:
Star
Year:
2015
Performances:
National Tour, 06/12 - 07/05
Great Pirates:
Based On:
Author/Director:
Nakamura Satoru
Composer:
Minami Yasuo
,
Nishimura Kouji
,
Kuratomi Shinichi
Choreographer:
Hayama Kiyomi
,
Wakao Risa
,
Momoka Sari
Amour, it's something like...
Author/Director:
Okada Keiji
Composer:
Yoshizaki Kenji
,
Takahashi Kuni
,
Kai Masato
,
Maeda Norio
,
Wakita Minoru
,
Takahashi Megumi
Choreographer:
Hayama Kiyomi
,
Miori Yumino
,
Muromachi Akane
,
Wakao Risa
Available on DVD:
Yes (
release date 12/14/15
)
DVD Scene/Music Cuts:
Yes
The music has been replaced in Hokushou Kairi's "Etiam" in Great Pirates scene 3.
Other Cast:
Miono Saki
,
Mito Kurara
,
Yuunagi Ryou
,
Minato Rihi
,
Amaji Sora
,
Soubu Sakiho
,
Nanase Miki
,
Amano Kiyora
,
Ouri Mao
WARNING!! MAY CONTAIN SPOILERS!!
Great Pirates
Since Columbus had discovered the New World, the Caribbean became a part of the European history, and the pirates helped incorporate the Caribbean into the European sphere of influence with their art of navigation. From the middle of the sixteenth century, other European countries began challenging the Spanish monopoly over the New World, and their pirates followed suit. It was not long before England and other European Protestant countries started using pirates to do damage to Spain, whose Catholicism they were hostile to and whose Caribbean possessions they envied. England licensed its pirates to operate in the Caribbean and financially aided them. Such privateers, then, assailed and sacked the Spanish colonies, and even started smuggling.
One day lately in the seventeenth century, Spanish Santa Catalina Island is assaulted and its town is burnt down by the English pirates headed by Edgar. The governor and his wife are killed. However, the governor's son, Emilio, manages his escape and dives alone into the sea.
He miraculously drifts ashore Tortsuca Island, which is home to Captain Luckcome's pirate ship, Adventure. After listening to Emilio's tragedy and ardent revengeful thought of Edgar, Luckcome invites Emilio to join his band of pirates. He swears to become a pirate at all costs in order to carry out his vengeance on Edgar.
Adventure has a crew of strong personalities including Captain Luckcome, his daughter Ann in love with Emilio, Kidd who has a short temper and is chivalrous, Doctor who always stays cool, well informed Big Ear who sets a right mood at a right moment, reliable veteran Prayer, young Horn Shark and Bullet, apprentice Black-Tailed Gull. Emilio undergoes all sorts of hard trainings with them dreaming of the day he will take his revenge on Edgar. Five years later when Captain Luckcome decides to retire, Emilio is elected new captain. Emilio, gifted with intelligence, judgment and courage, has grown up to win the respect of his comrades. Even Kidd who used to pick quarrels with him willingly accepts Emilio as captain.
On a voyage, Emilio and his band assault an English merchant ship named Royal Pacific. Emilio wonders why Royal Pacific continues to resist even after Adventure has hoisted her flag of skull and crossbones. After Emilio goes aboard Royal Pacific, her captain surrenders and tells him that he has tried to keep his defence under the order of Captain Frederic of the Royal forces on board as a passenger. Emilio examines the stern and finds a young lady named Elaine hiding. She bravely tries to strike him with a short sword, reminding Emilio of himself in the past. He wishes to talk with her alone. Seeing Emilio acting gentlemanly, Elaine feels assured enough to show interest in knowing why he has become a pirate. When Emilio explains that he feels unbound and true to himself, she finds herself miserable and, at the same time, attracted to him. He is also attracted to her. However, he realizes that she lives in a different world from his. Emilio decides to go away, leaving her on board Royal Pacific.
Rockwell, Edgar's follower, captures Luckcome and Ann who have left the ship. In fact, Elaine is a younger sister of Edgar who is now regarded as a hero of England and has just been appointed governor of Jamaica. On the day Emilio met her on board Royal Pacific, she was attended by Captain Frederic and heading for Jamaica to marry the attorney general of Jamaica in obedience to her elder brother's order.
---
Amour, it's something like...
Schedule

Dates

Location

6/12 - 6/14
Kanagawa Kenmin Hall (Yokohama, Kanagawa)
6/17
Hitachinaka City Bunkakaikan (Hitachinaka, Ibaraki)
6/18
Iwaki Performing Arts Center Alios (Iwaki, Fukushima)
6/20 - 6/21
Izumity 21 (Sendai, Miyagi)
6/23
Omiya Sonic City (Omiya, Saitma)
6/24
Kiryu City Community Hall (Kiryu, Gunma)
6/25
Utsunomiya Bunka Kaikan (Utsunomiya, Tochigi)
6/27
Kitakyushu Soleil Hall (Kitakyushu, Fukuoka)
6/28
Fukuoka Civic Hall (Fukuoka)
6/30
Hikone City Bunka Plaza (Hikone, Shiga)
7/01
Ichinomiya Community Hall (Ichinomiya, Aichi)
7/02
Yokkaichi City Bunka Hall (Yokkaichi, Mie)
7/04 - 7/05
Umeda Arts Theater (Osaka)
None yet.
| | | | |
| --- | --- | --- | --- |
| Poster | DVD | VHS | CD |
| None Yet | None Yet | None Yet | None Yet |