Gone with the Wind: Scarlett (Snow 1978)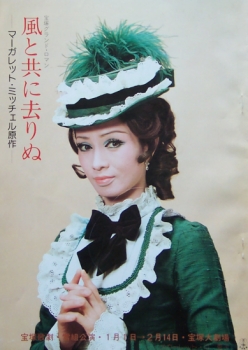 Picture Credit: jenebi, Original Show Program
English Title:
Gone with the Wind -Scarlett-
Japanese Title:
風と共に去りぬ ―スカーレット編―
Romanized Title:
Kaze to Tomo ni Sarinu -Sukaaretto Hen-
Troupe:
Snow
Year:
1978
Performances:
Grand Theater, 1/1 - 2/14; Tokyo Theater, 4/1 - 4/30
Shinjin Kouen Performances:
Grand Theater, 1/26; Tokyo Theater, 4/16 & 4/23
Based On:
Gone with the Wind
by Margaret Mitchell
Author:
Ueda Shinji
Director:
Ako Takeshi
Music:
Terada Takio
,
Irie Kaoru
,
Kawasaki Tsuneo
Choreography:
Kita Hiroshi
,
Oka Masami
,
Hayama Kiyomi
Available on DVD:
No
Other Cast:
Soga Keiko
,
Oka Chiaki
,
Yutaka Ayumu
,
Hokuto Hikaru
,
Ooura Mizuki
,
Kojou Chiaki
,
Mano Yuria
,
Aoki Ryou
,
Tae Kurumi
,
Nagi Masami
,
Kiri Satomi
,
Asakaze Megumi
,
Ichihara Kei
,
Natsuki Jun
,
Mifune Sachi
,
Ooshiro Tsubasa
,
Mizuki Sei
,
Sen Midori
,
Nanao Tomo
,
Asuka Yuu
,
Orizuru Ran
,
Sato Mihiro
,
Kamo Senjou
,
Kotozuki Chiko
,
Misono Juri
,
Ami Jun
,
Tatsuki Yuu
Ken-1:
Fujihana Yukie
,
Miyuki Hanayo
,
Makoto Ai
,
Tokiwa Sachiko
,
Asakawa Misa
,
Ou Natsuki
,
Akatsuki Misato
,
Saya Hatsuka
,
Naoki Rie
WARNING!! MAY CONTAIN SPOILERS!!
(From the Original Tokyo Program)
A play "Gone With the Wind" adapted by Kazuo Kikuta, in 1966. "Gone With the Wind" translated into Japanese by Yasuo Okubo and Michinosuke Takeuchi and it was published by Mikasa Shobo.
PART I
It is Spring, in the year 1861. The O'Hara family, owners of a large plantation in America's Southland, are living a peaceful life. The O'Hara's eldest daughter, Scarlett, is the center of attraction among the young men in the neighbourhood. But when she hears that Ashley Wilkes, who she is in love with, is to marry Melanie Hamilton, in disgust she marries Charles Hamilton, a man she does not love.
Just at that time the Civil War breaks out. Charles goes to the war, and dies of disease at the front. The war widow Scarlett goes to live with her Aunt Pittypat and Melanie in Atlanta, but because of the Union Army's attack on Atlanta, she escapes with Rhett Butler's help to Tara in a coach with her maid Prissy and Melanie, who has just given birth to a child. However, when they reach Tara they find it in a terrible state. Her mother, Ellen, who she loved very much, is dead, so only four people are left living there: her father Gerald, who has lost his mind as a result of the shock of the war, her sisters' Suellen and Carreen and their servant Mammy.
(This Prologue gives a brief summary of the story thus far. We take up the story from the point where Scarlett is trying to get Tara back to normal.)
Now it is April 1865. The war has ended in defeat for the South. The slaves have been freed and the South is in a state of chaos. Scarlett, together with Ashley who is home from the war, and her two sisters, slaves in the fields from morning till night, covered with mud. At that time the formers overseer of Tara, Jonas Wilkerson, comes to Tara saying that $300 tax must be paid on the plantation, but as they have no hope of raising that kind of money, he offers to buy the estate.
Scarlett discusses with Ashley about how they can get the money, but he has no idea what to do either. There is a rumour that Rhett Butler has several million dollars which he embezzled from the Confederate Government, so Scarlett does to Atlanata with Mammy to see Rhett. He is a prisoner of the Union Army, and although they are able to see each other, he cannot lend her any money.
On the way home, Scarlett meets Frank Kennedy, who is Suellen's fiancé, and is rumoured to have saved up $500 for their marriage. Scarlett, by devious means, ends up marrying Frank, and manages to continue living at Tara without having to give it up just what she has always wanted. After that she concentrates all her enery on making money, buying a lumber yard, employing prisoners, and so on.
One day Scarlett is attacked by a Northern bandit in the Shantytown woods, so the Southerners form a secret band, the Ku Klux Klan, and vow to take revenge on the Northerners. That night they meet at the Sullivan plantation, just outside town. Dr Meade, Ashley, and Frank are all at the meeting. However Rhett has heard that the Northerners already know about the meeting and are planning to launch an attack, so he rushes to the meeting as quickly as possible, but he gets there too late. He rescues Ashley, who has been wounded, and Dr. Meade. Frank, however, has been killed by a Northern bullet. Upon interrogation by the Northern Major as to his whereabouts that evening, he tells him that he spent the whole evening at Belle Watling's saloon, and the Major believes him.
PART II
Scarlett, at last accepting Rhett's love, gets married for the third time. Rhett and Scarlett, having built a new house in Atlanta, have a house-warming party, but the Southern guests who are disgusted at having to sit with Northerners, leave the party early.
Scarlett gives Ashley a general store for him to manage, but one day they are discovered by some town gossips embracing and kissing in the store, and in no time at all the scandal is all over town.
Rhett, who has been cuckolded by Scarlett, tries to force her upstairs to the bedroom, but Scarlett trips and falls down the stairs. Rhett is the one who is most concerned about Scarlett, as she is almost at the point of death. Rhett, clinging to Melanie's knees, confesses his love for Scarlett. Melanie, who has been supporting Rhett in his mental anguish, has a miscarriage and faints. Melanie, realizing that she is going to die, asks Scarlett to take care of Ashley and then says, "Captain Butler – be kind to him – loves you so."
These are her last words. Her sister Suellen also tells her "The man you love is Captain Butler. He really loves you too."
Scarlett at last realizes that the love she thought she felt for Ashley has only been an illusion, and decides that she wants to start her life over again with Rhett. When Scarlett arrives home, she finds Rhett packing his things to go on a journey. She begs him to stay, but in vain. Rhett, feeling as if his life is all over, sets out, without caring where he goes.
Scarlett, who has lost her Rhett, stands on Tara's soil just as the sky is getting light, and vows in her heart to face the future bravely.
The "Scarlett version" of Gone with the Wind features the top otokoyaku playing the female role of Scarlett. It was performed later in the same year (1978) by Flower Troupe with Anna Jun in the lead, and again in 1994 by Snow Troupe with Ichiro Maki.
Final performance for Chibana Sachiyo and Yuuzuru Mai.
None yet.
| | | | |
| --- | --- | --- | --- |
| Poster | DVD | VHS | CD |
| None Yet | None Yet | None Yet | None Yet |