For Whom the Bell Tolls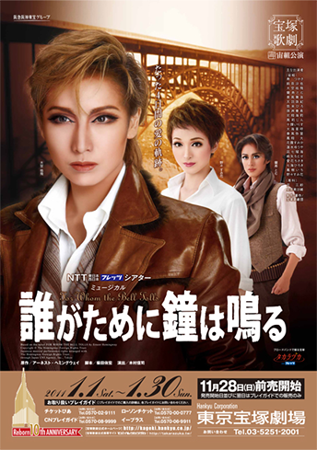 Picture Credit: coeuraubonheur | Official Chirashi
English Title:
For Whom the Bell Tolls
Japanese Title:
誰がために鐘は鳴る
Romanized Title:
Ta ga Tame ni Kane wa Naru
Troupe:
Cosmos
Year:
2010 - 2011
Performances:
Takarazuka Grand Theater, 11/12 - 12/13; Tokyo Takarazuka Theater, 01/01 - 01/30
Shinjin Kouen Performances:
Takarazuka Grand Theater, 11/30; Tokyo Takarazuka Theater, 01/20
Based On:
the novel by Ernest Hemingway
Author:
Shibata Yukihiro
Director:
Kimura Shinji
Composer:
Terada Takio
,
Irie Kaoru
,
Hirao Masaaki
,
Hasegawa Masahiro
,
Teshima Kyouko
Choreographer:
Hayama Kiyomi
,
Takemura Rui
,
Masaki Rino
Conductor (Takarazuka):
Terashima Masao
Conductor (Tokyo):
Misaki Megumi
Shinjin Kouen Director:
Koyanagi Naoko
Available on DVD:
Yes (
release date 01/29/11
)
DVD Scene/Music Cuts:
None
Other Cast:
Hanasato Mana
,
Seoto Risa
,
Yuino Kanari
,
Yumesuzu Rian
,
Yukino Kokomi
,
Sakurane Rei
,
Hanasaki Airi
,
Aisaki Maria
,
Sakihana Riho
,
Ayaka Mari
,
Suzuka Maya
,
Nanao Maki
,
Mirei Jun
,
Asao Ren
,
Mamiya Ryouko
,
Rumi Jun
,
Kazuki Sora
,
Akine Hikaru
,
Setohana Mari
,
Kano Maria
,
Miou Erina
,
Mutsuki Sera
,
Risaki Shigure
,
Takashina Ryou
WARNING!! MAY CONTAIN SPOILERS!!
For Whom the Bell Tolls
The show opens with Robert Jordan being introduced at a charity event (in Hollywood?). He tells his hostess that he can't join her for the after party, as he is flying first to Paris, and then to Spain to rejoin the Republican forces. He has been going there sporadically, helping as a volunteer sent on commando missions to blow up important military targets (mainly bridges). In Madrid he meets General Golz of military intelligence, who sends him on his most dangerous and critical mission yet, to blow up a bridge in Guadarrama. It is a major hinge of a Republican offensive push, timed to begin in four days. Robert also mentions to the general his unease over the death of his Spanish companion on his last mission, as it was his first time loosing someone like that.
He reaches the guerrilla camp in Guaderrama with the help of his old guide Anselmo. There tensions immediately flare up between Jordan and Pablo, their leader. Not impressed with the American, Pablo outright refuses to help when he hears that Robert's objective is so close. Blowing up that bridge will bring the Fascists down on their camp, forcing them to move. Pablo's strong-willed wife Pilar quickly takes command, promising Robert aide, and convincing the other guerrillas to work with him.
Robert then meets Maria, a quiet girl with her hair cut shockingly short. The two are instantly attracted, but Maria is a strange mix of childish curiosity and awkward skittishness. Robert soon learns that she was rescued by the guerrillas from the ruins of a small village near Madrid, and there is little doubt about the treatment she received from the Fascists.
Worried about the size of the project confronting him, and by rumors of Fascist troupes gathering nearby, Robert is advised by Pilar to visit the nearby guerrilla cap run by El Soldo. El Soldo is something of a legend among the guerrillas, a wise and brave old man. He speaks with Robert for some time, and questions him shrewdly about his last mission. Robert admits that he killed his companion himself, since both had taken an oath not to leave anyone alive for questioning, and Kashkin (his companion) had been wounded and unable to escape. El Soldo at last nods laconically and agrees to help Robert by stealing horses from the Fascist army so that they can all escape the amassing soldiers after blowing up the bridge.
Left alone for a moment, Robert is confronted by El Soldo's daughter Rosa, who had been Kashkin's lover, and who had overheard Robert's admission. Robert agrees to let her kill him, but asks her to wait a few more days, until after the mission which is so crucial to the Republican cause.
Taking the long way back, Robert and Maria stop for a moment and Maria begins to tell her story. She had been the daughter of the village's mayor, and loved her town very much. Then the Fascists came, and killed her parents and most of the villagers. They kept some of the girls alive, though they cut their hair. Then one had recognized her as the mayor's daughter, and picked her to go first--
Robert interrupts Maria, telling her he understands and she doesn't need to tell him any more. He has already promised Pilar (and Maria herself) that he will take her back with him when he returns to America, but inside Robert doubts very much that he will survive this mission.
Through all their planning, Pablo continues to mock and enrage Robert and the others' plans. As night falls, it begins to snow. Pablo laughs, saying that the snow means tracks when El Soldo and his band steal the horses. Pilar tries to reassure everyone that the snow will also cover the tracks, but the snow stops prematurely.
The next morning, Rosa visits Robert's camp, asking him to bring her back to America, and harshly critical when she learns that Robert is already planning to return with Maria. Lucia also arrives, with news of troupe movements.
Suddenly smoke and the sound or artillery from the next valley marks an attack on El Soldo's camp. Although it is painful, Robert holds steady, and keeps all of his band of guerrillas from going to El Soldo's aid. The old soldier would understand, he tells them, that if they go they will all die as well. Just as the firefight seems to be dying down, planes pass over and bomb El Soldo's camp....
Act two begins with a surreal wedding scene.
We return to the story on dawn of the third day. The Fascist troupes are definitely converging on the villages near the bridge, causing Robert to suppose that they know already about the Republican plans to push into the region. He decides to send a warning to General Golz that the attack will probably not succeed. One of the guerrillas, Andres, volunteers for the mission, but is not very familiar with the roads to Madrid. Lucia volunteers to go with him, as she has gone that way many times. Armed with a letter and papers from Robert, they set out.
Agustin, one of the guerrillas who has supported Robert and looks up to him, joins him quietly for a drink. He asks if Robert plans to bring Maria back to America. Robert says yes, and that he plans to marry her. Agustin nods and says it's for the best, though he has loved Maria from the beginning. He never said anything to her, however....
As night falls, Maria asks Robert if she can join him in his sleeping bag, but then admits that Pilar set her up to it. They talk together for some time, and Maria tells Robert that before she gets into the sleeping bag she must tell him all of her story. Over his protestations, she tells him about her experience with the soldiers, or enough of it. He reassures her that it changes nothing, and that he loves her as much as ever.
In the cave, a terrible discovery has been made. Pablo has left with most of the detonators for the bridge. Pilar apologizes, because she saw him leave, but didn't realize the significance of what he took with him. Robert controls his temper, and send the guerrillas off in search of stout sticks to use to create delays so that they can set off just as many explosives with fewer detonators. Pilar continues to apologize, until Robert finally loses control of his temper and snaps. Maria calms him down skillfully.
Pablo returns, and while the other guerrillas would have set upon him, Robert welcomes him back. Pablo admits he found he was lonely, leaving all of them behind. He has brought back with him a few young guerrillas from a neighboring camp and some horses. They all put their heads together to modify the plans.
Andres and Lucia face many obstacles in trying to reach General Golz, both from difficult trails, soldiers suspecting them of being spies, and locating the busy general as he moves about. When at last they reach him on the phone at dawn on the fourth day, they find that he has just given the order to begin the offensive, and it can't be stopped now.
On the fourth day, Robert and the others have finished setting the bombs, but Robert waits for the pre-arranged signal, of Republican planes bombing the Fascist troupes. He hopes yet that the attack might be called off, having seen the extent of the Fascist troupes, and how many have crossed the bridge already. However, the bombing begins, and Robert detonates the bridge, which collapses cleanly. As they celebrate, Anselmo is shot. Robert and Agustin hurry back to rejoin the others. Pablo, Pilar, and Rafael join them, with Maria. They flee for the horses, but Robert is shot in the leg. Agustin suggests carrying him to the horses, but Robert knows they would never make it ahead of the soldiers with him to burden them, and orders them to bring him a machine gun. He says his farewells to Maria, then leaves her in Pilar's care. Rafael and Pilar drag the hysterical Maria away. Robert waits for the enemy to come, with his finger on his machinegun trigger.
Sumire Style Stage GRAPH
None yet.
| | | | |
| --- | --- | --- | --- |
| Poster | DVD | VHS | CD |
| None Yet | None Yet | None Yet | |