Dark Brown Eyes / Le Bolero Rouge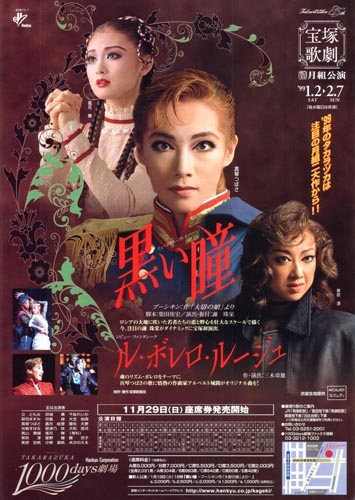 Picture Credit: Caithion / Flyer
English Title:
Dark Brown Eyes / Le Bolero Rouge
Japanese Title:
黒い瞳 / ル・ボレロ・ルージュ
Romanized Title:
Kuroi Hitomi / Ru Borero Ruuju
Troupe:
Moon
Year:
1998-99
Performances:
Takarazuka Grand Theater, 9/18 - 10/26; 1000days Theater, 1/2 - 2/7
Shinjin Kouen Performances:
Grand Theater, 10/6; 1000 Days Theater, 1/19
Dark Brown Eyes:
Based On:
The Captain's Daughter
by Alexander S. Pushkin
Author:
Shibata Yukihiro
Director/Choreographer:
Sha Tamae
Composer:
Takahashi Kuni
,
Kuratomi Shinichi
Shinjin Kouen Director:
Ueda Keiko
Le Bolero Rouge:
Author/Director:
Miki Akio
Composer:
Takahashi Kuni
,
Yoshida Yuuko
,
Kuratomi Shinichi
Choreographer:
Hayama Kiyomi
,
Shou Sumire
,
Nakura Kayoko
,
Wakao Risa
Available on DVD:
Yes (
release date 12/25/05
)
DVD Scene/Music Cut:
Yes
In Le Bolero Rouge: Scenes 4 (Red Lantern A), 18 (Gypsy In Black A), and 19 (Gypsy In Black B) were cut.
†  Switched-roles in Tokyo, due to transfers:
Maximich:
Shiomi Maho
Tomanov:
Narumi Jun
Zarubin:
Oozora Yuuhi
Zhulin:
Kouki Subaru
Other Cast:
Ujou Kaoru
,
Natsuno Saki
,
Suzuna Mio
,
Honami Aria
,
Mizushima Aoi
,
Misugi Chika
,
Sonomiya Reina
,
Kou Suzuka
,
Kazaho Yuuri
,
Kanon Shiori
,
Asama Moyu
,
Murasakino Yuki
,
Madoka Sakura
,
Ayadori Kanna
,
Memu Chisato
,
Koizumi Kirara
,
Natsume Rin
,
Ayane Eika
,
Houjou Rumi
,
Fuuga Minato
,
Moeki Ayato
WARNING!! MAY CONTAIN SPOILERS!!
Dark Brown Eyes
A.D. 1773, Czars ruled Russia. The vast land of Russia was under the rule of Empress Catherine II (Ekaterina II), known as Catherine the Great. The Cossacks, peasant soldiers, were waiting for a chance to revolt against the ruler to gain more freedom.
Nicolai's (Makoto Tsubasa) father buys him a position in a regiment out in the wilds of Russia, because his father believes he needs to build some character. On the way he gets caught out in a snowstorm with his servant and they can't see the road for the snow. A ragged Cossack comes stumbling upon them, and shows them the way to the nearest town. Nikolai's servant won't let him pay the man, so he gives him his nice fur coat. The man promises not to forget his kindness. Nicolai continues on to the Belogorsky fortress. There he falls in love with the captain's daughter, nicknamed Masha. His rival is the cynic Shvabrin, who sees no good in anyone and was exiled to the fort for killing a man in a duel. Masha won't have anything to do with Shvabrin, so he starts saying slanderous things about her. Nicolai challenges him to a duel, and gets wounded. Masha nurses him back to health and the two admit their love, but Masha says his parents will never accept her, because she doesn't even know who her true parents are.
Meanwhile, Catherine II rules Russia after her husband Pyotr II was assassinated. There is a rebellion brewing in the eastern wilds among the Cossacks. A man named Pugatchov has declared himself Pyotr III reborn, and is conquering all of the fortresses. Eventually, he attacks Belogorsky. The Russian officers are told to swear allegiance to Pugatchov, but they refuse and are hung. Just as it is Nicolai's turn his servant begs for his life. Pugatchov recognizes the annoying servant, and then recognizes Nicolai. It was Pugatchov who led them out of the snowstorm. He grants Nicolai his freedom. Masha's parents are killed, and she goes into hiding in the priest's house. Meanwihle, Shvabrin has been spying for Pugatchov, and is placed in charge of Belogorsky. Nicolai flees to the city of Orenburg to try to convince the general there to lead an attack and reclaim the fortress. He refuses.
Nicolai gets a letter from Maximich, a Cossack soldier who is a friend of Masha's servant. She is being held a prisoner by Shvabrin. He decides to go rescue her himself. On the way there he is captured by Pugatchov's men. When he explains the situation to Pugatchov (not mentioning that Masha was the daughter of the captain at Belogorsky), Pugatchov gets really upset that one of his men is stealing Nicolai's fiance, and storms off with him to rescue Masha. On the way there, Nicolai councils Pugatchov to stop now, before things get out of control. Pugatchov says things have already gone too far. The two men admit to their admiration tof each other, but their ideals and goals are too different. They arrive. Shvabrin, being the bastard he is, tries to stall, but when he loses, tells Pugatchov who Masha is. Nicolai asks Pugatchov what he would have done if he had told him who Masha was, and Pugatchov admits that he did the right thing. They say farewell.
Nicolai rejoins the army, because he wants to be there to see Pugatchov's final battle. After the fighting is over, Nicolai is put under arrest for fraternizing with the enemy. Shvabrin accuses him of being a spy for Pugatchov. Nicolai refuses to speak about why he went back to Belogorsky, because he doesn't want Masha's parentage to come to light, fearing she too might be accused of being a spy. When Masha hears about what's going on, she runs to St. Petersburg to beg the queen for Nicolai's life. The queen is convinced, and everyone lives happily ever after. Except Pugatchov.
---
Le Bolero Rouge
Chapter 1 Sapateart Noir (Scenes 1-3)
Sapateart dances alone as if offering a prayer in the mirror. Suddenly the world of Spain unfolds.
Man 1 in bolero:
Makoto Tsubasa
Woman 1 in bolero:
Kazahana Mai
Man 2 in bolero:
Shibuki Jun
Chapter 2 Red Lantern (Scenes 4-6)
In pre-war Shanghai. Chinese delinquent gangsters kidnapped Caucasian girls, daughters of Russian aristocrats. They made the girls wear green Chinese dresses. Having been drugged with narcotics, the girls dance like puppets.
Opium prince:
Makoto Tsubasa
Opium lady:
Mihara Shiho
Bad boys:
Hatsukaze Midori
,
Naruse Kouki
† ,
Yamato Yuuga
† 
Shiomi Maho
in Tokyo
Chapter 3 Blue Rose (Scenes 7-9)
In New York. A man looks back and thinks of the girl who deserted him. She left him the blues, which reminds him of her sigh of grief. Lady Blues appears. Feeling depressed, the man spends his remaining time dancing with her.
The man:
Shibuki Jun
Lady Blues:
Kazahana Mai
Men in hallucination:
Hatsukaze Midori
,
Juri Sakiho
† ,
Naruse Kouki
† ,
Kiriya Hiromu
† 
Shiomi Maho
,
Oozora Yuuhi
in Tokyo
Chapter 4 Carnival Inferno (Scenes 10-14)
Death blocks the reunion of Orpheus and Eurydice. The world begins to shatter.
Lucifer, Satan:
Makoto Tsubasa
Eurydice:
Kazahana Mai
Orpheus/The Singer:
Shibuki Jun
Man of the inferno (green):
Hatsukaze Midori
Chapter 5 Blue Mosque (Scenes 15-17)
In the labyrinth of gold and mosaic, a young knight from the West saves a princess of the Orient. She was locked in a mural.
Sheik:
Makoto Tsubasa
Jasmine:
Kazahana Mai
Youths:
Naruse Kouki
† ,
Oozora Yuuhi
,
Kiriya Hiromu
,
Yamato Yuuga
† 
Narumi Jun
in Tokyo
Chapter 6 Gypsy in Black (Scenes 18-20)
Men in black tailcoats dance with the tunes of gypsy, mambo, and rock 'n roll.
Gypsy 1:
Makoto Tsubasa
Lover:
Kazahana Mai
Gypsy 2:
Shibuki Jun
Chapter 7 Rocket Spanish (Scene 20)
Latin American singer:
Yamato Yuuga
Chapter 8 Bolero Rouge (Scenes 21-22)
Finale dancing on the Grand Staircase.
Man 1 in bolero rouge:
Makoto Tsubasa
Woman 1 in bolero rouge:
Kazahana Mai
Man 2 in bolero rouge:
Shibuki Jun
Chapter 9 Parade (Scenes 23-24)
Parade Singers:
Juri Sakiho
† ,
Chihiro Reika
† 
Shiomi Maho
&
Kiriya Hiromu
in Tokyo
Ekusudei's
| | | | |
| --- | --- | --- | --- |
| Poster | DVD | VHS | CD |
| None Yet | None Yet | None Yet | None Yet |