Danza Serenata / Celebrity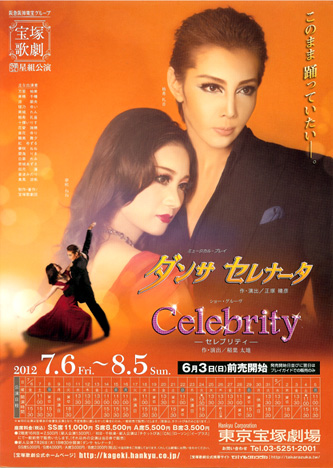 Picture Credit: shizuokan
English Title:
Danza Serenata / Celebrity
Japanese Title:
ダンサ セレナータ / Celebrity-セレブリティ-
Romanized Title:
Dansa Serenaata / Celebrity
Troupe:
Star
Year:
2012
Performances:
Takarazuka Grand Theater, 05/18 - 06/18; Tokyo Takarazuka Theater, 07/06 - 08/05
Shinjin Kouen Performances:
Takarazuka Grand Theater, 06/05; Tokyo Takarazuka Theater, 07/26
Danza Serenata
:
Author / Director:
Masatsuka Haruhiko
Composer:
Takahashi Kuni
,
Tama Shouichi
Choreographer:
Iga Yuuko
,
Hirasawa Satoshi
Conductor (Takarazuka):
Misaki Megumi
Conductor (Tokyo):
Misaki Megumi
Shinjin Kouen Director:
Tabuchi Daisuke
Celebrity
:
Author / Director:
Inaba Daichi
Composer:
Takahashi Kuni
,
Oota Takeshi
,
Takahashi Megumi
Choreographer:
Miori Yumino
,
Wakao Risa
,
KAZUMI-BOY
,
SHUN
Conductor (Takarazuka):
Ooyagi Yasushi
Conductor (Tokyo):
Kiyokawa Tomomi
Available on DVD:
Yes (
release date 08/04/12
)
DVD Scene/Music Cuts:
Yes
Vocals have been removed from the following songs: Scene 5A "Sous le Ciel de Paris", Scene 5B "Sous le Ciel de Paris", Scene 5G "Sous le Ciel de Paris"
Other Cast:
Shirotae Natsu
,
Kai Hayato
,
Shiotsuki Shuu
,
Ooki Makoto
,
Shingetsu Saku
,
Senju Haru
,
Kizaki Reo
,
Seki Yurito
,
Wakanatsu Ayame
,
Natsuki Rei
,
Yumeshiro Eren
,
Oushina Yuu
,
Sorano Miyu
,
Marina Mayu
,
Hinatano Karin
,
Shouma June
,
Hinami Fuu
,
Murasaki Rira
,
Outsu Risa
,
Seo Yuria
,
Mai Hinano
,
Ouzuki Akari
,
Renju Kouki
,
Otosaki Itsuki
,
Shidou Ryuu
,
Gojou Marina
,
Asamizu Ryou
,
Takuto Rei
,
Shiratori Yuriya
,
Shiroki Mirei
,
Katori Reira
,
Takatoo Suzu
,
Toudou Jun
,
Ouha Mirai
,
Iroha Reo
,
Sawa Kazuki
WARNING!! MAY CONTAIN SPOILERS!!
Danza Serenata
(From the Official Web Site)
A man appears inside a nightclub that is abandoned and slated for demolition. His name is Isaque. He was once the top dancer while he performed in a show at the club. A sparkling stage, the music, the hustle and bustle of the customers — every day, he keeps the memories alive in his heart, of a time when he totally devoted himself to his dancing.
Rewind to a dance performance, built around Isaque and his fellow performers, as it unfolds on the stage of the Lua Azul nightclub. The show is terminated just as it enjoys great success. Reviews from the club patrons had never been better. But Isaque still isn't satisfied. He speaks with his partner Angelita, who has become irritated by his countless demands to make changes in the dance steps, and she doesn't pay much attention to him. Jose, a bartender, is worried about Angelita for her somewhat casual attitude.
Isaque has been beckoned by Luis, one of his fellow dancers, and so he visits their rendezvous, a tavern. There, Luis introduces him to his girlfriend Carolina, the daughter of an aristocratic family. The couple come from different social classes, and Luis confides that they may elope so that they can fulfill their love. After the couple head home, Isaque is left by himself. Angelo and Monica, siblings who were born in a colony, become entangled with a drunken soldier in the tavern, and Isaque comes to their aid. Spotting the scene, Joaquin, a member of the National Defense Police (the secret police), speaks to Isaque to give him some background of the situation. The soldiers are unruly, he says, due to the growing intensity of the movement pushing for the colony's independence, and that the current government, which has long ruled as a dictatorship, is already on the verge of collapse. However, Isaque shows no interest in these events and responds that he only wants to be allowed to live in a way that he himself finds acceptable.
An audition for dancers takes place at the club several days later. Monica arrives with her friend Rita, who is taking the audition. As Rita is slow to learn things, Monica dances with her while teaching her the steps. Noticing this, Isaque detects Monica's gift and invites her to become a dancer. Monica agrees, but only under the condition that Rita come with her.
Around the same time, Angelo secretly meets with members of anti-government movements bent on revolution. Even though he was arrested in the past for leading the independence movement for his native country, which has been colonized, Angelo has managed to escape from jail with the help of his army friends who oppose the government. He explains in the meetings that if all the different anti-government movements everywhere were to unite, and if there were to be a revolt by his friends in the army, then the revolution would succeed with minimal casualties. Angelo starts organizing the local anti-government movements, which are scattered everywhere. However, Joaquin has been secretly monitoring Angelo's gatherings, and in short order he is detained by the secret police. Having gotten wind of the identities of the leading members of the anti-government movement, Joaquin is about to question Angelo about his army friends.
Angelita ponders whether Isaque will replace her by Monica. Meanwhile, Angelita takes a tumble in the middle of a show and is injured, and so Monica dances in her place. This makes Isaque only more convinced that he wants to continue dancing with Monica for as long as possible, as her performances provide him with a sense of excitement he has never witnessed before on a stage. However, she tells him she is praying for the independence of her fatherland and, at any rate, she intends to return there. Isaque suddenly kisses her and then tries to restrain her. But in no matter of time, Monica is taken to the secret police.
---
Celebrity
"Celebrity". When spoken, it means a famous person, a person of the hour, a millionaire often in the news; in other words, it's a word that symbolizes a hero of the times. A movie star, a top model, a musician. A Show Groove developing the sparkling lives of these various celebrities in their light, and also the other side of the coin, the one hidden in the shadows. A hot show brim-full of Star Troupe energy.
Final performance for prominent stars Suzumi Shio and Shirahana Remi. A sayonara show was held for Suzumi on the final nights of both the Grand Theater and Tokyo performances. Shirahana received a solo number in Suzumi's show, and the etoile in the Celebrity finale. Suzumi also received a dinner show in which Shirahana co-starred, again with her own solo. Both received special interviews and pictorials.
Also the final performance for Aomi Rima, Minakaze Rina, Kitori Mariya, Hinatano Karin, Renju Kouki, and Sawa Kazuki.
The original "working" title for Danza Serenata was "Memorial Again" (メモリアル・アゲイン).
Sawa Kazuki absent from June 7th due to poor health.
None yet.
| | | | |
| --- | --- | --- | --- |
| Poster | DVD | VHS | CD |
| None Yet | None Yet | None Yet | None Yet |