Arch of Triumph / Gato Bonito!!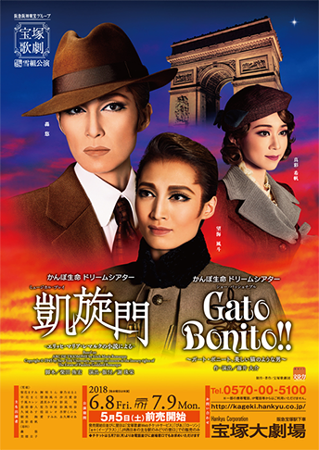 Picture Credit: coeuraubonheur | Official Chirashi
English Title:
Arch of Triumph -From the Novel by Erich Maria Remarque- / Gato Bonito!! ~Gato Bonito, A Man Like a Beautiful Cat~
Japanese Title:
凱旋門 -エリッヒ・マリア・レマルクの小説による- / Gato Bonito!! ~ガート・ボニート、美しい猫のような男~
Romanized Title:
Gaisenmon -Erihhi Maria Remaruku no Shousetsu ni yoru- / Gato Bonito!! ~Gaato Boniito, Utsukushii Neko no you na Otoko~
Troupe:
Snow
Year:
2018
Performances:
Takarazuka Grand Theater, 06/08 - 07/09; Tokyo Takarazuka Theater, 07/27 - 09/02
Shinjin Kouen Performances:
Takarazuka Grand Theater, 06/26; Tokyo Takarazuka Theater, 08/09
Arch of Triumph:
Based On:
the novel of the same name by Erich Maria Remarque
Author:
Shibata Yukihiro
Director / Choreographer:
Sha Tamae
Composer:
Terada Takio
,
Yoshida Yuuko
,
Tama Shouichi
,
Kuratomi Shinichi
Conductor (Takarazuka):
Shiota Akihiro
Conductor (Tokyo):
Shinjin Kouen Director:
Ueda Kumiko
Gato Bonito!!:
Author / Director:
Fujii Daisuke
Composer:
Aoki Tomoko
,
Teshima Kyouko
Choreographer:
Hayama Kiyomi
,
Miori Yumino
,
Wakao Risa
,
ANJU
,
Nakatsuka Kouhei
Conductor (Takarazuka):
Shiota Akihiro
Conductor (Tokyo):
Available on DVD:
Yes (
release date 09/30/18
)
Available on Blu-Ray:
Yes (
release date 09/30/18
)
DVD Scene/Music Cuts:
No
Other Cast:
Shiramine Yuri
,
Karen Emiri
,
Sara Anna
※
Todoroki Yuu
and
Miho Keiko
of Senka will appear only in
Arch of Triumph
.
WARNING!! CONTAINS SPOILERS!!
Arch of Triumph
The setting is Europe in 1938, where signs of the outbreak of World War II begin to cast a shadow over the land. Fearing the fires of war, waves of people seek refuge from all over Europe to Paris, the only remaining city of light. But no one can guess how much longer that light will last.
Ravic, a surgeon, is a refugee from Germany making a living in Paris as an unlicensed doctor. On a cold rainy night, Ravic meets a woman who is standing off in a daze, apparently about to jump off Alma Bridge into the River Seine. He rescues her just in time, and inquires about her background although he isn't very interested.
The woman's name is Joan Madou. She explains that she came to Paris from Italy, but her husband had just died from illness at the hotel where they were staying. Deeply shaken, Joan was in a state of confusion from fright and despair. Ravic heads over to the hotel with her to deal with the corpse. Feeling sorry for Joan, who is out of luck with nowhere to go, Ravic later asks his friend Boris, a doorman at a nightclub, to find her a job. Joan begins to work as a singer at the club, aspiring to become an actress. It has been three weeks since Joan started her job at the club and Ravic has not seen her since. He feels he has no bright future as a refugee, and this grim reality makes him hesitant about harboring any feelings for Joan.
By the time he finally visits her, she has become a popular singer at the nightclub. They go together to the bistro where they went on the night they met. Joan has been waiting for Ravic to come see her, because on that fateful night, in the clutches of despair, Ravic had given her hope to survive. Joan tells him, "I've been reborn." Ravic finds himself becoming attracted to Joan's beauty as she sings at the club. The night is rainy, just like the night they met. Shoulders touching, Ravic and Joan walk together to Ravic's apartment.
Eventually, Ravic and Joan fall deeply in love with each other. But even during their sweetest moments, a shadow flickers across Ravic's mind. The footsteps of war sneak closer to Paris, growing louder day by day. Ravic begins to feel a vague uneasiness towards Joan's passionate love for him. He is unable to explain to her that he is in no position to give her any promises of the future.
Nazi Germany attacks Czechoslovakia. The news makes people shudder with fear and throws the city into an uproar. Ravic finds a familiar face in the bustling city crowd. Four years earlier, when Ravic was still in Germany, he was tortured for hiding and freeing a friend being pursued by the Gestapo. The torture and humiliation was worse than death itself. The man Ravic sees before him is the Gestapo officer, Franz von Schneider. Schneider even killed Ravic's girlfriend at the time, Sibyl. Ravic later escaped from the camp and came to Paris. He is suddenly caught by a fierce desire for revenge, but loses sight of Schneider. Shaken by the experience, Ravic finds himself standing before Joan's room. Did he really want to get his revenge on Schneider and in turn give up his present life in Paris, especially his beloved Joan? As an illegal immigrant, he cannot cause any problems in this city. Ravic tells Joan his true identity, and together they decide to head for the Riviera to leave everything behind.
The Riviera is filled with warm sunshine. Life here is a long way from the current situation in Paris, which is suffering from war, inflation and poverty. Joan meets the wealthy actor Henri and behaves as she pleases with his circle of friends. She confesses excitedly that she has always wanted to live such a frivolous and glamorous life, admitting that she is a "silly woman." But Ravic cannot help but forgive Joan, the beautiful and foolish woman who is radiantly alive. Their love for each other appears as though nothing could tear it apart. Fate, however, is merciless.
One freezing day in February back in Paris, Ravic happens upon a wounded construction worker and gives him first aid. From this action, the police find out that he is an illegal immigrant, and he is banished from the country. Without even enough time to say goodbye to Joan, Ravic is forced to leave Paris behind.
After three long months of impatience and yearning for Joan, Ravic returns illegally to Paris once again. But his beloved Joan is now here to be seen. She has quit the nightclub, and Boris does not know her whereabouts, One evening, Ravic happens to bump into Joan, who is with Henri. Ravic and Joan embrace tightly, overjoyed by their reunion. Joan, however, is currently dating Henri because she had thought that Ravic was gone for good and could not bear the solitude of living in a foreign country alone. Ravic is hurt by this confession, as he loves Joan more than ever, and leaves her in a jealous fury.
The "Hotel International" where Ravic is staying is a hotel for refugees run by Francoise. Staying there are Boris, a Russian refugee; Hyme and Julia from Spain; Marcus, a refugee with the nickname "Bird of Death"; Rosenfeld, who is on the run with a painting by Van Gogh; the Goldbergs, a German married couple; Wiezenhoff; and the Binders, a Jewish family all live there. All carrying their own painful past and anxiety for the future; they survive the best they can by helping one another. But when Mr. Goldberg commits suicide one day, his tragic death begins to cast an inexplicable sense of anxiety over the people in the hotel.
With information from Boris, Ravic encounters Schneider once again. While Ravic is keeping an eye on Schneider in a restaurant, Joan appears. She tells Ravic that she has broken up with Henri, who has a jealous nature, and she wants to be with Ravic again. But Ravic is so intent on following Schneider's movements that he hurts her feelings. After Joan leaves, Ravic is taken by surprise by Schneider who begins to talk to him.
Schneider explains that he has come from Berlin on business and that he is unfamiliar with Paris, and asks Ravic to show him around. It turns out Schneider has completely forgotten Ravic's face. Ravic seizes his chance and takes Schneider,a lewd man, out to a whorehouse in the Boulogne Forest and finally gets his revenge.
The lights of Paris are shut down by a blackout. Henri comes to see Ravic, who has finally been freed from his past hatred. Henri tells Ravic that he has shot Joan from jealousy that her heart is with Ravic and not himself. Ravic hurries over to Joan with Weber, the director of a private hospital, but her wound is far too deep for surgery. The only thing Ravic can do is talk softly to Joan, who is in great pain. Joan whispers words of love in his arms. But as her pain becomes unbearable, Ravic respects her final wishes and frees her from the pain with his own hands. Joan dies peacefully in the end.
France finally declares war on Germany. The people of "Hotel International" all go their own ways. Some flee to America, some decide to be taken to the camps. Ravic asks Boris to take care of Joan's funeral. and chooses to be imprisoned. Just as Ravic is about to be taken away by the police. He looks up and sees the Arch of Triumph standing quietly in the darkness, just as it was on that night in his memory.
---
Gato Bonito!!
Gato bonito
means "beautiful cat" in Portuguese. They are cool and capricous by nature, and carry themselves with dignity and grace.
Nozomi Fuuto
will lead the individualistic members of Snow Troupe, portraying this cat image in a brilliant, dramatic show where each scene will be filled with variety. Please enjoy this gorgeous, passionate dream world which can only be presented by Takarazuka.
None yet.
| | | | |
| --- | --- | --- | --- |
| Poster | DVD | VHS | CD |
| None Yet | None Yet | None Yet | None Yet |