Turandot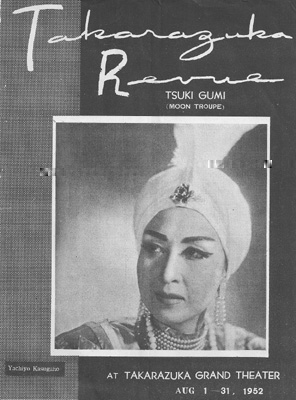 Picture Credit: English language program
English Title:
Turandot
Japanese Title:
トウランドットーカラフ王子の冒険ー
Romanized Title:
Tourandotto -Karafu Ouji no Bouken-
Troupe:
Moon
Year:
1952
Performances:
Takarazuka Grand Theater, 8/1 - 8/31
Based On:
Author/Director:
Shirai Tetsuzou
Composer:
Kawasaki Ichirou
,
Tsutsumi Gorou
,
Irie Kaoru
Choreographer:
Yasumoto Shinji
,
Tamada Yuuzou
,
Watanabe Takeo
,
Izuguchi Setsuko
,
Yada Shigeru
Conductor:
Available on DVD:
No
Other Cast:
Kasuga Hanako
,
Tsukikage Misa
,
Kasumi Chisato
,
Mari Ruiko
,
Tokiwagi Yachiyo
,
Matsuno Midori
,
Inaba Machiko
,
Takabane Chizuru
,
Aoi Yukiko
,
Suminoe Yumeji
,
Takeya Miyuki
,
Maya Midori
,
Tazuru Chieko
,
Ootori Yachiyo
,
Oka Makoto
, etc.
Ken-1:
Maho Shibuki
,
Kyouyama Michiko
, etc.
WARNING!! MAY CONTAIN SPOILERS!!
This summary is from the original English program.
Part I
Defeated in war with King Karism, Prince Karaf escapes from his country with his parents. Concealing his name to avoid the pertinacious search for him by King Karism, the prince seeks an opportunity to get revenge on his enemy, the king.
Karaf makes a trip to Peking where, he was told, his parents are living. (He was separated from them in the escape.) On his way to Peking, he rescues a beautiful girl, a prisoner of bandits. Later he finds she is Princes Aderma, daughter of King Korasan.
On arriving at Peking, Prince Karaf is told by Schirina, "Hotel Peking's" owner's wife, that:
He who can solve three riddles given by Princess Turandot, daughter of King Karism, can marry her and become a king of that country. If he fails in solving the riddles, he will be killed. Many princes of various countries have come to solve the riddles, but in vain. Countless young princes who yearn for beauty and glamor of Princess Turandot come to Peking only to die....
Hearing this, Prince Karaf makes up his mind to accede to the throne by solving three riddles, thereby being able to get revenge on his enemy, the king. Despite the pleading by Barak, the hotel owner and former teacher, Karaf goes out to the palace.
In the big hall within the palace, King Karism and Princess Turandot are sitting surrounded by many officials including three ministers. In front of them, Princess Adelma is forced to sit as a captive of the king. (Her elder brother failed in solving the riddles and was killed while her country was occupied by the conquering king, Karism.)
Ushered into the hall, Karaf is captured by the beauty of Princess Turandot and falls in love with her, feeling that his hope to live lies in her only.
Three riddles are read by the Grand Chamberlain but they are solved one after the other by Karaf. The people in attendance praise the unknown young man but Princess Turandot cries:
"It is disgraceful for me to marry such a nameless, meager man. I prefer death to life in shame and sorrow."
On hearing this, Karaf replies to the princess that if she can know his name by the dawn of the following day, he will give up the idea to marry her.
Part II
In order to know Karaf's name, she orders the capture of Barak and Karaf's father. She hopes to make them reveal the name by torture, but only in vain.
Schirina, who wants a reward for the information, tries to get Karaf's name from him. At the same time, PRincess Adelma assists Schirina as she wants to keep Karaf from Princess Turandot.
After various strenuous efforts, Princess Turandot obtains Karaf's name and tells him to leave her presence immediately and that he would be tried the following day.
Realizing that he cannot live without Turandot, Prince Karaf kills himself. Princess Adelma, who loved Karaf, stabs herself with Karaf's sword and dies.
Shirai Tetsuzou first produced a version of Turandot in 1934, although he noted that this 1952 version was more dramatic, with different music, choreography, and direction from the former production.
Notes in the English program mention Kasugano Yachiyo's "beautiful horsemanship" during the musical, so this is probably one of the famous shows from the 1950s which had live horses on stage.
The English program also notes that many fans sent Furusato Akemi letters asking her not to play the female role of Turandot (she was an otokoyaku).
None yet.
| | | | |
| --- | --- | --- | --- |
| Poster | DVD | VHS | CD |
| None Yet | None Yet | None Yet | None Yet |