The Rose of Versailles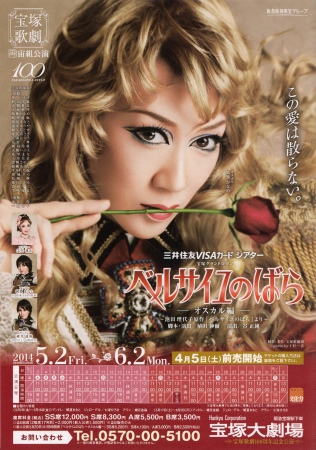 Picture Credit: Zaraphena // Official Chirashi
English Title:
The Rose of Versailles -Oscar-
Japanese Title:
ベルサイユのばら ―オスカル編―
Romanized Title:
Versailles no Bara -Oscar-hen-
Troupe:
Cosmos
Year:
2014
Performances:
Takarazuka Grand Theater, 5/2 - 6/2; Tokyo Theater, 6/20 - 7/27
Shinjin Kouen Performances:
Takarazuka Grand Theater, 5/20; Tokyo Theater, 7/03
Based On:
manga
The Rose of Versailles
by Ikeda Riyoko
Author:
Ueda Shinji
Director:
Ueda Shinji
,
Tani Masazumi
Composer:
Yoshida Yuuko
,
Terada Takio
,
Irie Kaoru
,
Kuratomi Shinichi
,
Kawasaki Tsuneo
,
Hirao Masaaki
Choreographer:
Hayama Kiyomi
,
Shou Sumire
,
Wakao Risa
,
Oka Masami
,
Kita Hiroshi
Conductor (Takarazuka - Act 1):
Ooyagi Yasushi
Conductor (Takarazuka - Act 2):
Kiyokawa Tomomi
Conductor (Tokyo - Act 1):
Izawa Ichirou
Conductor (Tokyo - Act 2):
Kiyokawa Tomomi
Shinjin Kouen Director:
Available on DVD:
Yes (
release date 07/19/14
)
DVD Scene/Music Cuts:
No
Grand Theater:
Cast A = 5/02 - 5/16; Cast B = 5/17 - 6/02
Tokyo Theater:
Cast A = 6/20 - 6/27, 7/17 - 7/27; Cast B = 6/28 - 7/16
Other Cast:
Rumi Jun
WARNING!! MAY CONTAIN SPOILERS!!
In 1755, a baby girl is born at the estate of an aristocratic family near to the Palace of Versailles in France. Her name is Oscar François de Jarjayes. Having come into the world as the sixth daughter of Count Jarjayes, whose duty for generations has been to protect France's Royal Family, she is brought up as a boy, in accordance with the intentions of her father. Hoping for an heir, the Count had been eagerly anticipating the birth of a son.
As time marches on, Oscar develops into a gallant youth, just as her father expected. She is employed as commander of the Imperial Guard, which is in charge of the Royal Palace. However the Bourbon Dynasty, which had long boasted of eternal glory, starts to show signs of fading. The common people, meanwhile, have suffered from excessive taxation and poverty due to the wasteful extravagance of the royalty and nobility. Oscar believes that she is no longer in a position where she can lead a comfortable life as a member of the privileged class, and so she applies for a transfer to the Guard, whose job is to protect the citizens.
The Guard has a different pedigree from the Imperial Guard, and many of its troops are drawn from the common classes. They are a rough lot, and keeping them in order is no easy task. That even includes the guard's squad commander, Alain, who displays defiance toward Oscar, for she is not just a member of the aristocracy but also a woman. Still, she confronts them directly and does her sincerest best to raise morale among the undisciplined troops. Oscar's thinking is for the best interests of her country, and her passion filters down to the troops. They eventually come to accept her.
Rosalie, who once took care of Oscar, is the wife of Bernard, a reporter at a newspaper of the revolutionary faction. One day she visits the Jarjayes home with a message from the reporter for Oscar. Oscar's relatives are somewhat anxious, as they hear from Rosalie that the current situation in Paris is not so strange regardless of what takes place.
The Guard, led by Oscar, is charged with protecting the Assembly Building, which will hold its Estates-General. The building is sealed off, as the area is teeming with members of the public who are resisting the government as it attempts to lock out the commoner Assembly members. Oscar, deeply touched by the citizens, who believe in the glory of France, orders her troops to open the doors of the Assembly, in contravention to the King's orders. General Jarjayes finds out about this and rebukes her, accusing her of casting shame on the Jarjayes family. In a fit of rage, he points his sword in her direction. However, André Grandier, the grandson of Oscar's wet nurse, draws his own sword and then pours out his hidden desire of wanting to offer his own life in place of hers. André has spent more than a decade thinking only of Oscar, even though aware of his unrequited love toward someone from a different social class.
Shortly afterward, Girodelle, commanding officer of the Imperial Guard and Oscar's former adjutant, proposes marriage to her. He too has long been in love with Oscar. However, Oscar rejects Girodelle's proposal, as she begins to realize how immense the existence of André is to her, this man who is constantly at her side protecting her during her struggle to save France, a country in turmoil.
In Paris, the citizens continue to stand up for freedom, equality and fraternity, and the situation reaches a point where clashes between the troops and the people become inevitable. Oscar attempts to lead a heroic life in line with her convictions while also torn between her aristocratic background and her thoughts for her country.
On the eve of the advance on Paris, Oscar eventually accepts the love of André and the two give themselves to each other. Then, on the following day, Oscar sets off for Paris, which is in turmoil, leading the French Guard.
None yet.
| | | | |
| --- | --- | --- | --- |
| Poster | DVD | VHS | CD |
| None Yet | None Yet | None Yet | None Yet |