The Cinema Rhapsody / Bouquet de TAKARAZUKA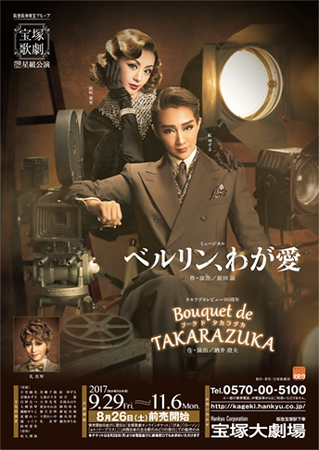 Picture Credit: coeuraubonheur | Official Chirashi
English Title:
The Cinema Rhapsody - In the Scene of Berlin - / Bouquet de TAKARAZUKA
Japanese Title:
ベルリン、わが愛 / Bouquet de TAKARAZUKA(ブーケ ド タカラヅカ)
Romanized Title:
Berurin, Wa ga Ai / Buuke do Takarazuka
Troupe:
Star
Year:
2017
Performances:
Takarazuka Grand Theater, 09/29 - 11/06; Tokyo Takarazuka Theater, 11/24 - 12/24
Shinjin Kouen Performances:
Takarazuka Grand Theater, 10/24; Tokyo Takarazuka Theater, 12/07
The Cinema Rhapsody:
Based On:
Author/Director:
Harada Ryou
Composer:
Tama Shouichi
Choreographer:
Masaki Rino
,
AYAKO
Conductor (Takarazuka):
Sasada Aiichirou
Conductor (Tokyo):
Shinjin Kouen Director:
Kurita Yuuka
Bouquet de TAKARAZUKA:
Author/Director:
Sakai Sumio
Composer:
Yoshida Yuuko
,
Kuratomi Shinichi
,
Takeuchi Kazuhiro
,
Aoki Tomoko
Choreographer:
Nakura Kayoko
,
Wakao Risa
,
AYAKO
,
Torii Kaori
Conductor (Takarazuka):
Misaki Megumi
Conductor (Tokyo):
Available on DVD:
Yes (
release date 12/22/17
)
Available on Blu-Ray:
Yes (
release date 12/22/17
)
DVD Scene/Music Cuts:
No
Other Cast:
Shiratori Yuriya
,
Takuto Rei
,
Asamizu Ryou
,
Hazuki Riran
,
Amakake Sakura
,
Ayazono Hina
,
Asakura Shizuku
,
Kusanagi Kizuki
,
Kuresaki Rino
,
Sumika Amane
,
Houma Toa
,
Ruri Hanaka
,
Yuran Sui
,
Hoshisaki Nozomi
,
Hiroki Yuzuha
,
Harei Yuka
,
Otoka Rima
,
Emika Rena
,
Kouga Toiro
WARNING!! MAY CONTAIN SPOILERS!!
Musical: The Cinema Rhapsody
In Germany, 1927, the UFA film studio is massively in debt and on the verge of going bankrupt, wasting its old glory built on the back of masterpieces produced in Berlin, the film capital of the world alongside Hollywood. While UFA still has a way out by transferring the business to Nazi-affiliated businessman Hugenberg, President Klitzsch of UFA struggles against the push, true to his belief that the free expression of creators should never be restricted. In the face of executives insisting on selling UFA, producer Kaufmann, infused with the same spirit as President Klitzsch, declares that they will make a low-budget entertainment film that the public is sure to love. Who will take on such an audacious task? When Kaufmann himself is shuttered, one man takes up the challenge—Theo Wegmann, an assistant director at UFA. Foreseeing the end of the age of silent films, Theo suggests making a talking movie with singing. If Hollywood can do it, so can we here in Berlin! With the condition that he gets to choose his cast and staff, Theo promises Kaufmann that he will produce a low-budget movie that will entertain everyone and be a major hit.
After leaving the studio, Theo heads straight for his usual café. He has someone in mind as a screenwriter, an essential component for the success of the movie—his best friend, picture book author Erich Kästner. Theo tries to persuade Erich that a popular entertainment movie needs a script that can be easily understood by everyone. The sudden offer perplexes Erich, but encouraged by his sweetheart Luiselotte, he decides to participate in the film project.
Before long, Erich writes up a screenplay titled "Unforgettable Love", a story of unattainable love between a would-be writer and the daughter of a count. Theo handpicks Rolf, a striving bit-part actor, and Leni, a chorus girl at a revue theater, as his stars and steadily prepares for filming. One day on the set of his production, he notices an actress standing uncomfortably in the dressing room at the studio. Brought to the studio by Leni, the girl, Jill Klein, is getting ready with a nervous look on her face. Theo teaches her make-up techniques for movies and gives her some tips for looking at the camera. With the brush-up, Jill quickly makes a beautiful transformation.
Berlin's first talkie is a roaring success with the audience and is an undeniable hit. "Unforgettable Love" is splashed on the front pages across Berlin, but it is Jill who is featured, not the lead actress Leni. Faithfully following Theo's advice, Jill outshone everyone in front of the camera. Theo, however, is convinced that it was not the techniques he taught her, but her own charms that captured the hearts of audiences. Under Theo's direction, Jill starts her career as a film actress, but it is not just Theo who sees her as the future top actress of Germany. Josef Goebbels, the Nazi head of propaganda, is also mesmerized by Jill's pure freshness.
Theo has taken his first giant step toward realizing his childhood dream of creating movies filled with love, dreams, and hope, which can take people away from cruel reality for a fleeting moment. At the same time, his ideals and pride as a filmmaker are about to be engulfed and tested by the tide of fascism that suppress freedom of expression.
---
Takarazuka Revue 90th Anniversary: Bouquet de TAKARAZUKA
A revue to celebrate the 90th anniversary of Takarazuka's first revue show. Scenes showcasing a variety of styles from around the world, with
Kurenai Yuzuru
shining at the center and the appeal of Star Troupe about her.
None yet.
| | | | |
| --- | --- | --- | --- |
| Poster | DVD | VHS | CD |
| None Yet | None Yet | None Yet | None Yet |